Martin Luther King Jr. Signed First Edition Sets New World Record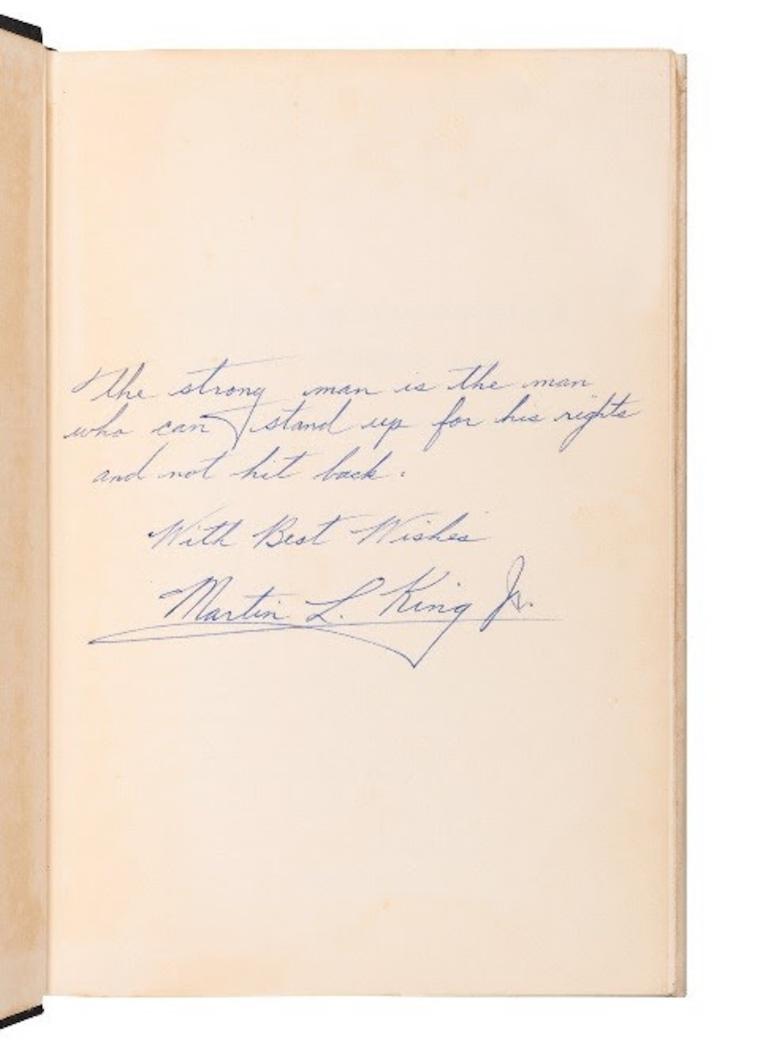 Hindman Auctions
Chicago – A rare collection of letters by notorious American gangster Al Capone achieved exceptional prices in Hindman's November 8th-9th Fine Books & Manuscripts auction. Books and manuscripts authored and signed by presidents and world leaders from the Patrick Atkinson Collection also saw significant attention, with new auction records set for books signed by Martin Luther King, Jr. and Gandhi. The total sale nearly doubled its estimate, and realized over $1.2 million, representing one of Hindman's most successful various owner Books & Manuscripts auctions in recent years.
 
A group of three Al Capone letters saw incredibly competitive bidding, with two of the letters selling in the top five lots of the auction.
 
Highlighting the group was a letter written by Capone two days after the January 1925 assassination attempt on his life (lot 561), which soared past its $10,000-15,000 estimate to realize $53,125. Another handwritten letter from Capone (lot 560), written from Cicero in 1924, more than tripled its presale estimate to sell for $43,750. In this powerful letter, Capone writes urgently to Bill asking him to "find that bootlegger...tell him I want him to come right away to Chicago," and noting that he "[has] a big order for him."
A Colt New Army & Navy Revolver Model from 1896 (lot 564), believed to have been owned by Capone, sold for an impressive price of $43,750 against a presale estimate of $5,000-7,000.
 
Manuscripts in the hand of criminals were not the only noteworthy sales of the day, as bidders also clamored for books and manuscripts by presidents and peacemakers from the Patrick Atkinson Collection.
 
The Patrick Atkinson Collection of Signed Books & Manuscripts achieved nearly double its estimate, with particularly impressive prices achieved for books written by renowned world leaders. A 1958 first edition, first printing of Martin Luther King Jr.'s Stride Toward Freedom. The Montgomery Story set a new world auction record for a book signed by King, achieving $50,000 (lot 494) against an estimate of $8,000 - $12,00. A first edition of Gandhi's Young India, 1919-1922  (lot 486) sold for $37,500 against a $4,000-6,000 estimate, which set an auction record for a book signed by Gandhi.
Highlights from the collection also included a 1785 letter from George Washington to his land agent (lot 411), which more than doubled its estimate selling for $18,750. An album including more than 140 signatures and inscriptions from major Civil War era figures including Abraham Lincoln (lot 430) sold for $13,750 against a presale estimate of $3,000 - $5,000.
 
Bidding for the November 8th-9th  auction was available in-person at Hindman's Chicago saleroom, via absentee bid, phone and online via Hindman's Digital Bid Room and additional online bidding platforms. Full auction results can be viewed here.