Inscribed Oscar Wilde First Edition Sells for $110,000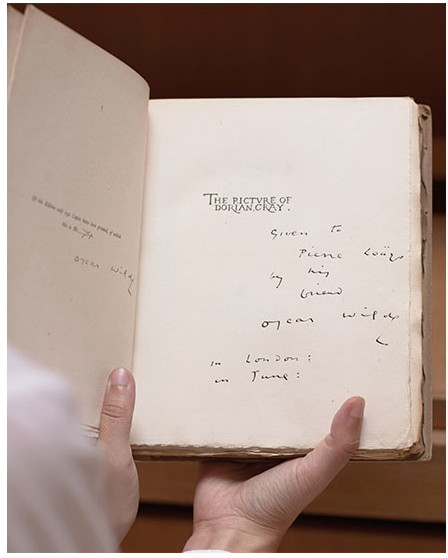 Courtesy of Christie's
Paris – Christie's Books department is pleased with today's results totaling €2,5 million. After the Books sale, which top lot was a deluxe edition of the Picture of Dorian Gray by Oscar Wilde inscribed to Pierre Louÿs sold for €100,000 (against a presale estimate of €30,000-40,000), international collectors payed a last tribute to Alfred Cortot whose collection sold for €1,839,000 selling 93% by lots and 95% by value. The top lot of this sale was a portrait of Franz Liszt by Friedrich von Amerling which was sold for €137,500 (estimate: €12,000-18,000).
Frédéric Chopin admirers were also very active during the sale. Amongst the top lots, his portrait by Teofil Kwiatkowski sold for €132,000 against a presale estimate of €6,000-8,000, the lock of Chopin's hair sold for €40,000 previously estimated at €1,000-1,500 and the cast of his hand sold for €6,000.
Marcel Proust was also honored today as we are celebrating the centenary of the Prix Goncourt awarded to A l'ombre des jeunes filles en fleurs. The deluxe edition of this masterpiece was sold for €87,500 while an exceptional corrected and annotated typescript of unpublished fragments of two chapters of Du côté de chez Swann realised €43,750.
Additional standout results were achieved for the section dedicated to Victor Hugo. The top lot of the section was a beautiful pen and brown ink drawing sold for €27,500, which was preempted by the Bibliothèque municipale of Reims. Another preemption was made by La Maison de Victor Hugo museum for an album with twelve drawings by François-Victor Hugo, the fourth child of Victor Hugo, and other artists, sold for €6,875 (initial estimate: €1,500-2,000).
The successful sale of Alfred Cortot's collection was intended by his son Jean whose three paintings, sold at the end of the sale, realised a combined total of €14,250.
Alfred Cortot will be celebrated once again at Christie's on 27 November in the Exceptional Sale which will present an extremely rare portrait of the young Wolfgang Amadeus Mozart attributed to Veronese artist, Giambettino Cignaroli.