Heritage Auctions' Movie Posters Auction Raised $1.9 Million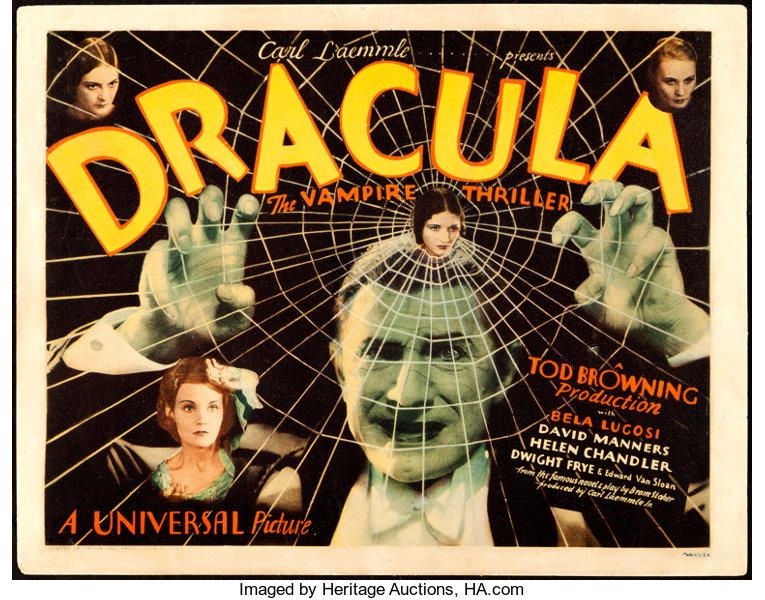 Dallas, TX – Two lots from the most famous vampire movie ever made emerged as the two most expensive lobby cards ever sold and claimed the top two results in Heritage Auctions' Movie Posters Auction July 27-28 in Dallas, Texas. The sale totaled $1,975,550 and boasted stellar sell-through rates of 98.7% by value and 96.7% by lots sold.
Dracula (Universal, 1931) Title Lobby Card drew bids from 17 collectors before closing at $114,000, the highest price ever paid for a lobby card, against a pre-auction estimate of $40,000-80,000. Capturing a dramatic image from the film widely considered the definitive vampire film, it spotlights Bram Stoker's timeless classic that overcame studio financial troubles to secure its status as the best vampire film ever made and establishing star Bela Lugosi as the unquestioned personification of Dracula.
"Dracula was made despite some significant financial limitations during the Depression," Heritage Auctions Vintage Posters Director Grey Smith said. "But the studio's gamble paid off, as it became the film by which all other vampire films are measured."
The film's popularity carried another lot to a six-figure return, as Dracula (Universal, 1931) Lobby Card sold for $102,000, more than doubling its high pre-auction estimate. The card captures the film's title character creeping in to bite the neck of Francis Dade. Lugosi got the role of Dracula only after Lon Chaney died before filming started, but he made the role his own and still is considered the screen's greatest King of the Undead. This is one of just two close-up scene cards with Lugosi in this set.
The film many consider to be the best ever made produced two lots that enjoyed enormous popularity in the sale. Bidders drove the final prices for Casablanca (Warner Brothers, 1944) Australian One Sheet and Casablanca (Warner Brothers, 1942) Hair and Makeup Keybook Photos (12) to $72,000, well above expectations for both lots. The film became an all-time classic that yielded three Academy Awards, despite the fact that shooting started before the script was even complete. Both lots crushed pre-auction estimates, which reflects the demand for the film's rare paper.
Bidders drove the final price for a Foolish Wives (Universal, 1922) One Sheet upward until it realized $36,000. Made on a then-extravagant budget of more than $1 million, the film featured star and director Erich von Stroheim. This one sheet is the only known copy of this stone lithograph.
Other top lots included, but were not limited to:
Casablanca (Warner Brothers, 1942) Window Card: $33,600
Gone with the Wind (MGM, 1939) Three Sheet: $31,200
The Golem (Paramount, 1920) Title Lobby Card: $28,800
The Texas Chainsaw Massacre (c.1973) Original 400' Reel of Original 16mm Work Print Outtakes: $22,800
World Without End (Allied Artists, 1956) 24 Sheet: $19,200