Early American Photo Archive Found in a Shed Sells for $300,000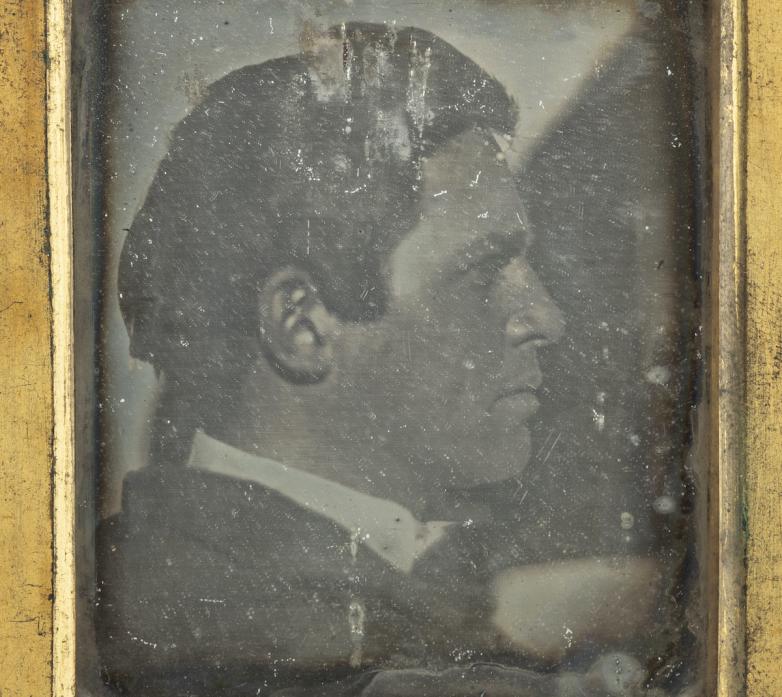 Courtesy of Hindman Auctions
Cincinnati, OH – On November 15, Hindman Auctions sold one of the earliest photographic portraits taken in America as part of a collection of photographs that realized an impressive $300,000. The archive was purchased by a midwestern museum. Offered in The Henry Fitz Jr. Archive of Photographic History, the photographs were recently "rediscovered" after lying for 87 years in an unheated shed in Peconic, New York.
The cache included photographs of Henry Fitz Jr. (1808-1863) and his family taken between 1840 and 1842 as well as early telescopes and other optical devices. The cache of daguerreotypes offered in the auction – along with an existing Fitz group at the National Museum of American History – was the largest group of images produced by a single photographer from the pioneering era of photography in America (1839-1842). While single images from this period exist, most are anonymous, undated and orphans floating in the historical ether. However, the Fitz archive can be closely dated to have been produced between about January 1840 and the fall of 1842. It was during these 36 months that photography in America developed into a commercial enterprise. The Fitz daguerreotypes are distinct evidence of the first months of development of photography in America, and even more importantly, the exploration of early photographic portraiture. A collection like this has not been offered since the Feigenbaum collection of Southworth and Hawes images.
"We were pleased to offer this singular collection from the beginnings of such an impactful technology," shared Wes Cowan, Vice Chair of Hindman Auctions. "The glimpse that these photographs provide into the development of photography is extremely valuable, and we are happy the collection can be preserved in an institutional setting. Naturally, the consigner is extremely pleased with the results."
In the spring of 1839, the daguerreotype, a process used to capture an image on a silver-plated sheet of copper made sensitive to light, was introduced to the United States from France. A complete description of the process developed later that fall, and entrepreneurs in New York and Philadelphia competed to be the first to produce marketable photographs. Fitz, and partners Alexander Wolcott and John Johnson, ultimately emerged as the winners.
Fitz, a New York city telescope maker, also helped develop what would become the first patented camera in America. In January 1840, he sat for some of the first completed photographic portraits taken in America, including a small profile image that was offered in the archive. Only a handful of these early portraits from the beginning of America photography remain.
The Fitz collection descended through the family of his son George Wells Fitz (1860-1934) and includes several additional portraits of Henry Fitz, his wife and sister, and other images presumed to be members of his family. Ironically, the collection has been known since the 1930s when another son, "Harry" Fitz, donated a group of early daguerreotypes to the Smithsonian Institution. Among this group was a portrait of their father claimed by the Fitz family to be the earliest self portrait of living human. Harry urged the Smithsonian to contact George to acquire additional historically important Fitz family property but nothing came of it. The archive was undiscovered in George's workshop and office in a shed behind the family home in Peconic for nearly eight decades. It was discovered in early 2020 in preparation of the sale of the property.
Additional Noteworthy Lots
Additional sale highlights include the H.G. Fitz, Jr. Cassegrain Reflector which soared past its estimate of $2,000-3,000 to achieve $31,250 (lot 305). Featuring a primary concave mirror and a secondary convex mirror, the reflector is an integral part of a telescope. Other noteworthy results include the H.G. Fitz four 1/8 inch telescope and tripod, which realized $6,250 (lot 302). Measuring 53 inches, the telescope is made of brass, wood, and plaster body tube (split in wood body tube, damage to interior). It was believed to be made by Fitz's son, Harry Giles "Henry" Fitz (ca 1847-1939).
Camera lenses and a box camera climbed past its estimate of $400 - $600 to sell for $4,688 (lot 311). The lenses and box were also found in George W. Fitz's workshop. Other notable lots included a 90- degree mirror telescope star diagonal and five lenses, which realized $2,250 against a presale estimate of $300-400 (lot 314), and a 19th century builder's level (lot 312) by Jonas Phelps of Westport, Connecticut, which sold for $4,063, more than four times its estimate.