Steve Jobs Signed Check Sells For $107k at Auction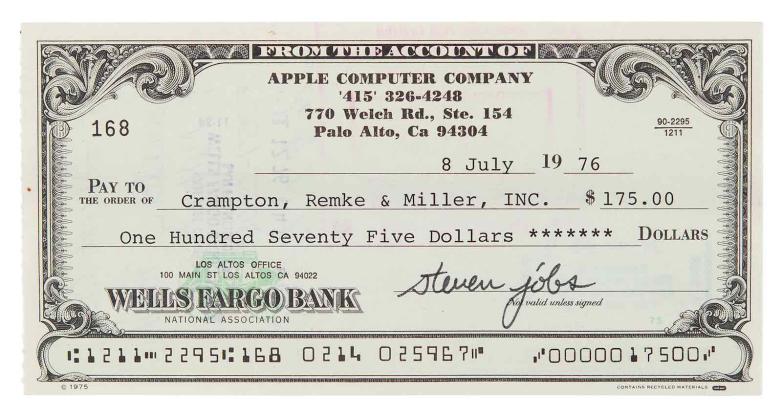 RR Auction
Boston-based RR Auction has announced the sale for $106,985 of a rare and pristine Apple Computer Company check signed by Steve Jobs in 1976.
The check, dated July 8, 1976, was payable to Crampton, Remke & Miller, Inc. for $175 and is filled out in type and signed by Jobs himself.
This check holds great significance because of its association with Apple's co-founder and because it uses the company's first official address at 770 Welch Rd., Ste. 154, Palo Alto. At the time, this was the address of an answering service and mail drop the company used while operating out of the Jobs family garage.
The consulting firm that the check was payable to, Crampton, Remke & Miller, provided business process consulting to various high-tech companies in Northern California, including Atari, Memorex, National Semiconductor, and Xerox. By hiring such a firm during Apple's earliest stages, Jobs demonstrated his focus on long-term growth.
Bobby Livingston, Executive VP at RR Auction, said: "It's a remarkable flawless check from when Steve Jobs hired Apple's first consulting firms, a central moment in the history of the most innovative and influential companies. These great looking early checks are highly desired because they not only tell Apple's founding story,  they are signed with perfect examples of Steve Jobs's autograph. Plus, bank checks allay collectors' concerns about the authenticity of Steve Jobs's signature."
Among the other Steve Jobs-related lots, the auction featured a NeXT Business Card circa early 1990s listing Jobs as Chairman and CEO, which sold for $3,076.
Other highlights from the Fine Autographs and Artifacts auction included:
a Margaret Mitchell typed letter on Gone With the Wind sold for $12,905
Jean-Paul Sartre's handwritten 19-page manuscript for Critique of Dialectical Reason which fetched $9,363
Ian Fleming signed copy of The Spy Who Loved Me which went for $8,319
a T. E. Lawrence signed letter on Autograph Collecting sold for $7,871
Lyndon B. Johnson signed check as President which went for 20,000