New High for a Tintin Coloring Book Cover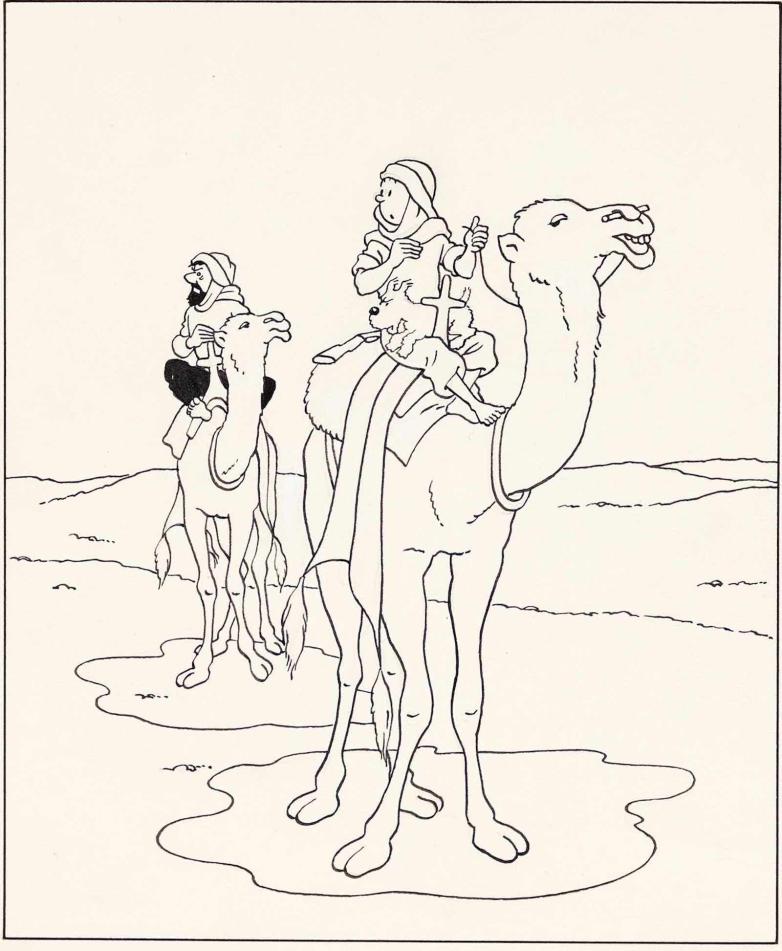 Heritage Auctions
A Tintin coloring book cover was sold for $175,000 at Heritage Auctions' latest International Original Art & Anime sale, making it the most valuable Tintin piece that didn't first appear in a comic book.
The cover for 1961's Album à colorier No. 5 is a modified rendering of the cover to the 1941 story The Crab with the Golden Claws, among the volumes Steven Spielberg used as inspiration for his 2011 film The Adventures of Tintin. Hergé took the original image featuring Tintin and Captain Haddock and erased a few things — shards of glass from an exploding bottle, bandits just over the dune, the camels' shadows — to make it easier for children to color the work.
There was also considerable interest in a second Tintin item. For the cover of 1963's Album à colorier No. 6, Tintin is surrounded by the series' six most essential characters, including his dog  Snowy and Haddock. This illustration was also used as the front of the commercial brochure used when Little, Brown and Company brought Tintin to the U.S. in 1974. The cover for Album à colorier No. 6 opened live bidding at $10,500 and closed at $43,750.
More than 3,150 bidders worldwide participated in the three-day sale which realized $3,155,731 with 814 lots. Other highlights included:
Frank Miller's iconic cover for 1982's Daredevil No. 185 ($225,000)
Page 11 from Amazing Spider-Man No. 69 (Wall-Crawler against the Kingpin) ($143,750)
Winsor McKay's Little Nemo from January 24, 1909 ($109,375)
George Herriman's Krazy Kat Sunday strip from October 16, 1938 ( $71,875)
Juan Gimenez's title splash page for 1992's Metabarons No. 1 ($81,250)
The first four pages from the first issue of 2006's Batman: Year 100 ($71,875)
An original illustration of Astro Boy by Osamu Tezuka ($57,500)