Lee Harvey Oswald's U. S. Marine Corps Score Book Sold at Auction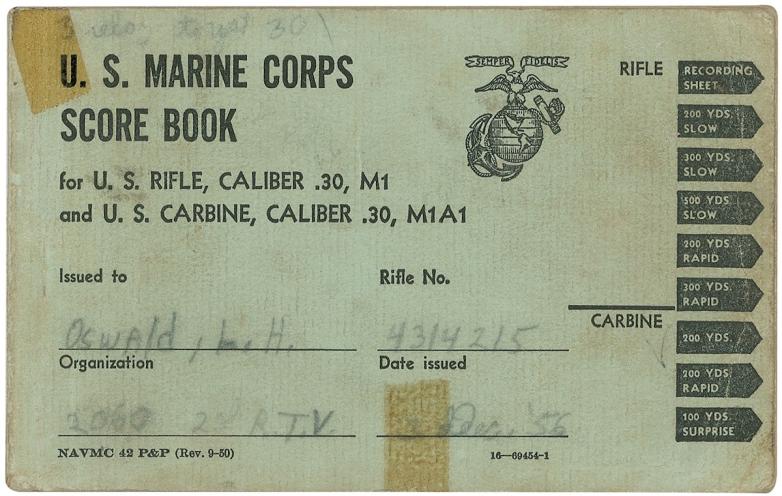 Courtesy of RR Auction
Boston — Lee Harvey Oswald's U. S. Marine Corps Score Book sold for $75,000 according to Boston-based RR Auction.
The 80-page softcover workbook issued on December 3, 1956, was filled out by Oswald. The first few pages of the workbook contain instructions for shooting and scoring, with Oswald's pencil notations.
Accompanied by interesting correspondence from 1969 between Marguerite Oswald and Dr. John Lattimer, a notable researcher of the Kennedy assassination, who originally purchased the score book from her; this includes one handwritten letter from Dr. Lattimer to Marguerite Oswald and four letters and envelopes from Marguerite Oswald, the most fascinating being one dated in part: "My late son's Marine score book is in the same condition as when he left it with me…Someday soon, it will be proven that a conspiracy did exist and that my son was indeed the 'patsy.'"
On December 21, 1956, Oswald was tested for marksmanship with his rifle on five different exercises—from 200, 300, and 500 yards firing slowly and from 200 and 300 yards firing rapidly. Based on these results, a Marine would be rated by a defined scoring system: over 190 points was considered a marksman, over 210 was a sharpshooter, and over 220 was considered an expert. Oswald scored 212 and was rated in the middle as a sharpshooter.
The Warren Commission used only one piece of physical evidence to state that Oswald was capable of assassinating President Kennedy—and it was these scorecards from December 21, 1956. These scorecards can be found in Warren Commission Volume 16, as Commission Exhibit 239. In their single-volume final report, these results enabled the Warren Commission to state: "The Commission has concluded further that Oswald possessed the capability with a rifle which enabled him to commit the assassination."
"It's an extraordinary piece of history used as a major exhibit of evidence in the Warren Commission conclusions implicating Lee Harvey Oswald to the Kennedy assassination," said Bobby Livingston, Executive VP at RR Auction.
Additional highlights from the sale include, but are not limited by:
-J. R. R. Tolkien content-rich handwritten letter from Tolkien, refuting the presence of symbolism or allegory in Middle-earth sold for $59,139.
-Neil Armstrong signed 'giant leap' photograph sold for $42,660.
-Buzz Aldrin's Flown Apollo 11 Flight Plan page sold for $39,086.
-Albert Einstein signed letter discussing 'Natural selection' sold for $32,439.
-Mary Blair concept storyboard painting from Peter Pan sold for $25,944.
-Eliot Ness signed letter with llegal Roulette Lammer Chips from the Last Capone Mob Raid sold for $32,282.
-Bill Clinton signed letter to Frank Sinatra authorizing the award of a Congressional Gold Medal sold for $20,625.
The Fine Autograph and Artifacts from RR Auction, began on October 14 and concluded on November 10. For more information, go to www.rrauction.com.