Scotland's First Atlas and Shakespeare's First Folio at National Library of Scotland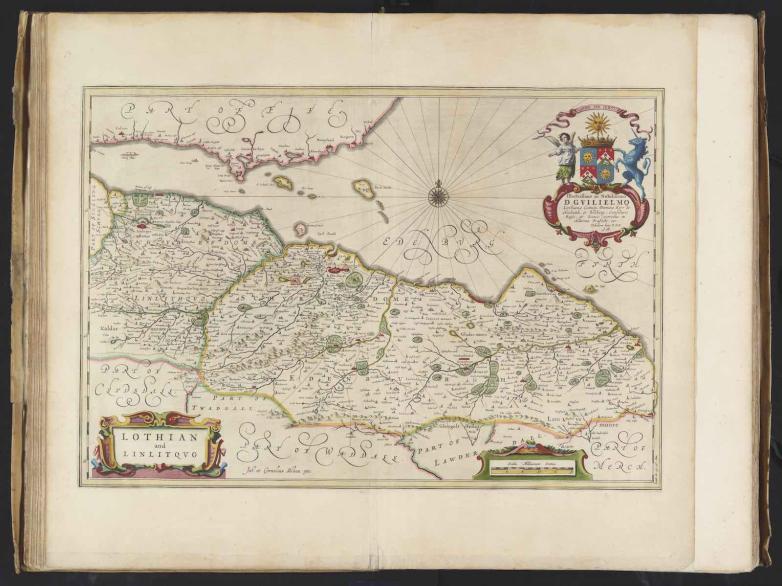 National Library of Scotland
The National Library of Scotland's Shakespeare First Folio is now on display alongside a new selection of items as part of its revolving 'Treasures of the National Library of Scotland' exhibition.
Also on show is the earliest published regional map of 'Lothian and Linlitquo' by Joan Blaeu (1654), with Edinburgh coloured in red in the centre. It presented a flattering, detailed, and visually stunning view of the country in 49 maps with accompanying written descriptions. The maps derive principally from the original surveys of Timothy Pont (around 1583 to 1614), Scotland's first mapmaker. The publication was the responsibility of Joan Blaeu, Amsterdam's leading map publisher in the 17th century. 
Other highlights include:
one of the Hyakumantō darani, or the One million pagodas and darani prayers, produced in Japan between 764 and 770
Robert Burns's Tam o' Shanter, which he wrote in 1790 to accompany the entry for Alloway Kirk in Francis Grose's 'Antiquities of Scotland' (1791) - what began as a footnote in Grose's book became one of Burns's most popular works and made Tam an icon of Scottish culture
early works in astronomy including Nicolaus Copernicus's On the Revolutions of the Celestial Spheres (1543)

The National Library of Scotland's copy of Shakespeare's First Folio is one of only three  copies of the First Folio in publicly accessible collections in Scotland (the others are held at the University of Glasgow and Mount Stuart Trust). This copy of the First Folio has been in Scotland for at least 230 years. In the 18th century it was owned by a Miss Clarke of Dunbar. The National Library's Head of Rare Books, Maps and Music, Helen Vincent said: "It will be on display for the actual birthday of the book in November, the month it was first offered for sale in 1623."
 
About 750 copies of the 1623 First Folio were printed. 235 are known to have survived with 50 copies still in the UK, 149 in USA and 36 in other corners of the world (nine of which are listed as 'missing').