Corpus Christi Acquires Rare Manuscript Gift to Elizabeth I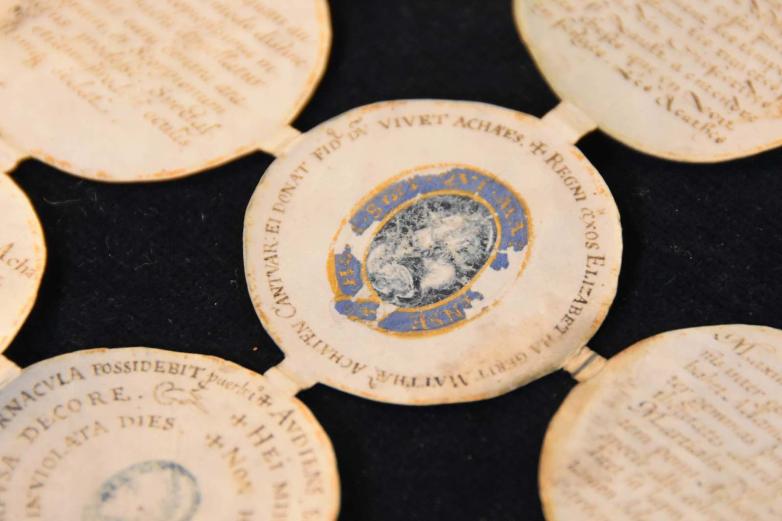 Corpus Christi College Cambridge
The Parker Library at Corpus Christi College, Cambridge, has acquired a manuscript of nine roundels that was a gift given by Archbishop Matthew Parker to Queen Elizabeth I in the 16th century.
The manuscript was in private hands until 2021 when it was sold at auction by Sotheby's; however the overseas purchaser was denied an export license due to the intervention of the Department for Digital, Culture, Media and Sports on the advice of the Reviewing Committee on the Export Works of Art and Objects of Cultural Interest (RCEWA). The Committee commented that the roundel manuscript would have enormous research value if it were to remain in the UK, describing it as "exceptionally rare and potentially a unique example of its kind, in a novel and highly unusual format". The Parker Library made a serious expression of interest to acquire the manuscript and the owner accepted this offer.
The roundels date to 1573 and were given to Queen Elizabeth when she visited the Archbishop at his palace in Canterbury during one of her annual summer processions. Elizabeth and Parker were on good terms. She had known him from childhood. He had been Chaplain to her mother, Anne Boleyn, and was recommended by her father Henry VIII to become Master of Corpus Christi College. In December 1559 the Queen consecrated Matthew Parker as the first Archbishop of Canterbury for the new Church of England.
The occasion of this visit was of special significance as it took place over the Queen's 40th birthday. Parker duly threw a great feast with entertainment for the Queen and presented her with a lavish golden standing salt cellar. Salt itself was a precious commodity in 16th century England and the gift indicated prestige and rank. Inside the salt were placed two intaglio agate gems, one depicting George and the Dragon within the Garter and the other a cameo of the Queen, along with golden Portuguese coins. To accompany this treasure, the roundels served as a sort of 'gift card'.
Two of the roundels are illustrated after the agate intaglios of George and the Dragon and the Queen's cameo. Surrounding the images are Latin phrases extolling learning and loyalty, and praising the beauty of her Majesty. Parker's description of himself as the Queen's 'fidus Achates' was carefully chosen to emphasise his devotion to the monarch and to strengthen his royal backing during a time of crisis for the Church. The remaining roundels describe in Latin and French the various qualities of agate, including its ability to repel scorpions and its value as a precious gem.
The Parker Library is where Archbishop Parker left the vast majority of his manuscripts, printed books and silver to this College where he had been student and Master. Over 550 manuscripts and over 1,000 printed books and many of Parker's personal papers have been in the careful custody of the College for nearly 450 years and form a core part of the College's identity.