Rare Books &c. at Auction This Week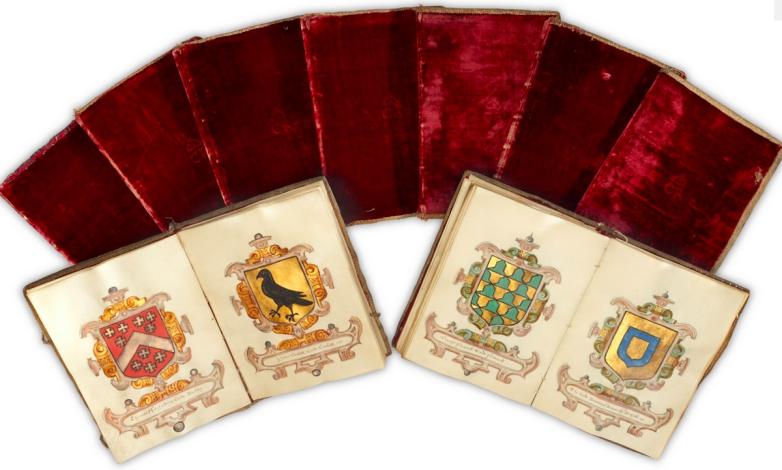 Image: Sotheby's
Quite an exciting week coming up in the sale rooms: rare maps, a First Folio, Bob Dylan lyrics, and more!
The Sotheby's London online sale Books, Manuscripts and Music from Medieval to Modern closes on Tuesday, July 19. The 374 lots include a set of nine illustrated heraldic manuscripts presented to Queen Elizabeth I as New Year's gifts between 1569 and 1580 (£200,000–300,000). A manuscript miscellany produced for and signed by Sir Walter Raleigh is also expected to sell in the same range. An August 1818 Franz Schubert letter to his brother Ferdinand is expected to sell for £70,000–90,000. Several original E.H. Shepard illustrations are on the block, including one of Christopher Robin nailing on Eeyore's tail (also estimated at £70,000–90,000). A significant collection of the papers of Emily Eden is estimated at £40,000–60,000, while a copy of William Blake's edition of Edward Young's Night Thoughts (1797) could sell for £20,000–30,000. This sale also contains much of interest to the Plath/Hughes collector.
On Wednesday, July 20, Dominic Winter Auctioneers sells 509 lots of Printed Books, Maps & Documents, Bookbinding Tools & Accessories. A 1646 edition of the Blaeu Theatrum Orbis Terrarum sive Atlas Novus pars Quarta, an atlas of England and Wales, is expected to sell for £4,000–6,000; a 1630 Blaeu map of the world rates the same estimate.
At Forum Auctions on Thursday, July 21, 293 lots of Books and Works on Paper. A first edition of Johnson's Dictionary (1755) is expected to lead the sale at £5,000–7,000. A first edition of Hannah Glasse's Art of Cookery (1747) is estimated at £1,000–1,500.
Chiswick Auctions sells Autographs & Memorabilia on Thursday, in 421 lots.
Potter & Potter will sell Fine Books & Manuscripts in an online sale on Thursday. The 504 lots include an early state copy of the first American edition of Huckleberry Finn, in the rare sheepskin binding ($2,000–3,000).
Sotheby's New York's Fine Books and Manuscripts, Including Americana sale culminates on Thursday with a live auction of Part I (13 lots) followed by the end of the online sale of Part II (117 lots). The live sale is predicted to feature several seven-figure sales: an official manuscript record of Virginia's convention ratifying the Constitution and proposing twenty amendments is estimated at $3–5 million. This is one of just three known surviving copies of the twelve ordered to be made and sent to the other states. A previously unrecorded copy of the Salem broadside printing of the Declaration of Independence, being sold by the Southborough (MA) Historical Society, could fetch $1.5–1.8 million. The same assigned range has been assigned to the Shakespeare First Folio (1623). An incomplete copy (two leaves of six) of what appears to be an unrecorded issue of the earliest printing of the ratified Bill of Rights, signed by Thomas Jefferson is estimated at $1–2 million. Also in this sale are an early working draft of Bob Dylan's "Subterranean Homesick Blues" ($600,000–800,000) and the Astor Book of Hours ($250,000–350,000). The rest of the lots in this sale are equally compelling and it will be fascinating to see how they fare on auction day.
The online portion will include a volume comprising two of Benjamin Franklin's rarest imprints in an Ephrata binding ($80,000–120,000) and the journal of the first session of the United States Senate, from the collection of member Caleb Strong ($60,000–80,000). A first issue copy of Tolkien's The Hobbit and a leaf from the Gutenberg Bible rate the same estimate, at $50,000–70,000. Dora Wordsworth's copy of her father's Miscellaneous Poems (1820), inscribed by the poet and with emendations in his hand, is estimated at £40,000–60,000. Also included in this sale are Lincoln's letter to William Seward offering him the post of Secretary of State ($20,000–30,000); a volume from the library of Alexander Hamilton ($8,000–12,000); and a copy of the 1777 German/Latin edition of Catesby ($18,000–25,000).