JFK Diary Among Rarities Heading to Auction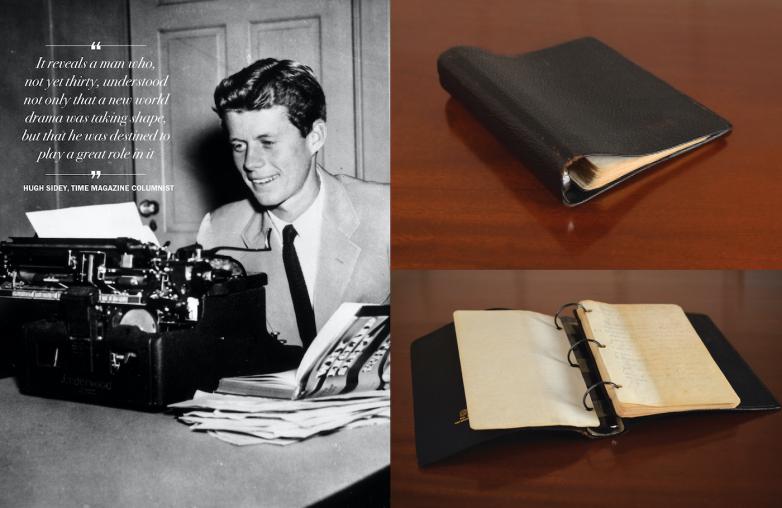 Courtesy of RR Auction
Boston — RR Auction is proud to present Remarkable Rarities—a live auction hosted in Boston, MA on September 25th. The premier annual auction event features only the best of the best—a small, curated selection of the most elite items we will offer for sale all year.
Highlights include; JFK's diary from the summer of 1945. Towards the close of the war in 1945, Ambassador Joseph Kennedy arranged for his 28-year-old son, Jack, to work for Hearst newspapers. This allowed the young veteran to attend the opening session of the United Nations in San Francisco in May and then travel abroad to cover post-war Europe during the Summer of 1945.
JFK followed Prime Minister Churchill throughout England during his reelection campaign. He traveled to Ireland, France, then to the Potsdam Conference in Germany with Navy Secretary James Forrestal. He even viewed the charred remains of Hitler's bombed out bunker in Berlin and observed the Fuhrer's famed Berchtesgaden 'Eagle's Nest.'
John F. Kennedy recorded his historic trip in a 61-page diary, documenting his personal observations of what he saw firsthand and perceptions of what would happen in the post-war world. This incredible manuscript reveals his insightful views and predictions of the world around him at an early age—a man who would, sixteen years later, become America's 35th President. Comprised of 61 loose-leaf pages, 12 handwritten and 49 typed, the diary is housed in a quality Trussell cowhide leather binder.  (Estimate: $750,000+)
Anne Revere's award for Best Supporting Actress in National Velvet
Iconic original statuette awarded to actress Anne Revere for her role as Mrs. Araminty Brown in the 1944 MGM film National Velvet, starring the young Elizabeth Taylor, Mickey Rooney, and Donald Crisp.
Anne Revere was nominated three times in the Best Supporting Actress category, recognizing her strong, matriarchal roles—as Jennifer Jones' mother in The Song of Bernadette, Elizabeth Taylor's in National Velvet, and Gregory Peck's in Gentleman's Agreement. This trophy, awarded for her part in the classic horse racing film, represents her only win. A direct descendant of the patriot Paul Revere, she was steadfast in her ideals and stood in vocal opposition to the House Un-American Activities Committee—a stance that effectively ended her career in movies. After 1951, her place on the Hollywood blacklist denied any chance at another prize.
These award trophies are arguably the most coveted of all Hollywood collectibles, and they are very rarely available to the public at large. (Estimate: $150,000+)
"As the most famous and recognizable award in all of entertainment, this would be the pinnacle of any pop culture collection," said Bobby Livingston, Executive VP at RR Auction.  
John F. Kennedy Oval Office Scrimshaw with Jacqueline Kennedy Autograph Signed Letter 
The incredible sperm whale tooth scrimshaw from the personal collection of President John F. Kennedy, which was presented to United States Army General Maxwell D. Taylor by former First Lady Jacqueline Kennedy following the death of her husband. Included with the scrimshaw is a one-page letter from Jacqueline Kennedy presenting the tooth to General Taylor, signed "Jackie," dated September 9, 1964, in full: "Please accept this piece of scrimshaw which used to be on Jack's desk. It comes with my love and his." The scrimshaw itself depicts a bark-rigged Yankee whaler with full set sails, a lookout atop the foremast scanning the horizon for spouting whales, and whaleboats hanging in their port side davits ready for lowering.  (Estimate: $30,000+)
A collection of Albert Einstein's tobacco pipes
The remarkable collection of nine of Albert Einstein's pipes, with a Jewish menorah-style wooden pipe stand for eight. While the majority are handsome but simple in form, two are quite decorative—one has a carved owl design (perhaps given to Einstein as a gift symbolizing his wisdom), and another white pipe features an intriguing design of a foot kicking a ball. The wooden holder has flexible slots to support the stems of eight pipes, and resembles the form of a menorah—a unique and interesting homage to Einstein's heritage. (Estimate: $50,000+)
And Bonnie Parker's handwritten poetry book
Parker's handwritten poem book entitled "Poetry from Life's Other Side," penned on 32 pages inside a black leatherette bank book. Featuring a mix of Parker's original creative compositions and renditions of popular folk ballads, these poems were written by Parker while she was held in Kaufman County Jail, Texas, in 1932, after being arrested for the botched armed robbery of a hardware store with Clyde Barrow, Ralph Fults, and Raymond Hamilton; while Barrow and Hamilton managed to escape on foot, Parker and Fults were apprehended. This was Parker's first and only arrest, and she stewed in jail for about two months before being released on June 17th, after the jury failed to indict her. (Estimate: $50,000+)
Additional featured lots include important letters by Paul Gauguin, Mohandas Gandhi, Benjamin Franklin, Nicola Tesla, and other iconic figures.
Online bidding for the Remarkable Rarities from RR Auction has begun and will be followed by the live auction held at The Newbury Boston, 1 Newbury Street, Boston, MA, on September 25th. Bid in person, by phone, or online.
For more information, go to www.rrauction.com.