Books from Reagan's Private Library to be Sold to Benefit Eureka College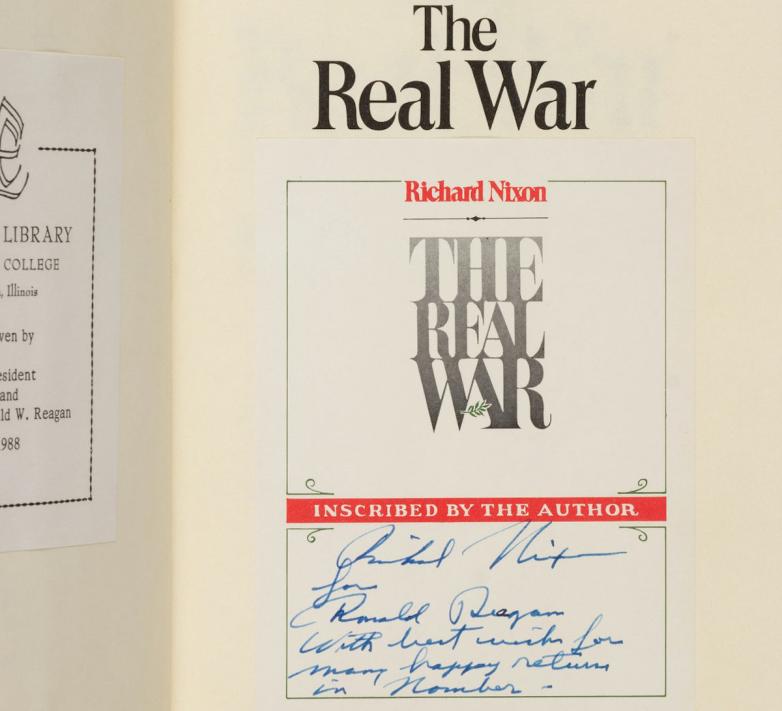 Courtesy of Hindman Auctions
Chicago — On May 4, Hindman Auctions is honored to present Property from the Private Library of President Ronald Reagan sold to benefit his alma mater, Eureka College, in its Fine Printed Books & Manuscripts, Including Americana auction. The collection of more than 50 lots features books, most inscribed or signed, written by many luminaries of the 20th century including Charles Schulz, William F. Buckley, Benjamin Netanyahu, Richard Nixon, and Ed Koch. The selection sheds light not only on people in the former president's orbit, but also on the ideas and concepts that fed the mind of one of the most celebrated US presidents of the 20th century.
 
Born in Tampico, Illinois in 1911, Ronald Reagan took one of the most unusual paths to the presidency in American history. The younger son of a salesman, Reagan's family moved several times in his early life before eventually settling down in Dixon, Illinois. Though an average student, Reagan excelled in all other facets of his education, becoming a standout in both athletics and on the stage all while being well-liked by his peers. He would go on to attend Eureka College where he once again proved to be a man of diverse talents. During his four years, Reagan played football and swam for the college's teams; was a cheerleader for the basketball team; belonged to both a dramatic and social fraternity; wrote for the campus newspaper; edited the college's yearbook; and, foreshadowing his future career, served as senior class president. He graduated in 1932 with a dual degree in Economics and Sociology but always kept a close connection to his alma mater, delivering the commencement speech twice and serving as Trustee for the college three times.
 
Reagan's path from a small, private college in Illinois to the White House is one of the best-known stories in American political history. In the span of forty years, Reagan would go from small town baseball announcer to movie star to Governor of California before becoming the 40th President of the United States in 1981.
 
The collection offered in this auction was assembled by Reagan himself during his rise to prominence and offers a rare glimpse into the beliefs and people that inspired him along the way. Many of the books were given by Reagan to Eureka College in 1988 as his final term in office was coming to an end. The majority are signed or inscribed by other leading figures of the 20th century, many including personal inscriptions that illustrate the impact Reagan had on his contemporaries.
 
Hindman's Fine Printed Books & Manuscripts, Including Americana auction will be held on May 4 at 9am CT in its Chicago saleroom. Bidding will be available in-person, via phone, online through Hindman's Digital Bid Room and through additional online bidding platforms. Additional information about the auction can be found via the website page and the catalogue.