Books About Books: Spring 2023 Picks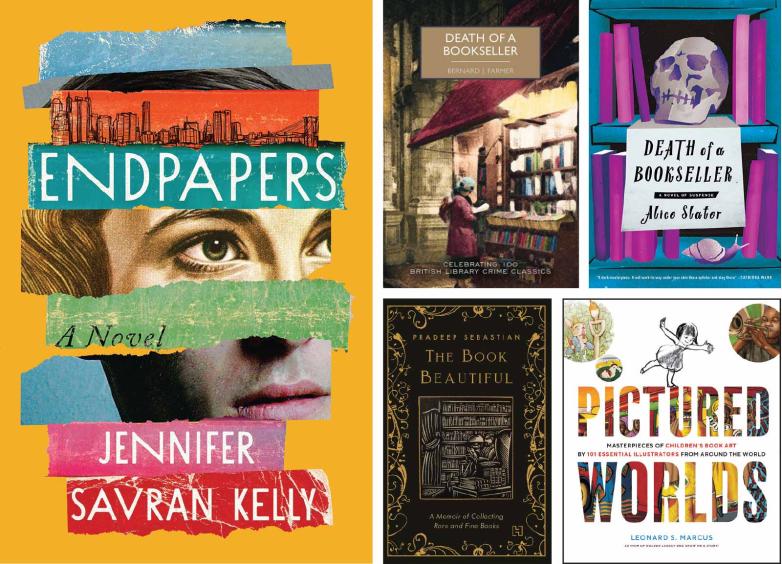 Courtesy of publishers
Books included on our spring issue's Editor's Shelf are three novels and two works of nonfiction, all highly recommended. 
There are two novels with the same title in this selection. Death of a Bookseller by Bernard J. Farmer is a reissue of a 1956 crime classic, which we reviewed last fall. (It has now been republished in the U.S.) The second Death of a Bookseller, by Alice Slater, is a new novel, set in a modern-day London bookshop. One of the employees is super obsessed with true crime, but is she capable of murder? It's an enticing read. 
Author, editor, and bookbinder Jennifer Savran Kelly has published Endpapers, an insightful novel set in New York City at the turn of the twenty-first century. In it, a genderqueer bookbinder finds the torn cover of a mid-century lesbian pulp novel hidden in the endpapers of an old book, which sends her on a journey to uncover who put it there and why.
The Book Beautiful: A Memoir of Collecting Rare and Fine Books (nonfiction) is the latest from Indian book collector and author Pradeep Sebastian, and it's a book every bibliophile will love, cover to cover. Nick Basbanes will tell us more about it in the summer issue. In the meantime, here's an excerpt to enjoy.
Children's book historian Leonard S. Marcus, who has written for FB&C on several occasions, has just published Pictured Worlds: Masterpieces of Children's Book Art by 101 Essential Illustrators, which, for collectors in this area, is a necessary addition to your bookshelf. 
Need more recommendations? Check out our last books about books roundup.