Benjamin Franklin Signed Document Sold for $40k at Auction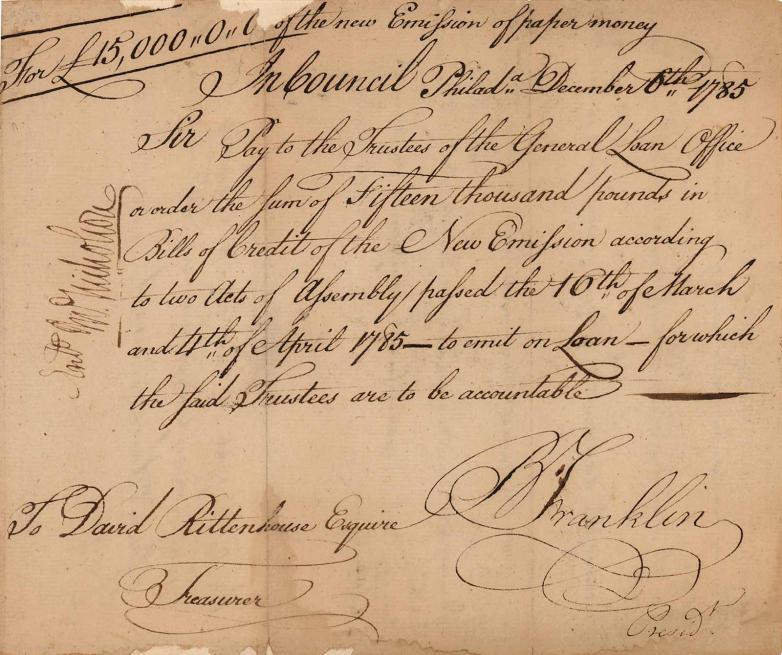 RR Auctions
A Benjamin Franklin signed document ordering a loan to support Pennsylvania's new currency sold for $39,928 at Boston-based RR Auction's latest Fine Autographs and Artifacts featuring Royalty auction.
As president of Pennsylvania's Supreme Executive Council, Benjamin Franklin signed a handwritten document headed: "For £15,000.0.0 of the new Emission of paper money." It orders Treasurer David Rittenhouse to "Pay to the Trustees of the General Loan Office or order the sum of Fifteen thousand pounds in Bills of Credit of the New Emission according to two Acts of Assembly passed the 16th of March and 4 of April 1784—to emit on Loan—for which the said Trustees are to be accountable."
It is prominently signed at the conclusion by Franklin, endorsed along the left side by Comptroller General John Nicholson, and dated December 6, 1785. Pennsylvania was the first state to push through paper money during the postwar period, in March 1785, by an act referenced in the present document.
"It's an important document prominently signed by the influential founding father," said Bobby Livingston, Executive VP at RR Auction.
Additional highlights from the sale included:
* King Henry VII letter to expedite payment of Catherine of Aragon's dowry sold for $27,164.
* Abraham Lincoln handwritten letter to Attorney General Bates sold for $18,750.
* A rare 1776 signature of Declaration Signer Lyman Hall sold for $13,589.
* Marie Antoinette signed document authorizing payment to the court's Writing Master, sold for $12,353.
* Wright Brothers portrait, signed by both Wilbur and Orville sold for $30,819.