Winter Sale of Illustration Art at Swann December 16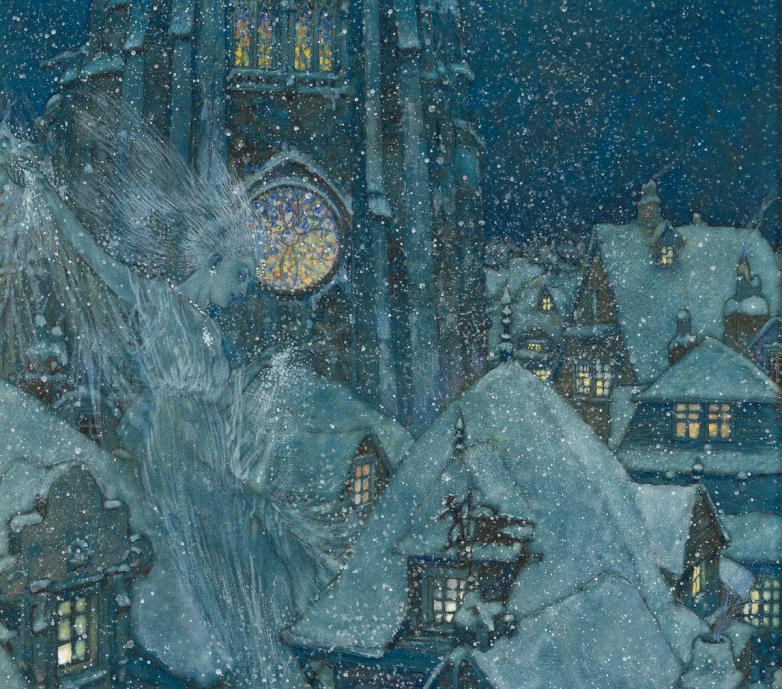 Courtesy of Swann Galleries
New York — Illustration Art at Swann Galleries has celebrated the artistic achievements of illustrators for nearly a decade, offering original artworks intended for publication, including newspapers, books, magazines and more. The winter offering is slated for Thursday, December 16, and will feature illustrations for literature, animations from Walt Disney Studios, Sunday comics, cartoons for The New Yorker, and more.
The sale is led by Edmund Dulac's The Snow Queen, 1911, a night scene depicting snow-capped roofs and an ethereal snow queen. The watercolor was made for the chapter "Second Story: A Little Boy and A Little Girl" from The Snow Queen, and published in Stories from Hans Andersen with Illustrations by Edmund Dulac, and carries an estimate of $50,000 to $70,000. Additional book illustrations feature an auction debut for Nava Atlas, with a selection of illustrations for her cookbook Vegeteriana: A Rich Harvest of Wit, Lore, & Recipes. 
The children's book illustration portion of the sale includes Maurice Sendak, with a 2004 study for a page in Thanks & Giving All Year Long by Marlo Thomas and Friends, which features one of his Wild Thing monsters, available at $15,000 to $20,000. Additional highlights include Arthur Rackham's Sabrina Fair, a 1921 watercolor for Comus by John Milton, at $15,000 to $20,000; a selection of illustrations by Eric Carle, notably "And now I shall eat you up!", a 1978 double-page, hand-painted and glazed collage for Watch Out! A Giant!, at $5,000 to $7,000; and Arnold Lobel's Days With Frog and Toad, 1979, a graphite alternate cover study for the book of the same title, at $4,000 to $6,000.
Original Sunday comic strips will include two covetable Krazy Kat funnies by George Herriman; the first from 1927 expected to bring $15,000 to $20,000, and the second from 1934 offered at $20,000 to $30,000. Charles Schulz's beloved Peanuts is available with May Queen, a 1986 four-panel comic featuring Marcie and Peppermint Patty, estimated at $15,000 to $20,000. Panels featuring iconic characters including Felix the Cat and Garfield round out the offering.
A run of works from Walt Disney Studios will include three 1935 storyboard sketches for Mickey's Garden: Still Growing (Mickey Hears Pluto) and Mickey and Grasshopper by Gilles de Tremaudan and Mickey Mixes Poison by Art Babbitt, available together at $15,000 to $25,000. Also of note is an original 1941 sketch and a preliminary drawing for Dumbo, at $3,500 to $5,000; and an animation cel of Perdita from the 1961 film One Hundred and One Dalmatians, at $1,000 to $1,500.
House favorites Edward Gorey, Al Hirschfeld, Charles Addams and The New Yorker feature throughout. Of note is Gorey's 1980 t-shirt design for Mystery!, the popular television series produced by WGBH Boston for PBS, offered at $6,000 to $9,000; Mr. and Mrs. Richard Burton, a 1968 pen-and-ink "caricature" by Hirschfeld, published in the March 3 printing of The New York Times and was the first newspaper drawing of the famous couple, at $5,000 to $7,500; and several New Yorker Cartoons by Addams including "Just a minute, you guys – we're missing one shovel," 1955, at $8,000 to $10,000.
Original magazine story illustrations are on offer with James Montgomery Flagg's mixed-media drawing for Gerald Mygatt's The Million-Dollar Hairpin published in the December 1931 issue of Good Housekeeping, estimated at $1,500 to $2,500; and Howard Chandler Christy's charcoal work for Scarlet: The Story of a Woman with a Past by Wallace Irwin and published in the May 1926 issue of Liberty magazine, expected at $3,000 to $4,000. Cover illustrations will feature Thelma Cudlipp's gouache, ink and graphite Dancer on Stage, for the May 1, 1916 issue of Vanity Fair, at $5,000 to $7,500, and Frederick Sands Brunner's oil on canvas Autumn Bicycle Ride for the September 18, 1938 issue of This Week, at $2,500 to $3,500.
Exhibition hours are 12 p.m to 5 p.m. on weekdays from December 13 through December 15. Swann Galleries staff will prepare condition reports and provide additional photographs of material on request. Advance order bids can be placed with a specialist for the sale or on Swann's website, and phone bidding will be available. Live online bidding platforms will be the Swann Galleries App, Invaluable,  and Live Auctioneers. The complete catalogue and bidding information is available at www.swanngalleries.com and on the Swann Galleries App.
 
Additional highlights can be found here.