Selections from the Sackner Archive of Concrete & Visual Poetry at Swann Galleries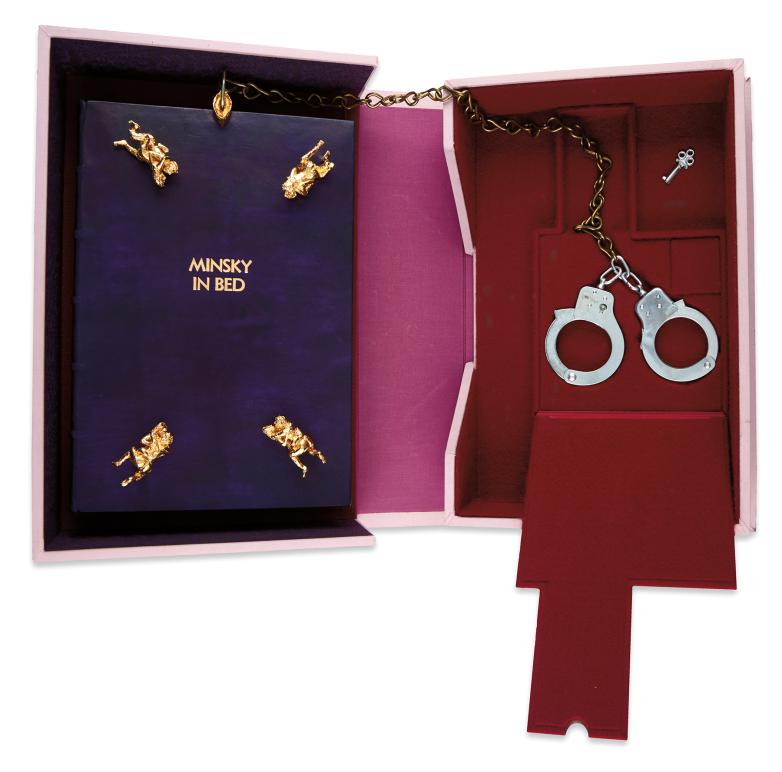 Courtesy of Swann Auction Galleries
New York—On Thursday, October 10, Swann Galleries will hold a sale of Fine Books & Manuscripts, a three-part auction featuring autographs, nineteenth- and twentieth-century literature, as well as art, press and illustrated books. The auction is replete with poetry, with poetic works being offered in each category: concrete and visual poetry from the last century, volumes of classic poetry that once belonged to Herman Melville, and a selection of titles by Robert Frost and Charles Bukowski.
The cornerstone of the art books offering is a selection from the Sackner Archive of Concrete & Visual Poetry. Founded in Miami Beach in 1979 and collected over a 40-year period by Dr. Marvin Sackner and his late wife, Ruth Sackner, the archive is one of the largest and most comprehensive collections of works of art in this genre ever assembled.
Before being moved to its permanent home at the University of Iowa Libraries Special Collections this summer, a choice selection of unique artists' books, book objects, press works and print portfolios from the archive were selected for sale at Swann. Highlights include Christopher Wool's Black Book, 1989, with 17 screenprints (Estimate: $20,000-30,000); a signed special edition de tête of Tom Phillips's 1983 The Divine Comedy of Dante Alighieri, Inferno, London, number three of only ten sets ($15,000-25,000); Richard Minsky's signed and specially dedicated edition de tête of Minsky in Bed, New York, 1996 ($7,000-10,000); and Gloria Helfgott's unique 1989 artist book, Shakespeare Once a Printer and Bookman, New York ($1,000-1,500).
Autographs of note include a rare look at Herman Melville's personal library, with two volumes of Greek and Roman classics once owned and annotated by the author. Here, making their market debut, are Euripides, Juvenal and Persius, in the only found surviving volumes from the set known to have been owned by the Moby Dick author. Melville's autograph can be found in the volume containing Juvenal and Persius, and all are marked with numerous annotations illuminating which passages were of interest. The marginalia provides a more complete understanding of Melville and the poetic works that became the focus of his later publications. Expected to bring $40,000 to $60,000, this discovery is the first from Melville's library to come to auction in more than a decade.
Further autographs include an archive of over 65 letters between Greta Garbo and her close friend Salka Viertel, covering a 40-year period beginning in 1932 ($40,000-60,000); a 1925 autograph note signed on a postcard by Mohandas K. Gandhi to Reverend C.H. Conley offering his apologies for not responding to the Reverend's letter sooner, noting that he had "been wondering all the time" ($3,500-5,000); a photograph signed and inscribed by American sharpshooter Annie Oakley ($1,500-2,500); and a scarce franking signature by Davy Crocket ($10,000-20,000).
Literature features first and limited editions, signed and inscribed copies, as well as children's classics. The selection is led by a limited Paris first edition of Ernest Hemingway's second book, In Our Time, 1924, at $25,000 to $35,000. A run of works by Robert Frost include one of only 70 copies of the first edition, second issue of A Boy's Will, 1913, and a signed and inscribed first edition of North of Boston, 1914, estimated at $2,000 to $3,000 and $1,800 to $2,500, apiece. Toni Morrison signed first editions of The Bluest Eye, 1970, and Sula, 1974, are present at $3,000 to $4,000 and $700 to $1,000, respectively. A first edition of Charles Bukowski's The Genius of the Crowd, 1966, illustrated with five linoleum cuts by Paula Marie Savarino, is available—the scarce copy was printed by d.a. levy and the Asphodel Bookshop proprietor, Jim Lowell, and carries an estimate of $5,000 to $7,500. Also by Bukowski is a signed and inscribed first edition of his first book, Flower, Fist and Bestial Wail, at $4,000 to $6,000.
Children's literature includes a selection of Tasha Tudor picture books with a complete group of the Calico series featuring her first title Pumpkin Moonshine, 1938 ($3,000-4,000), as well as signed first editions of A is for Annabelle, 1954, inscribed in the publication year with an original ink drawing ($400-600), and The Dolls' Christmas, 1950 ($500-750). Also of note is a first edition mixed issue of The Wonderful Wizard of Oz, 1900, by L. Frank Baum ($5,000-7,500).
Exhibition opening in New York City on October 5. The complete catalogue and bidding information is available at swanngalleries.com and on the Swann Galleries App.