Sci-Fi Collection of Glynn and Suzanne Crain Offered at Heritage Auctions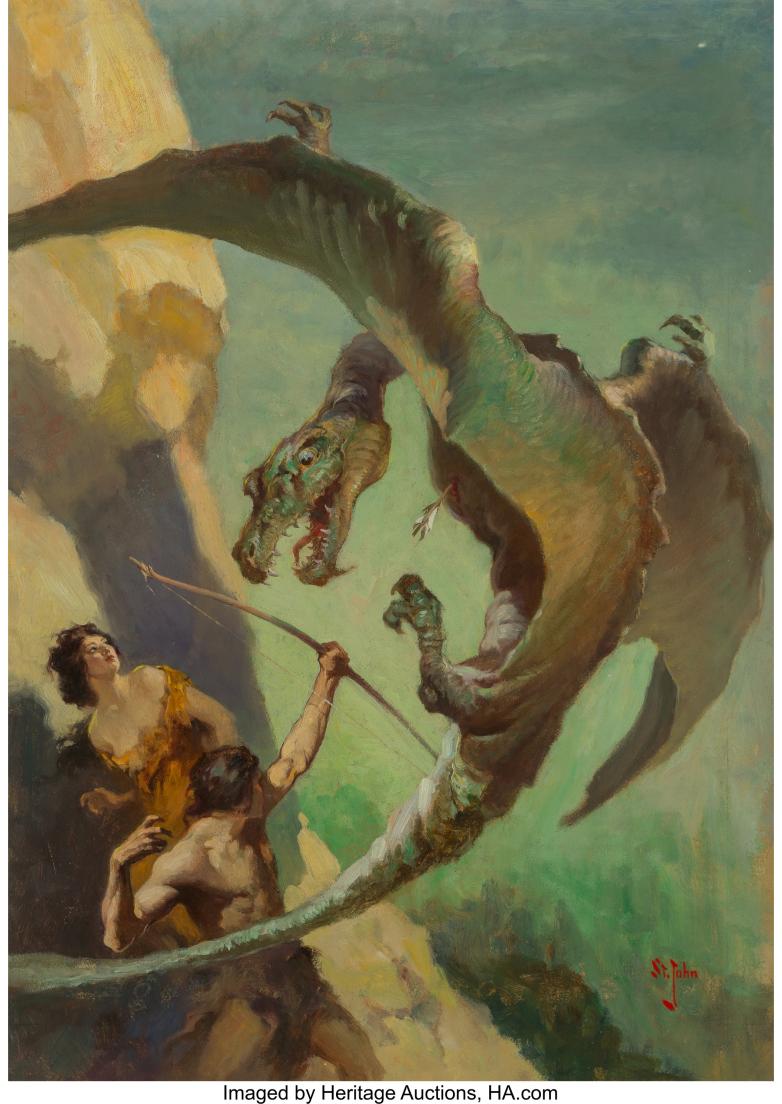 Dallas, TX – A collection of 461 lots from the finest and most extensive group of mid-century American science fiction art will be brought to auction for the first time when Heritage Auctions presents The Glynn and Suzanne Crain Science Fiction Collection Auction Aug. 13-14 in Dallas, Texas.
"This sale includes classic examples from the genre, many of which are very rare or even unique, with just single paintings typically brought to market, or even traded privately without being made available to the public," Heritage Auctions Vice President Todd Hignite said. "To offer a collection with the breadth and quality found in this one is simply unprecedented—and we expect many bidders from diverse collecting areas to compete for these iconic images created for some of the most popular and historically important stories by the greatest writers in the genre."  
In addition to the unparalleled group of original artwork, the auction includes rare first-edition books, comics, pulp magazines and movie posters.
James Allen St. John At the Earth's Core book dust jacket, 1922 (estimate: $75,000+) is a spectacular image that was published on the hard cover dust jacket of the first edition of At the Earth's Core by Edgar Rice Burroughs (A.C. McClurg & Co., 1922). St. John is widely recognized for his impact on the visual language of fantasy illustration, in part because of the image offered here. To land such an iconic image from such an important book by an artist considered one of the best ever at fantasy illustration presents a rare opportunity for serious collectors.
Frank R. Paul The Moon Conquerors, Science Wonder Quarterly cover, Winter 1930 (estimate: $30,000+) is a breathtaking water and gouache on board that is signed by Paul, a pioneer of American science fiction art. One of three lots by the artist in the sale and one of the greatest known to remain in existence, this image once belonged to famed historian and writer Sam Moskowitz.
Robert A. Graef Maza of the Moon, Argosy cover, December 21, 1929 (estimate: $12,000+) includes imagery that was recreated in countless fantasy and science fiction stories. This 90-year-old image is one of the first to include a form of laser battle, and includes a hand-held device that has been compared to the light saber that appeared in the Star Wars films. The early science fiction pulp cover even includes a woman whose hair is tied wrapped over her ears in a spiral design, reminiscent of the iconic style made famous in the Star Wars films by Princess Leia.
Michael Whelan Foundation's Edge paperback cover, 1983 (estimate: $10,000+) was published as the paperback cover of Isaac Asimov's Foundation's Edge (Del Rey Books, 1983), which is considered a central building block for science fiction in general. Its appearance as the cover of such an important science fiction novel and the stunning detail have earned this painting a reputation as one of Whelan's fines ever to be offered at auction. "It seems to me to be rather marvelous to be able to illustrate not a concrete scene but an abstract imponderable," Asimov said, "and in such a way that it seems to brighten and deepen the book even to the writer himself." The acrylic-on-board painting measures 29-1/2 inches by 21-1/4 inches, and is signed and dated lower center.
Another spectacular painting that ended up appearing on a science fiction cover is John Conrad Berkey Run to the Stars paperback cover, 1986 (estimate: $7,000+). The image appeared on Mike Scott Rohan's Run to the Stars (Ace Books, 1986), a copy of which is included with the lot. The image features a concept that appeared in numerous futuristic stories and films, that of a vehicle that could lift from an aquatic role into immediate flight.
Other top lots include, but are not limited to:
·         Attributed to Robert Emil Schulz The World Jones Made paperback cover, 1956 – estimate: $30,000+
 
·         Earle K. Bergey Shadow Over Mars, Startling Stories cover, Fall 1944 – estimate: $20,000+
 
·         The Day the Earth Stood Still (20th Century Fox, 1951) – estimate: $8,000+
 
·         Jules Verne Twenty Thousand Leagues Under the Seas – estimate: $5,000+