Jane Austen First Editions Lead Fine Books & Manuscripts at Swann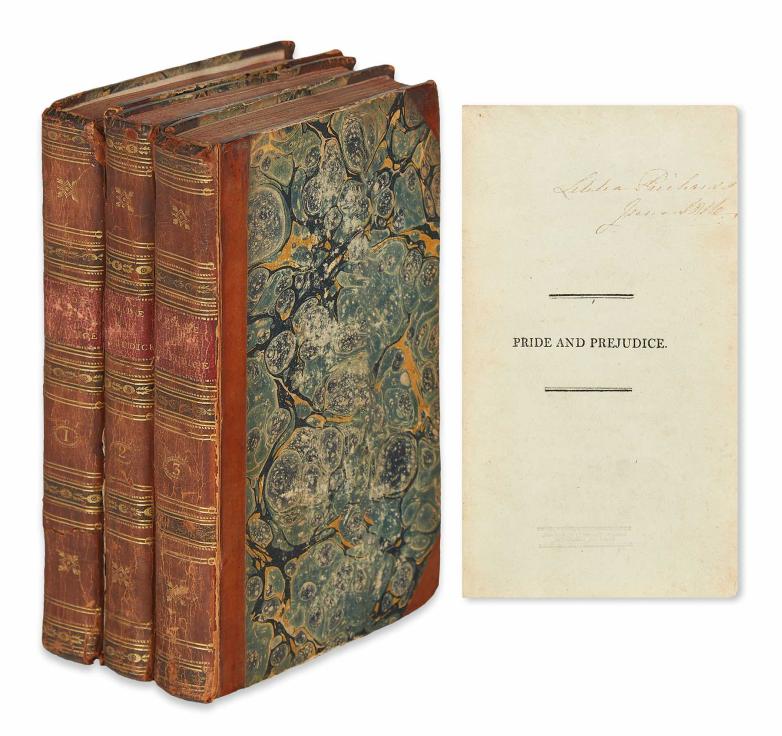 Courtesy of Swann Auction Galleries
New York—On Thursday, February 20 Swann Galleries will offer a sale of Fine Books & Manuscripts with a superb presentation of autographs, nineteenth and twentieth century literature, as well as art, press and illustrated books.
Nineteenth-century literature leads the sale with rare offering of first editions of all six of Jane Austen's major novels. The works come across the block in uncommon surviving period bindings with scarce half title pages. Highlights from the offering are Austen's first published novel, Sense and Sensibility, 1811—the rarest of the six with likely less than 1,000 first editions being printed—present at $30,000 to $40,000; Pride & Prejudice, 1813, at $20,000 to $30,000; and Emma, 1816—the only one of Austen's novels to bear a dedication, to the Prince Regent—expected to bring $15,000 to $20,000.
Additional works from the nineteenth century include The Alif Laila, 1839-42, commonly known as The Arabian Nights' Entertainments, here in the rare Calcutta II edition in Arabic, edited by W.H. Macnaghten. Printed in Calcutta at the Baptist Mission Press, the subscriber's copy carries an estimate of $12,000 to $18,000. The Woman in White, London, 1860, the world's first detective novel by Wilkie Collins is available in the first edition, first printing, complete copy at $3,000 to $4,000.
There are over 20 inscribed first editions by Graham Greene being offered, including many important association copies, beginning with his first book, Babbling April, 1925, inscribed to his first mistress, Dorothy Glover, estimated at $5,000 to $7,000. Also of note is Greene's personal file copy of The Basement Room, 1935, signed and inscribed with his annotations throughout, at $4,000 to $6,000. Further literary works from the twentieth century feature a limited edition copy of Virginia Woolf's Kew Gardens, 1927, signed by the author and Vanessa Bell, set to bring $5,000 to $7,500. Equally impressive is a group of William Faulkner first editions including a family presentation copy of Intruder in the Dust, 1948, inscribed by him to his first cousin Sallie Burns, at $3,500 to $5,000. Sought-after titles by Anne Frank, Joris-Karl Huysmans, Henrik Ibsen, Friedrich Nietsche and Fernando Pessoa, some of them signed, lend a Continental perspective.
Autographs from literary figures abound with a complete galley proof of Sarojini Naidu's book The Broken Wing, signed with several holograph pages, and an autograph letter signed to writer Edmund Gosse ($6,000-9,000); a small archive of five items signed by Philip K. Dick to his psychiatrist Dr. Harry Bryan ($3,500-5,000); an autograph letter signed by Mark Twain to his publisher James R. Osgood dated May 12, 1882 ($1,500-2,500); and an ALS signed by Virginia Woolf to her brother-in-law, Clive Bell, dated 1918 ($2,000-3,000).
The selection of autographs on offer are led by partly-printed document signed by Abraham Lincoln, in which the sixteenth president issues a call for troops during America's first national draft just days before the NYC draft riots in 1863. The document is expected to bring $15,000 to $25,000. Further autographs from American presidents include Theodore Roosevelt with a small archive of nine typed letters signed to U.S. Steel co-founder Elbert Henry Gary dated from 1906-08, in which the president discusses his recent speeches, most notably his "Muckraker" speech demonstrating the extent of his sympathy with radical reformers ($6,000-9,000). A group photograph of Presidents Regan, Ford, Carter, and Nixon inside the White House prior to leaving for Anwar Sadat's memorial, is available dated and signed by each between the years 1984-87 ($3,000-4,000).
Remarkable figures from history include signatures of all seven members of Project Mercury—the project that put the first man into orbit—in a first edition, first printing copy of We Seven, 1962 ($5,000-7,000). A run of items signed by Diana, Princess of Wales, include a group of six autograph letters signed dating from 1996-97 to Harper's Bazaar editor Elizabeth Tilberis, accepting invitation to the Met Gala and anticipating Christie's announcement of the charity auction of her dresses ($6,000-9,000), as well as a signed catalogue from the charity auction ($5,000-7,500). Helen Keller is represented by a signed and inscribed photographic postcard of Keller, with her hands on Enrico Caruso's face. Dated May 22, 1916, Keller writes of Caruso's private performance for her in April of that year: "He poured his wonderful voice into my hand and my soul was filled with music," ($500-750). 
The sale will also contain a selection of art, press and illustrated books, including limited-edition livres d'artiste, material from the Sackner Archive of Concrete & Visual Poetry, and inscribed works by Latin American artists.
Exhibition opening in New York City on February 15. The complete catalogue and bidding information is available at swanngalleries.com and on the Swann Galleries App.