Fitzgerald, Kerouac Feature in Fine Autographs and Artifacts Auction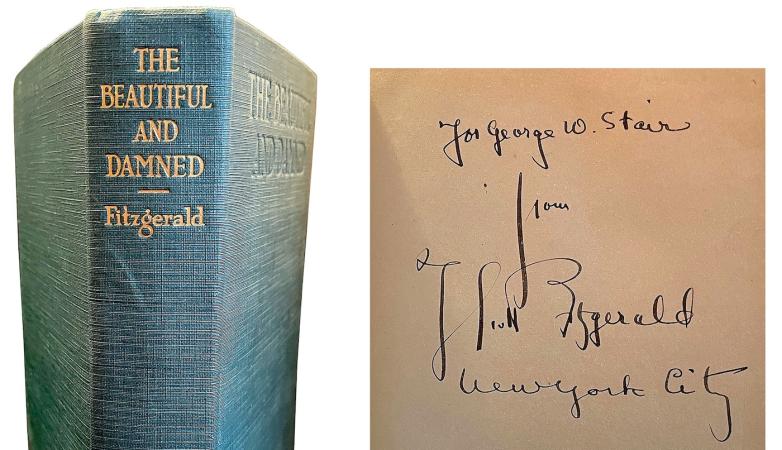 Courtesy of RR Auction
Boston — RR Auction's June Fine Autographs and Artifacts sale brings almost 900 lots to the auction block, featuring robust art and literature sections with online bidding  through June 16.
Highlights include an F. Scott Fitzgerald signed book: The Beautiful and Damned. First edition, second printing, first state: Charles Scribner's Sons, 1922. Hardcover bound in dark bluish green cloth, lettered in gilt and blind, with dust jacket, 449 pages. Signed and inscribed on a free end page in fountain pen, "For George W. Stair, from F. Scott Fitzgerald, New York City." George W. Stair was a noted bookman who originally owned and operated a rare bookstore near Rockefeller Center. Despite disappointing reviews, rare book dealers like George Stair recognized Scott Fitzgerald's potential and considered acquiring his signature on a first edition a significant association.
Jack Kerouac hand-corrected and signed manuscript proof. The six-page typed manuscript for the article "In the Ring" by Jack Kerouac, circa 1968, initialed on the last page in black ballpoint by the author, "JK"; also includes the hand-corrected galley proof, printer's instructions, and first printing in the March 1968 issue of The Atlantic. The article describes boxing and wrestling matches witnessed around New England during his youth, and stands as a great example of Kerouac's stylish semi-autobiographical prose. This was the last piece of Kerouac's to appear in a major publication during his lifetime, as he passed away at the age of 47 on October 21, 1969. An excellent original work from the Beat Generation pioneer, and an archive that chronicles the publishing process from start to finish.
Dr. Seuss signed book: Oh, the Places You'll Go! First edition. NY: Random House, 1990. Hardcover with dust jacket,44 pages. Signed and inscribed adjacent to the half-title page in black ink, "With best wishes to Matt Stiller! Dr. Seuss, March 1990."
The consignor notes that the book was purchased at the Strand Book Store in New York City during the week of its publication, and then mailed to Dr. Seuss shortly thereafter. Although unconfirmed, it remains highly unlikely that the author performed any public book signings for Oh, the Places You'll Go!, his final book, given that he had experienced complications from his oral cancer prior to the book's release date; Dr. Seuss would lose his battle with cancer at the age of 87, a year-and-a-half after signing this copy. Signed examples of Oh, the Places You'll Go!, the last Seuss book to be published during his lifetime, are virtually nonexistent, with research revealing no other examples sold at auction within the past 15 years—that this is a first edition only further elevates its already immense desirability and scarcity.
Beatrix Potter signed sketch of Peter Rabbit. The sought-after ink signature and inscription, "[From:] Wm. and Beatrix Heelis, [To:] Christopher and Phyllis Le Fleming and the young man, from Peter Rabbit, Christmas 1936," with Potter adding a wonderful small sketch of a rabbit and a trail of winding "x" marks.
With their playful plots, imaginative critters, and some of the liveliest illustrations in children's literature, Beatrix Potter's little books—23 in total, published over the course of two decades—were an instant and enormous success. A wonderful association piece boasting a rare original Peter Rabbit sketch by Potter.
Herman Melville one-page signed letter, November 25, 1854. Melville writes to his publisher, G. P. Putnam & Co. in New York. A gorgeously penned and perfectly preserved example that looks as fresh as the day it came from the great author's pen.
J. R. R. Tolkien two-page typed letter, June 22, 1957. Letter to Andrew Schiller, commenting on the classic medieval tale 'Sir Gawain and the Green Knight' and the structural rules of the English language. While teaching at Leeds in the early 1920s, Tolkien produced A Middle English Vocabulary and a translated definitive edition of Sir Gawain and the Green Knight with E. V. Gordon—both would become academic standard works for several decades. Much of Tolkien's scholarly concern was in linguistics, and more specifically the construction of language—interests evident in the Elvish dialects that appear in his fiction, as well as in the many questions he poses in this significant letter. Revealing the depth of thought that informed his many texts, this is an ideal Tolkien letter.
Pablo Picasso signed photograph with rare, lengthy inscription to his best friend, the sculptor Jaime Sabartes.  Vintage matte-finish photo of Picasso bundled up for chilly weather, signed and inscribed in fountain pen to his best friend, the Spanish sculptor and writer Jaime Sabartes.  Picasso first met Sabartes in 1899 when they were both just eighteen years old and began a lifelong friendship. Sabartes initiated the establishment of the Museu Picasso in Barcelona with the donation of his personal collection, which consisted of nearly six hundred of Picasso's works. A beautiful and very significant photo with a superb association.
Salvador Dali autographed letter signed with sketch. The one-page letter in French, signed "S. Dali," no date. Handwritten letter to a friend, with a desirable sketch by the artist in the upper right corner: a simple landscape scene depicting two figures in the foreground, pointing at an enormous sun overhead.
Other top offerings include an exceedingly rare signed pair of Air Jordan 1 'Player Sample' Sneakers, Albert Einstein's remarkable musings on the meaning of life, a supremely rare set of oversized Wizard of Oz portraits inscribed to the producer's assistant, and a selection of excellent John F. Kennedy material.
The Fine Autographs and Artifacts auction from RR Auction began on May 25 and will conclude on June 16. For more information, go to www.rrauction.com.