'Firsts Into Film' at Heritage Auctions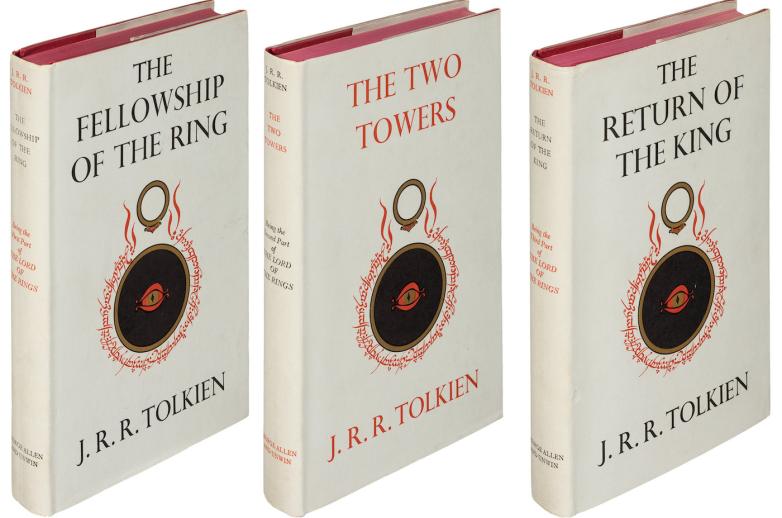 Courtesy of Heritage Auctions, HA.com
Dallas — A first edition of Thomas Keneally's Schindler's Ark signed by Steven Spielberg, who turned it into a seven-time Oscar-winning motion picture. Copies of Tarzan novels inscribed by Edgar Rice Burroughs to his son Hulbert, for whom he drew adorable illustrations. A Shoeless Joe autographed by both its author W.P. Kinsella and the man who played Ray Kinsella in the beloved Field of Dreams film adaptation, Kevin Costner.
A stunning assemblage of The Lord of the Rings trilogy. One of the best copies of Casino Royale ever to hit the auction block. And, on the 20th anniversary of the young wizard's big-screen bow, a coveted Bloomsbury first edition of J. K. Rowling's Harry Potter and the Philosopher's Stone.
What you see above is but a teaser for Heritage Auctions' Firsts Into Film event, to be held during the auction house's Dec. 9-10 Rare Books Signature® Auction. For the first time, the house will offer exquisite first editions of books eventually adapted for the big screen, many of which are inscribed by their authors — and others associated with their cinematic counterparts.
These 138 lots come from a single collector who loved these movies first, then tracked down extraordinary copies of the original novels — every one among the very best available.
"We've had many of these books in Rare Books auctions in the past, but to have a century's worth of important books turned into equally significant films is exciting," says Heritage Auctions Executive Vice President Joe Maddalena. "Here you have Jane Austen's Sense and Sensibility and Pride and Prejudice and Emma next to The Maltese Falcon next to Sir Arthur Conan Doyle next to Forrest Gump. It's a real intersection of some of the most popular novels and some of the most popular films. These books were important, well-loved and often award-winning in their own right, and all of them were turned into incredible films."
James Gannon, Heritage Auctions' Director of Rare Books, notes that J.R.R. Tolkien's Lord of the Rings trilogy — The Fellowship of the Ring, The Two Towers and The Return of the King, published between 1954 and 1955 — is in "stunning condition," from the dust jackets to the pristine pages. And the James Bond novels by Ian Fleming are in similarly "gorgeous shape," particularly 1953's Casino Royale, which, he says, was owned by someone who "didn't just hide it on a shelf but understood its literary significance and kept the first-issue blue dust jacket — notoriously susceptible to sunning — both bright and beautiful, while still enjoying the book."
Several of the Bonds are also inscribed by the author, among them 1957's From Russia, With Love and 1958's Dr. No which of course became the first Bond film and made a hero of its star Sean Connery.
Another extraordinary rarity in this event are all seven of C.S. Lewis' Chronicles of Narnia in a single lot, each a first edition with original, unrestored dust jackets and every book signed by illustrator Pauline Baynes, who also collaborated with Tolkien. An assemblage like this is not likely to be seen again for a long, long time.
Nor, for that matter, is one ever going to again see a copy of John Steinbeck's 1945 novel The Red Pony inscribed by the author and … The Last Picture Show director Peter Bogdanovich. The filmmaker inscribed this copy to Louise Hoogstraten, sister of slain model Dorothy Stratten, who is mentioned in the filmmaker's note to the woman he married in 1989.
There's also a copy of John O'Brien's semi-autographical novel Leaving Las Vegas signed by the late author and Nicolas Cage, who, five years after the book's publication, won the Best Actor Academy Award for his portrayal of the screenwriter who drank himself to death. O'Brien did not live long enough to see the film.
The tomes in this estimable assemblage span decades and genres, from Alexandre Dumas' Le Comte de Monte-Christo, published in 1845-46, to Harper Lee's To Kill a Mockingbird (signed by the author) to an inscribed copy of William Goldman's The Princess Bride, published 14 years before the acclaimed writer and collaborator Rob Reiner turned it into one of the 20th century's most beloved films. So rest well, and dream of large libraries and big screens.