Bright Young Librarians: Jolie Braun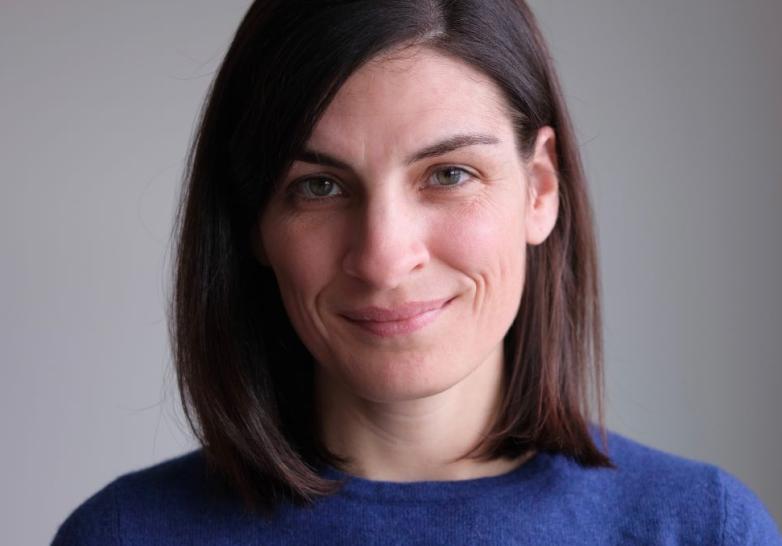 Mike Daines
Our Bright Young Librarians series continues today with Jolie Braun, Curator of Modern Literature and Manuscripts at Ohio State University in Columbus:
What is your role at your institution?
I'm the Curator of Modern Literature and Manuscripts at The Ohio State University's Rare Books & Manuscripts Library (RBML). I collaborate with instructors to provide special collections-based instruction, build and manage the unit's modern holdings, and promote the collections by curating displays and exhibitions, organizing events, and overseeing our newsletter and social media.
How did you get started in special collections?
I was in an English PhD program and feeling increasingly disheartened about it, despite loving teaching and research. I didn't have experience in special collections or archives but had started to think that it could be the kind of work that would align with my skills and interests, so I asked the local county archives if they needed a volunteer. I ended up loving it. When I moved back to St. Louis from California, I began volunteering (and later interned) at the Missouri Historical Society, doing research for reference requests and processing archival collections. I'm grateful to Molly Kodner and Dennis Northcott, the archivists I worked with there, who were passionate about their collections and generous with their knowledge and expertise. They modeled the kind of special collections professional I wanted to be. Along the way, I attended library school and worked in special collections and archives at Washington University and Duke University. I've now been at Ohio State for more than six years and get to teach with literary and historical materials and help people work with our collections, which is what I had hoped to do someday when I entered the field.
Where did you earn your degrees?
I have a BA in English and Women's Studies from the University of Massachusetts, Amherst, an MA in English from the University of California, Davis, and an MLIS from San José State University.
Favorite rare book / ephemera that you've handled?
I'm particularly interested in women writers, so some of the archival materials in RBML's collections that I've been most drawn to include Simone de Beauvoir's love letters to Nelson Algren, Jessica Mitford's replies to fan mail, and Helen Hooven Santmyer's adolescent scrapbook. A few years ago, the Wexner Center for the Arts was showing Joanne Grant's documentary Fundi: The Story of Ella Baker about civil rights activist Ella Baker as part of their film series and invited me to make a video about RBML's Joanne Grant Papers. I talked about my favorite item in the collection, which is also one of my favorite items in RBML's holdings: her address book. It's an incredible document of her personal and professional network as a journalist and civil rights activist during the early 1960s.
As for books: I oversee the Charvat Collection of American Literature, which is one of the best collections of its kind in the country. I never get tired of sharing RBML's first edition of Walt Whitman's Leaves of Grass with students. As a physical object, it's just as unconventional and striking as Whitman's poetry, which makes it great for a discussion about books as artifacts.
What do you personally collect?
I grew up outside of St. Louis and then lived in the city for a while as an adult, so two collections that mean the most to me are related to the area: early twentieth-century real photo postcards of St. Louis by photographer H. H. Bregstone and community cookbooks from the more rural area where I grew up.
What do you like to do outside of work?
Even though I've lived in Ohio for a while now, I still just enjoy going out and exploring on the weekends: nature preserves, historic houses and cemeteries, that kind of thing. Ohio has multiple excellent art museums and I love going to those, but I also like checking out more niche places like the American Sign Museum and the Early Television Museum.
I also read a lot of biographies and memoirs and am especially interested in works that combine the two. Jenn Shapland's My Autobiography of Carson McCullers and Doireann Ní Ghríofa's A Ghost in the Throat are two recent favorites.
What excites you about special collections librarianship?
I love working with amazing materials and sharing them with others. Additionally, it's rewarding to work in a field where I get to continually learn new things. Whether it's research for a reference request, prep for a class session, or work on a collection management project, many aspects of my work often lead to opportunities to learn more about a particular topic, which could be anything from early twentieth-century regional little magazines to mail art.
I also feel lucky to be at a public university that has such a strong special collections and to be part of a unit that prioritizes students and student research. RBML is open to everyone, and we try to make our collections available to anyone who might want to use them. In addition to working with classes and groups on campus, we've hosted local schools, organizations, and community groups.
Thoughts on the future of special collections librarianship?
This is a great but difficult question! Commenting on the future of special collections feels a bit daunting, so I'll focus on some of the trends I've noticed. I feel fortunate to work in special collections at a time when improving access and reaching wider audiences is a priority across the field. I'm excited to see how curators, librarians, and archivists are thinking about how to diversify and expand their collections. I'm hopeful about the increasing discussions about labor, professional advocacy, and work environments. I'm thrilled to see the growing interest in and visibility of feminist bibliography and Black bibliography and curious about how these will influence special collections work.
Any unusual or interesting collection at your library you'd like to draw our attention to?
Yes! Two come to mind:
The Jerry Tarver Collection of Elocution, Rhetoric, and Oratory Ephemera is an amazing and unique collection. It includes scrapbooks, medals and prizes for oration, report cards, notebooks, and programs from speaking events and debates, all of which collectively document the role of public speaking in American education and public life. Because oration and elocution were once popular pastimes, the collection is also a great resource for anyone who wants to learn more about popular culture and entertainment in nineteenth-century and early twentieth-century America. One of my favorite parts of the collection is the more than 100 canvassing books it contains. (Canvassing books are abridged samples that traveling salespeople used to sell books door to door.) They're fascinating objects, full of information about bookselling and marketing popular literature. The collection was created and donated by Jerry Tarver, a retired professor in the Speech Communications Department at the University of Richmond in Richmond, Virginia.
Another very different example: over the past few years I've been building RBML's zine holdings. One part of it that I'm particularly proud of is the COVID-19 Zine Collection, which comprises more than 100 zines documenting life during the pandemic.
Any upcoming exhibitions at your library?
This spring, Special Collections Assistant Madison Good is curating a display of book covers designed by Margaret Armstrong. (Last year we surveyed RBML's holdings and found more than 150 examples of Armstrong's work. Thanks to cataloger Pam Cale, they are now discoverable via the Library catalog.)
Also this spring, Eric Johnson, Head of Thompson Special Collections, has an exhibition in the Library's main gallery, "Deathless Fragments," which highlights the medieval manuscript collection he has developed for RBML and explores Ohio's history as a site of medieval book breaking. The exhibition will run from March to August.
In 2024 I'm co-curating an exhibition with Ohio State English Professor Beth Hewitt that will feature RBML's Peter D. Franklin Cookbook Collection, which contains nearly 9,000 volumes. This past fall I taught a first-year seminar based in the collection, so I'm really excited to share it with a wider audience.