Bidders Pursued Campaign Banner & Wild Bill Hickok Love Letter at Heritage Auctions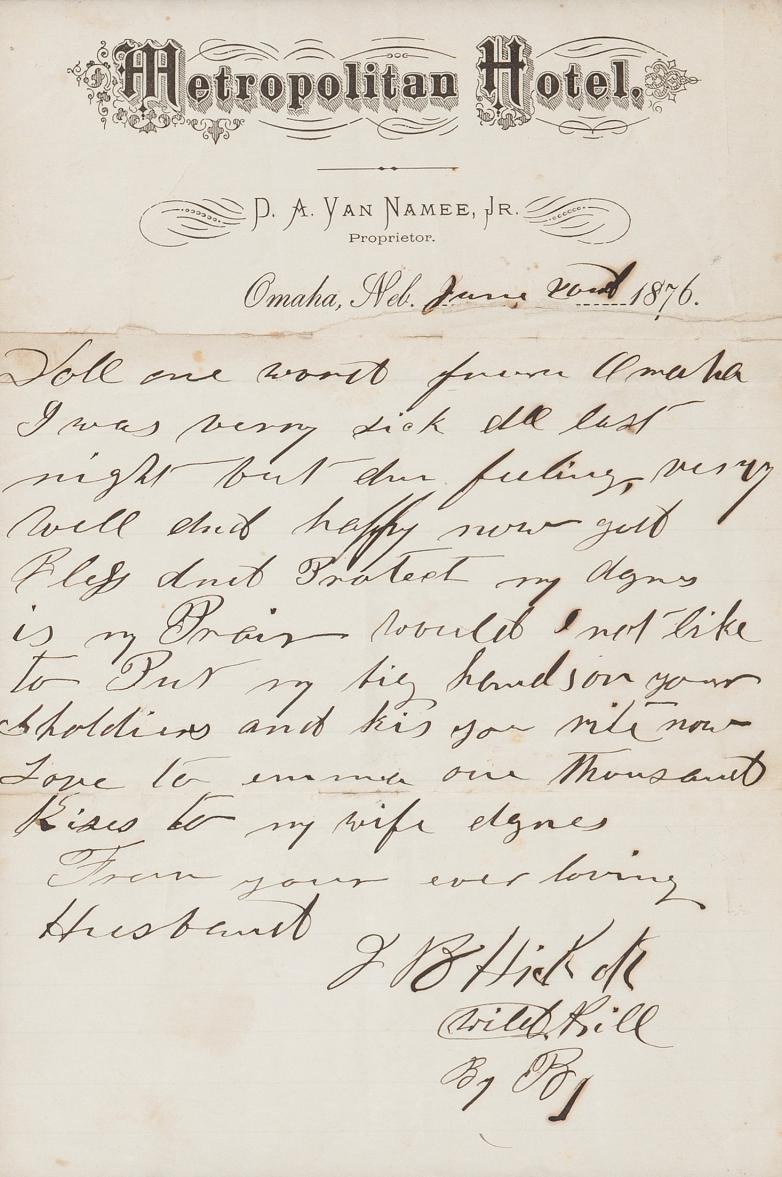 Courtesy of Heritage Auctions, HA.com
Dallas – The only known example of a campaign banner for the United States' 12th president soared past pre-auction estimates to lead the final total for Heritage Auctions' Americana & Political Auction to $1,963,776 May 4-5 in Dallas, Texas.
Zachary Taylor: Only Known Example Campaign Banner for the 1848 Whig Candidate and 12th President inspired bids from multiple collectors before it closed at $200,000, four times its pre-auction estimate. It is done in the style of banners that were popular in 1840 and 1844 but disappeared in ensuing elections before enjoying a renewed popularity in 1856.
"This is the only example of this flag we have ever seen," Heritage Auctions Americana Director Tom Slater said, "making it one of the most important political flags ever to come to auction."
Doubling its pre-auction estimate was James Butler "Wild Bill" Hickok: Perhaps the Most Important Known Autograph Letter Signed from this Old West Legend, which prompted bids from nearly a dozen collectors before closing at $100,000. Written in June 1876 to his wife, Agnes, in Omaha, Nebraska, where Hickok was assembling a prospecting exhibition to the Black Hills, this letter revealed a softer side in stark contrast to Hickok's rough-edged gunslinger persona.
One of what is believed to be only three known examples, General George Washington's "Christmas Miracle": Crossing the Delaware and the Stunning Victory at Trenton was chased by multiple bidders until it drew $87,500. Titled "Fresh Advices from the Westward…" the broadside handbill comes from the office of The Providence Gazette. Adding to the rarity and significance is the fact that 18th-century American newspapers rarely printed Sunday editions because of the Sabbath, but the significance of the news in this rarity justified an exception to the rule.
A Poster Honoring the Kansas "Loyal Delegates to the 1884 Republican National Convention" sold for $62,500, more than six times its pre-auction estimate. It was produced by the J.M.W. Jones Stat'y & P't'g. Co." to honor those who stuck with James G. Blaine on the second ballot to allow him to edge out incumbent president Chester A. Arthur for the presidential nomination.
According to the legend at the bottom, the poster is a representation of "the large banner that was carried through the streets of Chicago by the Kansas Delegation to the Republican National Convention on June 5th, 1884." When Blaine was nominated, it was carried again through the aisles of Convention Hall.
Cox & Roosevelt: An Almost Certainly Unique Black and White Variant of the Customarily Brown Whitehead and Hoag 7/8" Jugate, from the collection of Sam and Jeff Pressman, brought $50,000. One of only two known to have been offered in the last 50 years, this button was known to only a few hobby insiders before it emerged in response to a Coin World buying ad placed by Sam Pressman in the 1970s.
The sale also included several collections, including the Dr. Donald A. Hopkins collection of Robert E. Lee photographs, which is one of the most comprehensive collections of Lee photographs ever assembled. Among the highlights were:
Robert E. Lee: Mammoth Mathew Brady Photograph: $15,000
Robert E. Lee: Large Mounted Albumen of Lee on Traveller: $10,000
Robert E. Lee: Unpublished, Boldly Signed Carte-de-Visite: $5,250
Other top lots included:
George Washington: A Superb, Large, Signed Oil on Canvas Portrait by Philadelphia Artist Robert Street (1796-1865): $41,250
Rare Punch Cigar Store Advertising Figure Cast in Zinc, Circa 1885: $40,000
Henry Clay: A Marvelous Rare and Highly Distinctive 1844 Campaign Flag Banner: $37,500
John A. Sutter: A Superb Engraved Sword Presented to this Famous California Gold Rush Figure by the Sutter Rifles Militia Group: $33,750
Sam Houston: Fabulous Life-Size Pastel Portrait by Harriet Anderson Stubbs Murphy: $32,500