For Sale: Woody Guthrie's "Folk Songs"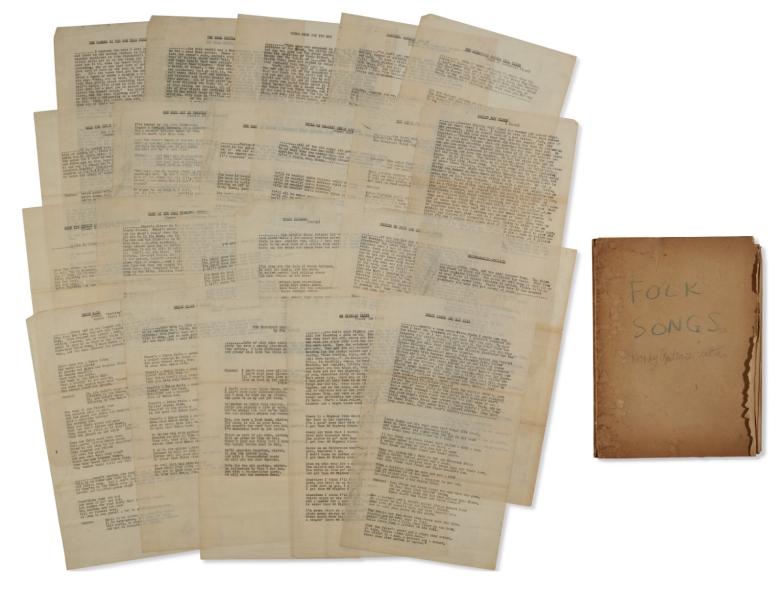 Courtesy of Christie's
An 85-page collection of song lyrics written mainly by the great American singer-songwriter Woody Guthrie is coming to auction later this month. The portfolio dates to the 1940s and includes mostly typescript, occasionally annotated drafts and variants of folk songs, many of which later appeared in the anthology, Hard Hitting Songs for Hard-Hit People. It is expected to realize $8,000-12,000 at Christie's by the online auction's close on January 27.
Hard Hitting Songs… was a project 27 years in the making — a collaboration between Guthrie, fellow singer-songwriter Pete Seeger, and musician and ethnomusicologist Alan Lomax. The Manhattan loft of artist Harold Ambellan and his wife Elisabeth Higgens had been a gathering spot where some of the songs were written, and also where, in the 1960s, the manuscript of Hard Hitting Songs… came to light. It was finally published in 1967, the same year Guthrie died.
Among the songs included in the collection headed to auction are "Union Maid," "Which Side Are You On?," and "Pretty Boy Floyd." A typescript of "Harry Bridges" is inscribed by Guthrie to Ambellan.
This auction lot called to mind our winter 2020 issue, in which biographer Holly George-Warren took us to Tulsa to visit the Woody Guthrie Center, which celebrates its tenth anniversary this year. On view now through February 5 is Woody Guthrie: People Are The Song, described as "a deep dive into Woody's vast scope of work as a spokesperson for the people through his words, music, and art." The exhibition was curated in collaboration with the Morgan Library & Museum, where it debuted last year.