Russian Constructivist Poster Among Top Lots in Heritage Auctions' Posters Auction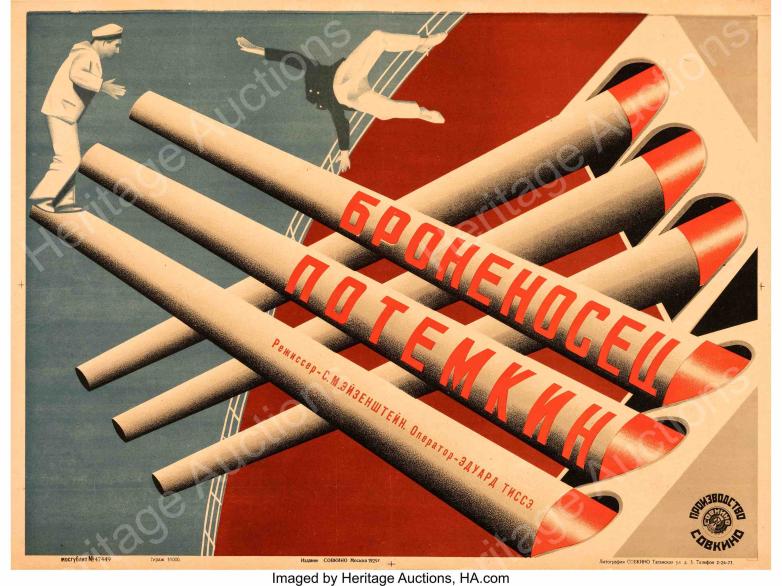 Dallas, TX – An extraordinarily rare jumbo lobby card for Dracula (Universal) sold for nearly five times its estimate to bring $192,000 in Heritage Auctions' Movie Poster Auction Nov. 23-24. The 14-inch by 17-inch card is especially unique because it was owned by actor Bela Lugosi, the actor who played the title role in the 1931 classic. The entire sale brought $2,504,814, the highest grossing movie poster auction of the year.
"We knew collectors were going to be excited by this particular piece," said Grey Smith, Director of Posters at Heritage. "Not only is it of unquestionable rarity, the fact it came from Lugosi's private collection makes it a true piece of cinematic history."
 
A rare Russian poster for one of the most effective propaganda films of all time sold for $108,000, beating high expectations. Never before offered by Heritage, the rare Battleship Potemkin (SovKino, R-1929) Russian Poster was one of a pair of Russian Constructivist posters offered in the sale. The second was a poster for October 1917 (Ten Days that Shook the World) (Sovkino, 1928) sold for $43,200. Constructivism is an artistic and architectural philosophy that started in Russia in 1913 by painter and architect Vladimir Tatlin, who wanted to "construct" art. Both posters were printed before World War II, which decimated so much of Russia, including paper goods. It's believed only a handful of such posters survived.
A pair of Italian post-World War II photobustas for Casablanca (Warner Bros., 1946) brought $90,000 as a single lot. A photobusta is a poster of unique size, in this case 19-1/4 inches by 13-1/2 inches. The photobustas are from the film's original Italian release, heightening collector demand. Three additional photobustas for Casablanca offered in the sale sold among the auction's top 10 lots.
A stunning lobby card for Frankenstein (Universal, 1931) ended at $78,000. The card is notable because the final image is from a test shot just before makeup artist Jack Pierce finalized the monster's makeup. The only difference between the final look and the image on the montage card are the prominent bolts on the forehead.
Topping $66,000 was a massive three sheet poster for the historic film The Jazz Singer (Warner Bros., 1927). Measuring 40 inches by 80-1/4 inches, it is the only three sheet poster known to exist and made its auction debut at Heritage. The film broke box office records and is traditionally credited with single-handedly launching the "talkie" revolution.
 
Rounding out the top 10 most expensive lots is a bright and bold Werewolf in London (Universal, 1935) one sheet, which sold for $60,000 and a lobby card for The Invisible Man (Universal, 1933), which ended at $57,600.
 
Additional highlights include a scarce selection of detailed background matte paintings from the collection of sci-fi artist Syd Dutton. Star Trek: The Next Generation, "Qo'noS First City" (Paramount, 1990) hammered for $31,200 and Star Trek: The Next Generation, "Romulus" (Paramount, 1987) ended at $20,400. Star Trek: Deep Space 9, "Cardassia Prime" (Paramount, 1990s) sold for $16,800. Dune: Giedi Prime by Syd Dutton (Universal, 1984); Original Screen-Used Matte Painting on Board in Frame sold above estimate at $9,000 and Star Trek: Voyager, Ocampa Underground City by Syd Dutton (Paramount, 1995) also beat expectations to sell for $8,400.
 
Heritage Auctions offers weekly online sales of more than 500 lots of vintage posters and film memorabilia, which close every Sunday evening. The next large signature auction is scheduled for March 21-22 with a Jan. 28 consignment deadline. Visit MoviePosters.HA.com for more information.