Rembrandt Etchings from the John Villarino Collection Coming up at Swann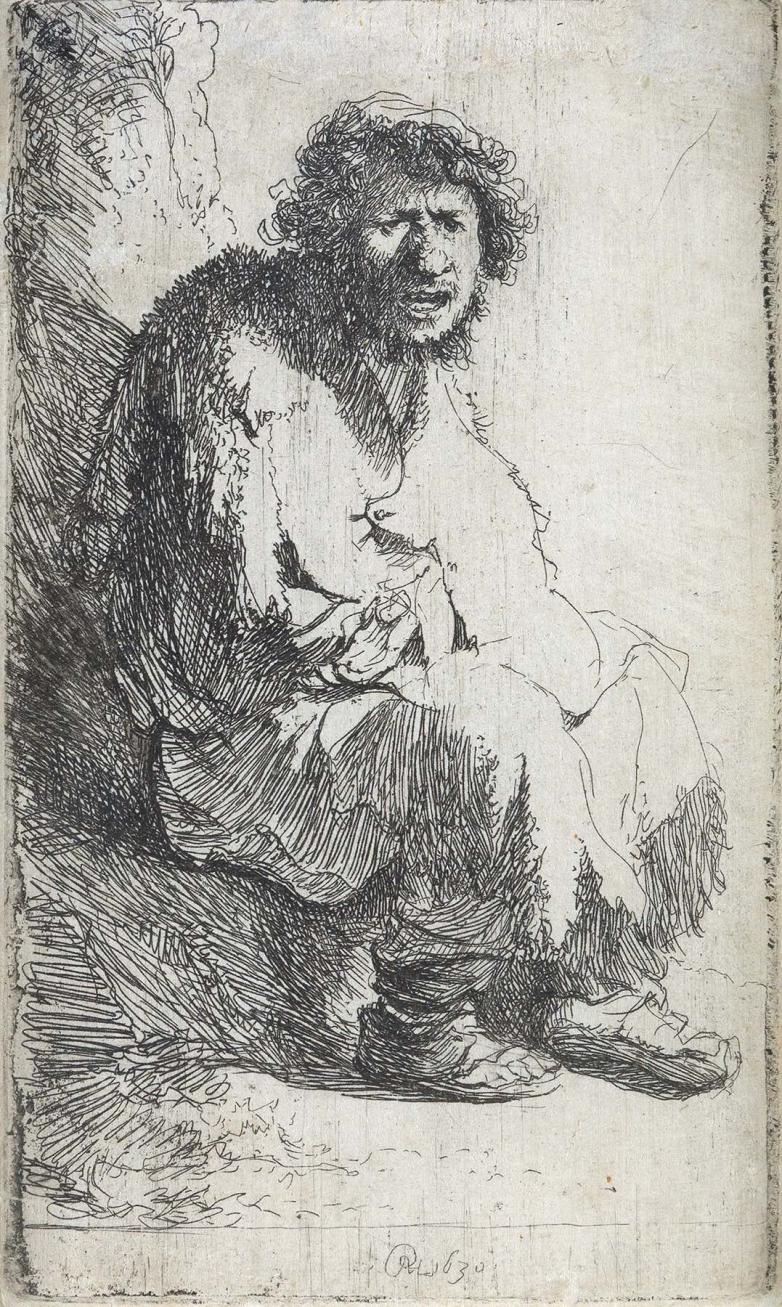 Courtesy of Swann Auction Galleries
New York — Old Master Through Modern Prints at Swann Galleries on Tuesday, October 29 will offer an important selection of prints by Rembrandt van Rijn. Also on offer are works from European and American virtuosos.
Rembrandt etchings from the John Villarino Collection form the cornerstone of the Old Master offering. In 1995 Villarino turned his collecting tastes toward Rembrandt as he recognized the profound influence the Dutch artist had on the works of later artists. Villarino was captivated by a small etching saying, "I saw his eyes, and the look was, 'I'm going to conquer the world.'" Highlights from the collection include A Beggar Seated on a Bank, 1630, likely an early self-portrait in the guise of a beggar ($20,000-30,000); Sheet of Studies, with a Woman Lying Ill in Bed, etc., circa 1641-42 ($25,000-35,000); and The Rat Catcher, 1632 ($12,000-18,000). Additional etchings by the Dutch master include some of the earliest dated landscapes by the artist: Landscape with a Cottage and Haybarn: Oblong, 1641 ($60,000-90,000)—one of his most sought-after landscape etchings—and Landscape with a Cottage and a Large Tree, 1641 ($40,000-60,000).
Further Old Master printmakers include Albrecht Dürer, who leads the sale with a 1504 engraving Adam and Eve at $80,000 to $120,000, and Lucas Cranach with The Judgement of Paris, woodcut, 1508, at $15,000 to $20,000.
European prints include Paul Klee's etchings Der Held mit dem Flügel—Inv. 2, 1905, an early etching (of which only three impressions have been found at auction in the past 30 years) ($70,000-100,000), and Höhe!, 1928 ($60,000-90,000). Career-spanning works from Pablo Picasso are on offer with Taureau ailé conteplé par Quatre Enfants, a 1934 etching from the Vollard Suite, at $25,000 to $35,000, and a 1962 color linoleum cut Portrait de Jacqueline en Carmen (L'Espagnole), at $35,000 to $50,000. Edvard Munch's lithograph based on the 1895 painting of the same name, Der Tod im Krankenzimmer, 1896, is available at $40,000 to $60,000.
Exemplary works from the nineteenth century feature Mary Cassatt's In the Opera Box (No. 3), etching, 1880, estimated at $20,000 to $30,000 and Henri Toulouse-Lautrec's Aux Ambassadeurs—Chanteuse au Café-Concert, color lithograph, 1894, which is expected to bring $15,000 to $20,000.
American printmakers are led by a run of drypoints by Martin Lewis that offer a study in chiaroscuro. Of note is Shadow Dance, 1930 ($30,000-50,000); Spring Night, Greenwich Village, 1930 ($15,000-20,000); and Chance Meeting, 1940-41 ($7,000-10,000). Color woodcuts by Edna Boies Hopkins and Gustave Baumann also feature.
Exhibition opening in New York City October 24. The complete catalogue and bidding information is available at swanngalleries.com and on the Swann Galleries App.