Printed & Manuscript Americana at Swann September 30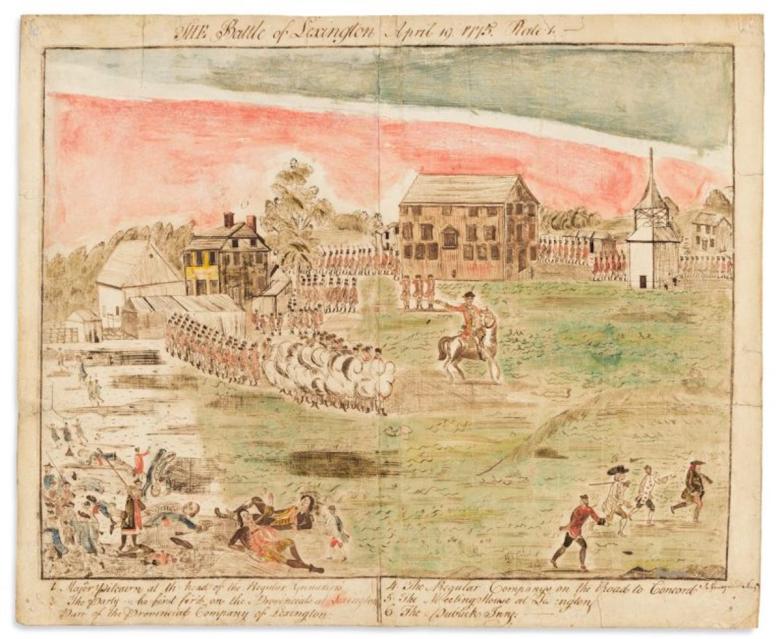 Courtesy of Swann Galleries
New York — Printed & Manuscript Americana is at Swann Galleries Thursday, September 30. The sale will feature house specialties such as manuscript diaries, periodicals, historical prints, and more.
Manuscript diaries are on offer with a robust selection of personal narratives, from the Revolutionary War to recollections of travels through California during the late 1800s. The top highlight of the offering is a rare diary from a Connecticut Revolutionary War officer who was imprisoned by the British in an infamous Manhattan sugarhouse in 1777 ($12,000-18,000)—no other known diaries of its kind have been found at auction. From the Civil War is the diary of Ann Walker Curtis, recording stories about the Boston Tea Party, Abraham Lincoln, the Battle of Lexington and more ($1,000-1,500). Additional manuscript diary highlights include an 1898 diary of a rail trip through dozens of southern California towns ($500-750), and the diaries of a young clerk in Pennsylvania and New Orleans kept from 1848 to 1855 who eventually hands the transcribing duties off to his wife ($500-750).
Highlights from the early days of America include a set of four 1778 ink and watercolor drawings by St. John Honeywood depicting the Battles of Lexington and Concord, after the famous engravings by Doolittle ($50,000-75,000); a bound volume of the Pennsylvania Herald, which includes 265 newspaper issues from 1887 to 1791, and features a very early printing of the United States Constitution and more ($20,000-30,000); and a 1774 mezzotint, Bostonian's Paying the Excise Man, or Tarring & Feathering, which depicts a scene that occurred a month after the Boston Tea Party ($10,000-15,000), as well as letters, sheet music, prints and more.
The western frontier is well represented with a vast selection of material relating to Colorado, Arizona, New Mexico and more, and led by an 1869 Arizona scouting manuscript by a lieutenant who later died with his brother-in-law, Custer, at Little Bighorn ($7,000-,10,000). Also of note is a group of long detailed letters from the early days of Denver written by Jonathan L. Cresson from 1862 to 1870 ($3,000-4,000); an 1880s souvenir album of photograms of Colorado and New Mexico ($4,000-6,000); broadsides for the Sante Fe and Union Pacific Railroads, a run of images by Laton A. Huffman documenting cowboys in Montana, as well as an 1880 guide for tourists and prospective settlers for Colorado, New Mexico and Arizona ($500-750).
The sale opens with  strong section of material relating to the American Indian. Featured is an archive of the prominent Cherokee merchant Joshua Ross from 1848 to 1918 ($5,000-7,500); an edition of  History of the Indian Tribes of North America, Philadelphia, 1855, by Thomas McKenney and James Hall, a classic work of American Indian portrait iconography ($6,000-9,000); and two Camillus Fly albumen photographs: Geronimo and Natches Mounted,  1886 ($4,000-6,000), and The Captive White Boy, Santiago McKinn, 1886 ($5,000-7,500).
Latin American material includes a beautiful 1646 first edition of Alonso de Ovalle's Historica relacion del reyno de Chile ($15,000-25,000), a complete set of Juana Inés de la Cruz's collected works ($80,000-120,000),  as well as early Mexican printing and interesting Cuban material.
Other strong sections include American children's chapbooks, material related to early Manhattan, and the Civil War.
Limited open exhibition hours will be available from September 27 through September 29. Appointments are strongly encouraged and can be scheduled directly with a specialist. Swann Galleries staff will prepare condition reports and provide additional photographs of material on request. Advance order bids can be placed with a specialist for the sale or on Swann's website, and phone bidding will be available. Live online bidding platforms will be the Swann Galleries App, Invaluable, and Live Auctioneers. The complete catalogue and bidding information is available at www.swanngalleries.com and on the Swann Galleries App.
Additional highlights can be found here.