Klosterman Magic Collection Part III at Potter & Potter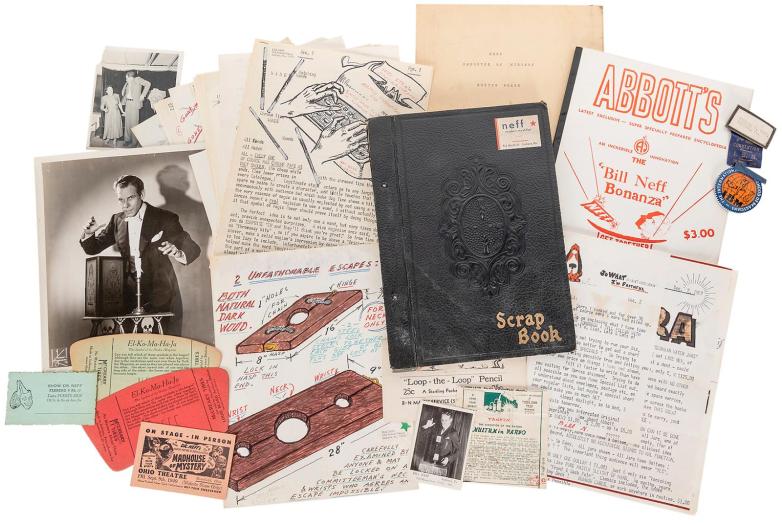 Potter & Potter
Chicago - Potter & Potter Auctions is pleased to announce this 370 lot sale to be held on Saturday, October 29 starting at 10am. The event will be held online and live streamed, with a limited number of bidders physically allowed in the gallery as determined by current Illinois public health attendance guidelines. Please call the auction house, located at 5001 W. Belmont Avenue in Chicago, at 773-472-1442 to reserve seats, with first come, first served. Bidding will take place through Potter & Potter's website, at www.potterauctions.com. Phone and absentee bids are also welcome. Hardbound copies of the sale catalog are available for pre-order for $55; they will ship in late September. Please contact the auction house directly for more information.
Apparatus with ties to the world's most recognized magicians take the spotlight at this important magicana event.
•    Lot #68, Harry Houdini's Automatic Flowering Rosebush, is estimated at $25,000-50,000. It was made in New York by R.S. Schlosser around 1924. The lot includes a small earthenware pot, an elaborate metal table, and its original travelling trunk. The table measures 37" tall and 70" tall inclusive of the flowers. This was one of several flashy effects used to open the production Houdini created for his final American tour, billed as "three shows in one." His act included magic, spiritualism exposes, and sensational escapes. Our experts agree that this particular example is the most elaborate and intricate a mechanism they have ever encountered.
•    Lot #66, a Hofzinser Any-Card Called For Card Rising Box, is estimated at $20,000-40,000. It was made in New York by Charles Kalish around 1976 and was modeled on the original apparatus owned and used by Hofzinser. This leather-covered brass case is one of two manufactured by Kalish, who used the original apparatus as his direct model. The magician places a pack of piquet cards in the case. A spectator is asked to name any card in the pack, and then, on command, the called for card rises from the slot in the top of the box. The case conceals a mechanically complex clockwork device that allows for the working of the effect.  
•    Lot #1, a Robert-Houdin Glass Column Mystery Clock, is estimated at $15,000-25,000. It was manufactured in Paris by Jean Eugene Robert-Houdin around 1850. This rarity is 19-½" tall and is comprised of a 5" diameter glass dial in a round brass bezel with a single arrow-shaped hand. It is decorated with black Roman numerals and an inner minute track. The clock is mounted on on a gilt and ormolu riser and rests on an ebonized wooden base with four feet. Introduced in the late 1830s, these fully functioning timepieces with no visible connection between the hands and the works  - created by the father of modern magic -  were an instant success and a distinct novelty at the time.
•    Lot #60, Karl Germain's One-Man Spirit Cabinet from around 1910, is estimated at $4,000-8,000.  This apparatus consists of a pipe-and-drape cabinet resting on a raised wooden platform with a carved wooden header framing the roof. The cabinet stands about  8 x 5 x 5', exclusive of its stand. In performance, Germain sat in a chair in the cabinet and fell into a trance. While under this trance, spirit manifestations took place; bells rang and tambourines clattered, while ghostly forms appeared in and around the cabinet as other ghostly occurrences took place. This lot includes apparatus, costumes, paintings, a gimmicked chair, and the cabinet's original traveling trunk.
Posters featuring early 20th century legacy acts are another key category in this auction.  
•    Lot #253, Harry Keller's Walk In The Woods, is estimated at $10,000-15,000. It was published in Cincinnati & New York by Strobridge Litho around 1900. This half sheet, linen backed color lithograph depicts the magician strolling through the forest with demons peeking out from behind the trees.
•    Lot #232, Karl Germain's Germaine The Wizard, is estimated at $10,000-20,000. It was printed in Cleveland by Schmitz-Horning around 1908. This framed and mounted color lithograph features a full-length portrait of Germain conjuring a spirit from the embers of a fire while a witch and black cat look on. This was one of three posters used as a door in the Salon de Magie. Behind it were concealed shelves which displayed a collection of Germain's personal props and accessories.
•    Lot #238, Harry Houdini's The World Famous Self-Liberator! Houdini, is estimated at $6,000-12,000. It was printed in Cardiff by Western Mail Ltd. in 1913. This broadside advertises Houdini's Water Torture Cell act at the Cardiff Empire and is illustrated with an image of a monster holding Houdini down in the cell. Houdini debuted his Water Torture Cell act in 1911. He took it on tour soon after and it became one of his most famous acts and a reputation maker for the famous escape artist.    
This sale offers a number of extraordinary examples of vintage to modern automata.
•    Lot #2, a musical clown magician automaton, is estimated at $8,000-1200. It was made in Paris by Leopold Lambert around 1910. This 24" tall example consists of a clown magician standing behind a table, a metal cup in his right hand and wand in his left. When activated, he raises the cup to reveal one of four objects – a watch, a gem, a die, or a compass. The figure raises and lowers his head, shaking it from side-to-side, sticks out his tongue, and waves the magic wand. These actions are accompanied by a two-tune music box.  
•    Lot #44, a cup and ball magician automaton, is estimated at $5,000-10,000. It was manufactured in Los Angeles by Alan Wakeling around 2002. It stands 32" tall with a base of 17 x 14 x 7". When activated, the magician raises and lowers both arms and nods his head, then covers the table in front of him with a cup held in one hand. Each time he raises the cup, the object under it has changed or vanished. A music box plays Vivaldi's Spring to accompany the movements. This example is only one of 10 extant.
•    Lot #10, an automaton drinking bear, is estimated at $1,000-2,000. It was built in Paris/New York by Asbro in the 1930s. This 14" tall rabbit fur covered example raises his cup, takes two swigs, and pours himself more. The cub is detailed with leather-covered wooden paws, glass eyes, and a metal cup and bottle. A modified version of this novelty was used by Del Ray in his nightclub magic act.    
This sale's array of magic related archives and collections is certain to conjure up significant interest.
•    Lot #361, a library of about 400 volumes relating to spiritualism and other psychic phenomena, is estimated at $8,000-12,000. This important collection consists of books and pamphlets related to the Spiritualist movement, witchcraft, tarot, fraudulent mediums, and other related phenomena, mostly published in the c. 1850 - 1950 timeframe. The volumes included offer a broad look at Spiritualism, span the movement's most popular period, and provide invaluable insight into its evolution and the various methods employed to "give the dead voice with which to speak."
•    Lot #190, three scrapbooks of American magician Lester Lake, is estimated at $2,000-4,000. These are from the c. 1920-30 timeframe and include two paper-bound albums and one clothbound, compiled and kept by the Indiana magician and escape artist. The archives include neatly mounted and kept photographs; paper materials including handbills, broadsides, programs, tickets, and other promotional materials related to Lake's shows and career; membership cards in various magic societies; and other ephemera.
•    Lot #198, an archive of Bill Neff personal and Ghost Show ephemera, is estimated at $500-1,000. The materials date from the c. 1930– 60 time frame. They include Neff's scrapbook detailing ideas for "exploiting" his magic show, his badge for the 6th Annual I.B.M. convention, an early throw-out card, handwritten cue sheets, various advertising novelties, letters from Neff to Jack and Leola LaWain, who would sell the Neff show after his passing, typed documents illustrated by Neff to help advertise various magic effects and outline the working of others, photographs, and more.  
The selections of outstanding antique books on offer through this sale are certain to be best sellers.
•    Lot #336, Harry Houdini's The Unmasking Of Robert-Houdin, is estimated at $1,500-2,500. This first edition was published in New York by The Printer's Publishing Co. in 1908. It is illustrated with plates and reproductions of playbills from Houdini's collection and inscribed and signed by Houdini.
•    Lot #310, Henry Rene D'allemagne's two volume Les Cartes A Jouer, is estimated at $2,000-3,000. These were printed in Paris by Librairie Hachette in 1906 and are bound in gilt stamped half red morocco with cloth boards, and decorated with raised bands and marbled endpapers. The original dust jackets are bound into each volume.
•    Lot #328, Jonathan Harrington Green's An Exposure Of The Arts And Miseries Of Gambling, is estimated at $2,000-3,000. It was published in Cincinnati by U.P. James in 1843. This first edition with a Cincinnati imprint is not recorded by Howes or Jessel and is genuinely rare. This was the first of any American work of substance on poker and gamblers' techniques. The book recounts many tales from the romanticized gambling boats traversing the Mississippi River, as well as experiences with con men, counterfeiters, and pickpockets.    
This sale comes full circle with magic themed ephemera and other rarities that defy traditional categories.
•    Lot #178, an inscribed and signed photograph of Harry Houdini In The Grim Game, is estimated at $2,500-5,000. This 8 x 10" sepia tone silver gelatin movie still was taken in Los Angeles in 1919. It shows Houdini astride the wing of a biplane, the pilot looking on behind him. It is inscribed and signed "About 4000 feet in the air / Houdini."    
•    Lot #189, a Harry Kellar souvenir pocket mirror, is estimated at $2,000-4,000. It was produced in Pennsylvania by the Reading Ribbon Badge Co. around 1900 and is one of two extant. The mirror measures 56mm in diameter and features  a finely colored portrait of Kellar in hat and spectacles.  
According to Gabe Fajuri, President at Potter & Potter Auctions, "We're excited to offer this third auction of treasure from the Salon de Magie - and the sale couldn't be held at a better time, just days before Halloween. Few auctions in my memory, or perhaps ever, have featured so many items related to spiritualism, ghost shows, and related subjects. This was one of Ken Klosterman's great interests, as this auction makes quite clear."