Fine Autographs and Artifacts Featuring Revolutionary War up for Auction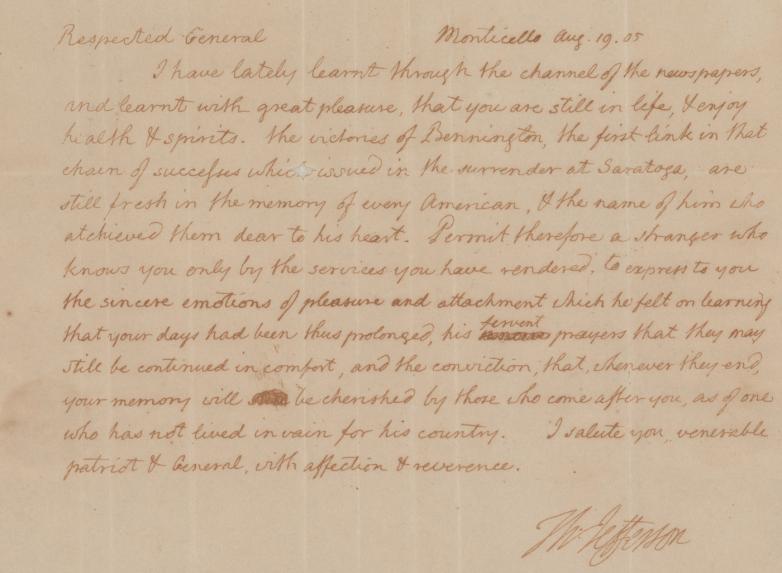 Courtesy of RR Auction
Boston — Over 1,100 lots are up for auction on RR Auction's revolutionary new website! With a section featuring America's patriot leaders to honor Independence Day, this July auction boasts a wealth of historical documents and manuscripts.
Highlights include a handwritten letter by Thomas Jefferson to war hero John Stark. The superlative one-page letter as president, signed "Th: Jefferson," dated August 19, 1805. Handwritten letter from Monticello to General John Stark praising the "victories of Bennington, the first link in that chain of successes which issued in the surrender at Saratoga." Remembered as the 'Hero of Bennington' for his exemplary service at the Battle of Bennington on August 16, 1777, Stark led a group of New England militiamen in the defeat of a detachment of General John Burgoyne's army. The victory was a major strategic success for the beleaguered patriot cause, galvanizing support for the independence movement. It is considered one of the early turning points in the American Revolution. After the War, Stark retired from public life to his farm in New Hampshire, where he lived out his days in relative obscurity—even Jefferson, the patriot philosopher then serving as America's president, seemed surprised to learn that Stark was alive. (Estimate: $60,000+)
Documents signed by Paul Revere, including an early Boston real estate deed for land in "Cornhill near the market," signed by Revere as witness. The one-page manuscript, dated June 17, 1799. A fine example of Revere's signature, accomplished on the second page of a petition of Jonas Clarke Minot of Boston, the guardian of "Sarah Drowne of said Boston a Minor," who is selling real estate in "Cornhill near the market" inherited by Drowne from her grandfather. Revere, who, like her grandfather, was a silversmith and coppersmith, signs the deed as a witness. (Estimate: $20,000+)
George Washington handwritten letter penned a month before the outbreak of the Revolutionary War. The one-page letter signed "Go: Washington," dated March 10, 1775. Addressed from Mount Vernon, a handwritten letter to Edward Snickers. Before his death in 1790, Edward Snickers had become a well-to-do gentleman in Frederick County with extensive landholdings and many talents, namely that of a horse trader, tavern keeper, wagoner, military supplier, plantation manager for others and planter for himself, and land speculator. Washington used Snickers's horses and wagons to have supplies hauled between Alexandria and Winchester for the Virginia Regiment during the French and Indian War and for his own purposes thereafter. (Estimate: $15,000+)
Benjamin Franklin signed Land grant issued by Franklin as president of Pennsylvania's Supreme Executive Council. The vellum one-page manuscript signed "B. Franklin," dated July 14, 1788. As president of Pennsylvania's Supreme Executive Council, Franklin grants to John Lear a "certain Tract of Land called 'Trevose' situate on Laurel Run in Buffaloe Township. (Estimate: $8,000+)
Benedict Arnold signed document— The wounded Arnold lays siege to Quebec at the start of 1776. Major General in the Continental Army during the American Revolution who distinguished himself at Saratoga (1741-1801). One of Washington's most skilled and able generals, he turned traitor in an infamous plot to turn over the fortress at West Point to the British. The exceedingly rare Revolutionary War-dated one-page document, signed "B. Arnold Col.," dated January 19, 1776. (Estimate: $7,500+)
Also represented is a vast selection of rare Declaration signers, including George Taylor, John Rutledge, John Hancock, Samuel Chase, and Lyman Hall.
Other top lots include significant letters by Paul Gauguin and Henry David Thoreau, remarkable Albert Einstein autographs, and important music memorabilia.
The Fine Autographs and Artifacts featuring Revolutionary War from RR Auction began on June 25 and will conclude on July 14. For more information, go to www.rrauction.com.