Dune Storyboard Heads to Auction in Paris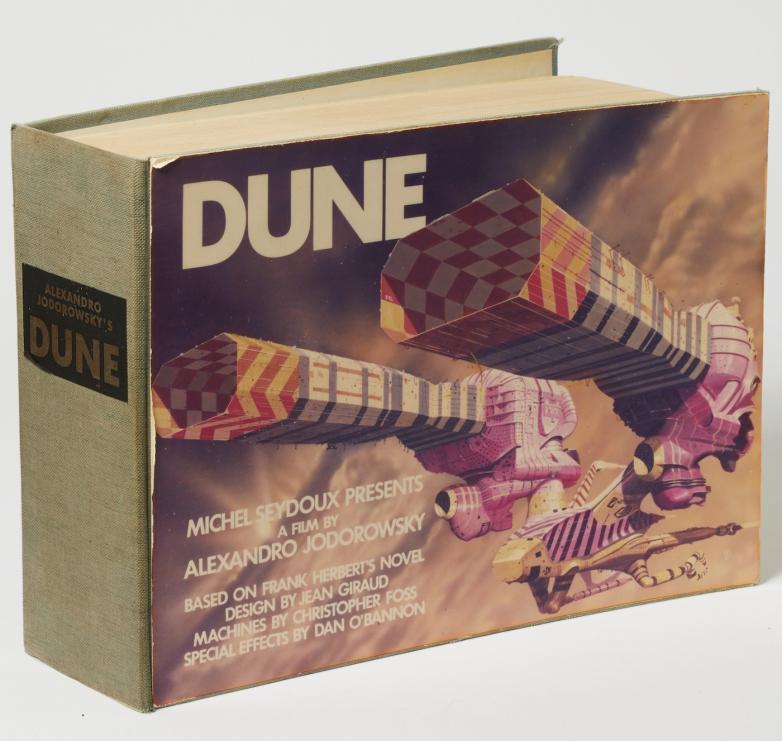 © Christie's images limited
Paris – Christie's is thrilled to announce the sale of an exceptional document which will be offered on 22 November as part of the "Rare Books and Manuscripts" sale: one of the very few known copies of the Dune storyboard. Alejandro Jodorowsky's filmic adaptation of the pioneering science-fiction novel was a gigantic and never to be realized project, bringing together Jean Giraud, also known as Moebius, Christopher Foss and H. R. Giger as art directors, Pink Floyd and Magma to work on the soundtrack and starring Salvador Dali, Mick Jagger and David Carradine. Estimate: €25,000-35,000 ($30,000-41,000).
Vincent Belloy, Christie's Book Specialist: "An extraordinary artifact from one of the most iconic science fiction filmic adaptations - a doomed project which inspired legions of film-makers and moviegoers alike."
Often described as the "greatest movie that was never made," Alejandro Jodorowsky's filmic adaptation of Dune is one of the most famous doomed projects in movie history. To help him in this daunting task, he gathered some of the most talented artists of his time.
Originally published in 1965 in the United States, Frank Herbert's Dune received several sequels and became the best-selling science fiction book ever, deeply influencing several generations.
A movie adaptation quickly appeared as a logical continuation – the rights were acquired in 1974, and Franco-Chilean director Alejandro Jodorowsky started working on the project.
To do justice to Dune's worlds and characters, he envisioned a movie which could be between ten and fifteen hours long. Pre-production work was done by Jean Giraud, also known as Moebius, who had co-founded the seminal comics publication Métal Hurlant, and himself one of the most talented and important comics artists of his generation ; Chris Foss, a British illustrator who had made a huge number of illustrated wrappers for pocket editions, including books by Isaac Asimov and Edmund Cooper ; and Hans Ruedi Giger, a Swiss artist well-known for his airbrush work. This trio led most of the preliminary work and were in charge of the artist direction of the whole project -designing the characters, costumes, vehicles and environments.
Progressive rock bands Magma and Pink Floyd were approached by Jorodowsky and agreed to write and play on parts of the original soundtrack. The movie was to star Salvador Dalí, Mick Jagger, Orson Welles, David Carradine and Alain Delon.
It goes without saying that a project of this scale needed a colossal budget to come to life. Together with producer Michel Seydoux, Jorodowsky flew to the United States, to try and gather the 5 million dollars needed to kickstart the actual production. To spark the interest of the Hollywood majors, they brought several copies of a thick, oblong volume. This book gathers reproductions of drawings among the thousands made by Moebius, Foss and Giger, including a near-complete story board of the movie, with dialogues in French and English.
Despite their passion and care, they did not manage to convince the American studios. The financial well finally dried up, forcing them to cancel the whole project.
But all of this was not in vain. According to Jorodowsky, despite its cancellation, the whole "project proved the Americans that it was possible to make a larger-than-life science fiction movie, outside of the scientific rigor of 2001: A Space Odyssey (1968)". Its influence is clear as a day in most of the big space operas and science fiction movies of the 1970s, including Star Wars, by George Lucas (1977), and Alien, by Ridley Scott (1979), with the eponymous creature designed by Giger.
This evident influence shows that despite their refusal to fund the movie, studios deeply studied the storyboard brought to them by Jodorowsky and Seydoux. As a working document and a promotional tool, there are probably less than ten copies which have survived.
Less than a decade after Jodorowsky, in 1984, David Lynch released his own controversial Dune. With the release of the first part of his own vision, Denis Villeneuve is therefore the third director to try and adapt Herbert's seminal novel. Despite its abrupt and bittersweet conclusion, the pioneering work of Jodorowsky and all the involved artists is one of the most fascinating doomed projects in movie history, and one of the cornerstones of science fiction and pop culture.