Columbus Letter, Mapplethorpe Photos, Wheatley First Edition: Auction Preview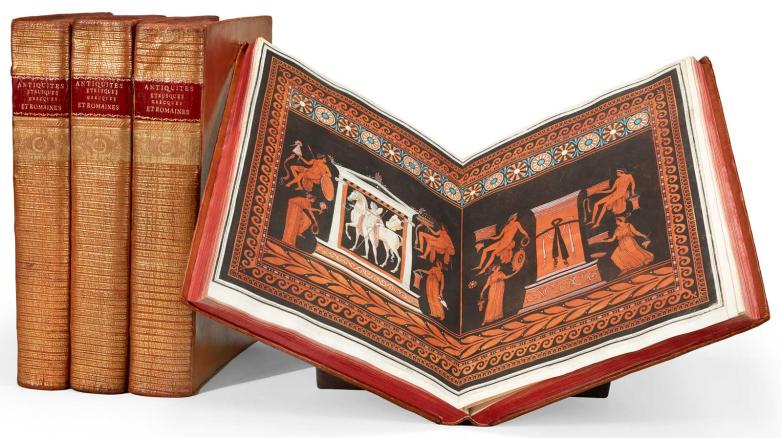 Image: Christie's
Here are the auctions I'll be keeping an eye on this week:
At Heritage Auctions on Tuesday, October 17, a 345-lot Photographs Signature sale, including several Robert Mapplethorpe flower photos: Calla Lily (1988), estimated at $60,000–80,000; Calla Lily (1986), expected to sell for $40,000–60,000; and Irises (1986), at $25,000–45,000. Robert Frank's London (Belsize Crescent) is estimated at $50,000–70,000.
University Archives sells 429 lots of Rare Autographs, Manuscripts, Books & Sports Memorabilia on Wednesday, October 18. Expected to lead the way is a 1942 Albert Einstein letter to Felix W. Cartier of Laconite, Minnesota, which could fetch $25,000–35,000. A 1654 deed for part of what is now Manhattan's Financial District signed by Peter Stuyvesant is estimated at $20,000–30,000. At the same range are a 1794 Martha Washington letter to her niece, and a first edition of Phillis Wheatley's Poems on Various Subjects (1773), previously in the collection of Wheatley (Peters) scholar John C. Shields.
On Thursday, October 19, Books and Works on Paper at Forum Auctions, in 247 lots. 
At Everard Auctions on Thursday, The Anglophile and the Professor, 410 lots from the collections of William H. Rasch and Ronald Onorato. Some pretty interesting seventeenth- and eighteenth-century English printing in this one to watch.
Ending on Thursday is the Christie's New York online sale of Fine Printed Books and Manuscripts including Americana, in 357 lots. The Columbus Letter is the keystone of this sale, expected to sell for $1–1.5 million. The really thorough and excellent lot essay is definitely worth a read. There are a host of other great items in this sale, too, including four Mattioli woodblocks ($25,000–35,000).
On Thursday at PBA Galleries, Photography & Fine Art with the Michael Gleason Collection of Movie Posters, in 389 lots. An original drawing of Mickey Mouse, inscribed by Walt Disney, rates the top estimate at $10,000–15,000.
Bonhams London sells 33 lots of Marvellously Revolting Recipes: Illustrations Sold to Benefit Roald Dahl's Marvellous Children's Charity on Friday, October 20. These are original illustrations from the recipe book Marvellously Revolting Recipes, inspired by Dahl's books and published this year.