Charles Dickens Crowdsourced Codebreaking Project Wins Top Award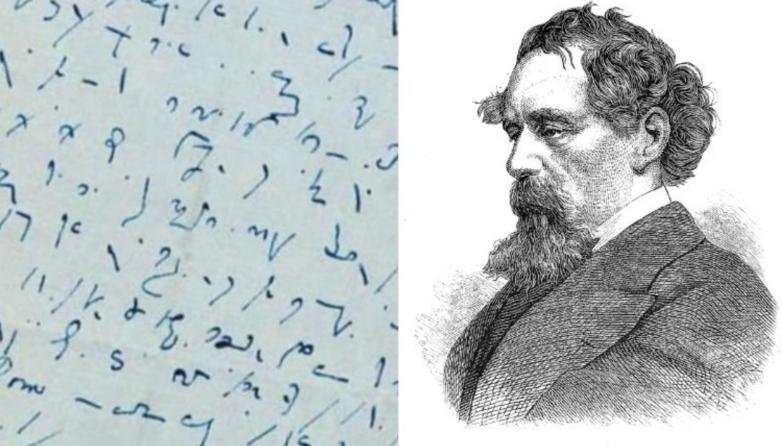 University of Leicester
A worldwide effort to crack the code that Charles Dickens used to write his notes has won a Times Higher Education Award, one of the most prestigious accolades in UK Higher Education.
University of Leicester, in collaboration with the University of Foggia took home the Research Project of the Year: Arts, Humanities and Social Sciences trophy at the eighteenth annual THE Awards on 17 November.
The THE Awards – widely referred to as the 'Oscars of higher education' – are the biggest celebration in the HE calendar, attracting hundreds of fantastic entries from individuals, teams and institutions, and from all corners of the UK and Ireland.
Nearly a thousand people gathered at the Hilton London Metropole hotel to celebrate one of our greatest national success stories: our universities.
The winner of the award for Research Project of the Year: Arts, Humanities and Social Sciences was the AHRC-funded Dickens Code, led by Dr Claire Wood in the School of Arts in collaboration with Professor Hugo Bowles at the University of Foggia. Charles Dickens is a giant of English literature, yet there are texts in Dickens's own hand that remain unread, written in an adapted form of shorthand. To solve this 150-year-old mystery, they combined the efforts of the Dickens Decoders - volunteers from across the world with an interest in puzzles and codes - with contextual research by academics to enable crowd-created transcription of two of Dickens's mysterious shorthand texts.
The judges described the project as an "inspirational development of a small-scale research problem". They were impressed by its "imaginative deployment of interdisciplinary expertise, the international liaison, the use of 'crowd-creation' to find solutions, and the exemplary communication and exploitation of results."It is an exciting model of how localised research can be vividly extended into other domains addressing far-sighted objectives."
Dr Claire Wood of the School of Arts at the University of Leicester said: "I am beyond thrilled to accept this award on behalf of the Dickens Code team. It is testimony, both to the enduring global interest in Dickens's life and works, and to the efforts of the Dickens Decoders, who approached the challenges of Dickens's mysterious shorthand with such imagination and tenacity. It also demonstrates the power of international, interdisciplinary collaboration and the use of public engagement to solve complex research questions. We'd like to thank everyone who has supported the project, including members of our academic network, our museum and library partners, and our followers around the world!"
Professor Nishan Canagarajah, President and Vice-Chancellor of the University of Leicester, said: "I'm delighted that the Dickens Code has been recognised with a Times Higher Education Award, and my congratulations to Dr Claire Wood for her leadership of a project that has captured our imaginations. This was a truly international effort, combining academic expertise from a range of disciplines with crowdsourced know-how from around the world to uncover truly unique insights into a towering figure in English literature. It is an inspirational example of how we all have the capacity to be a Citizen of Change and make a transformative impact on our knowledge and understanding. To have been shortlisted for a Times Higher Education Award is a fantastic achievement in itself, and my congratulations to all our colleagues who were recognised for their exceptional contributions."