Carnegie Library Book Thieves Sentenced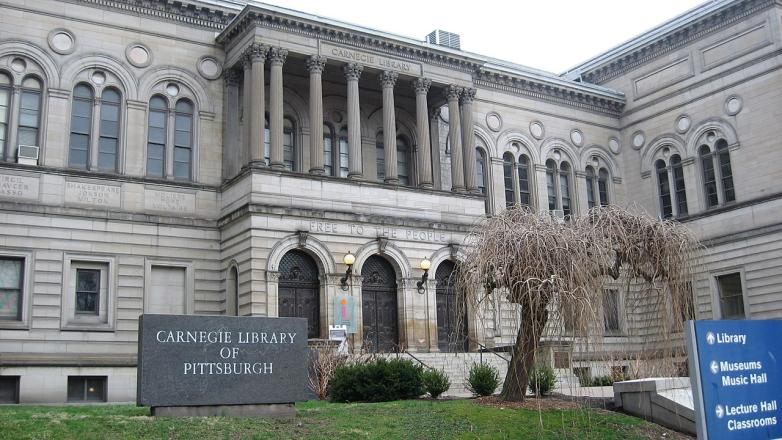 Via Wikimedia
Well, the verdict is in: antiquarian bookseller John Schulman of Caliban Book Shop and former Carnegie Library archivist Gregory Priore were given light sentences for stealing about 300 rare books from Pittsburgh's Carnegie Library over two decades. In addition to paying $55,000 in restitution, Schulman must serve four years of house arrest and twelve years of probation. Priore received three years of house arrest and twelve years of probation.
Replacement value for the rarities, which included a book signed by Thomas Jefferson, is estimated at $8 million. Book theft is seldom taken very seriously from a legal point of view. However, the judge, Alexander P. Bicket, did suggest that the sentences might have been more harsh if not for Covid-19.   
The charges against the two men were first announced in 2018. Though both plead guilty, Schulman sent an email to supporters in January proclaiming his innocence, a move that dismayed the judge.
On a rare books electronic mailing list, one well-known and outspoken collector commented, "In a sense, the sentences to the pair of confessed thieves are unimportant. Their careers in rare books are gone."
The Antiquarian Booksellers' Association of America (ABAA), for its part, put out a statement condemning the actions of the two individuals and reasserting that Schulman ceased to be a member of the ABAA within days of his indictment. ABAA President Brad Johnson wrote, "As antiquarian booksellers, we are the custodians and caretakers of cultural materials. This incident is not only a violation of that responsibility and our rigorous Code of Ethics, it is also a tremendous loss to scholarship in the Pittsburgh community and beyond. When we were alerted to the thefts, the ABAA published lists of the stolen and missing material. Our members continue to assist the authorities and collectors around the globe in identification and recovery activities. We co-sponsored an international seminar on provenance at the Grolier Club in 2019 and as a result, bolstered our communications efforts and stolen and missing books blog. We are continuing to work with our colleagues and law enforcement agencies throughout the world and our counterparts in special collections libraries to develop a more robust international stolen books database and increase awareness on the importance of security and provenance."
And this wasn't the only disappointing denouement in a book theft case last week. As Travis McDade, curator of rare books at the University of Illinois College of Law and author most recently of Torn from their Bindings, pointed out on Twitter, a former University of Illinois employee who plead guilty to stealing two rare books from the UI library (although more than 25 are missing) was sentenced to two years of probation.