Bukowski Typescript a Highlight at PBA Auctions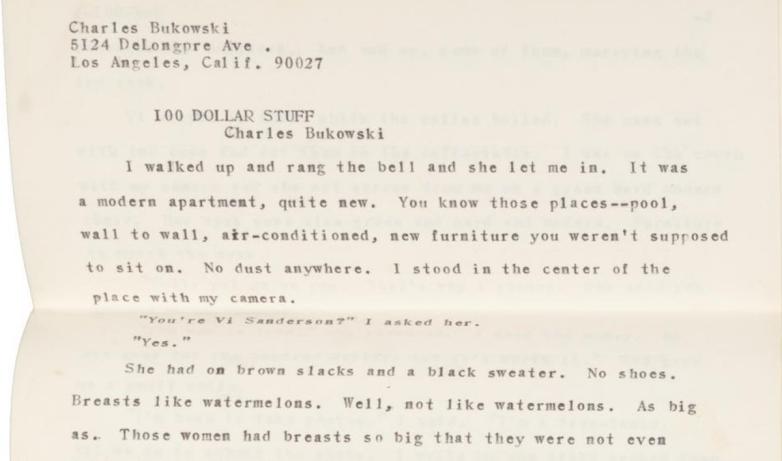 Courtesy of PBA Galleries
Berkeley, CA – PBA Galleries' first auction of the year, Sale 752 held on January 13th had an impressive 91% sale rate, with a large amount of early bidding on numerous lots, and competitive bidding throughout the sale.
 
The sale consisted of over 450 lots of fine literature and ephemera, featuring a large selection of important literature from the 19th and 20th centuries, scarce works from the counterculture and the Beat Generation, as well as a large selection of the works of Charles Bukowski. The sale also included a number of rare works in the fantasy, mystery and science fiction genres. Highlights included an original typescript of an unpublished story by Charles Bukowski, and a first edition of Frank Herbert's Dune. A number of other Dune volumes also brought impressive hammer prices. A first edition of Beasts of Tarzan signed by Edgar Rice Burroughs fetched a record price, as did a first edition of John Reed's Ten Days That Shook the World, and Patricia Highsmith's The Talented Mr. Ripley. A copy of  the Letters of John Ruskin to Charles Eliot Norton exquisitely bound by The Doves Bindery performed exceptionally well. Works by John Steinbeck, Cormac McCarthy, Ernest Hemingway and Gertrude Stein also saw impressive hammer prices.
 
Bidding was spirited for the unique copy of Letters of John Ruskin to Charles Eliot Norton exquisitely bound by The Doves Bindery in full black morocco, tooled in gilt, spines with raised bands, gilt-decorated compartments, numbered and lettered in gilt; gilt dentelles, all edges gilt. The two volumes housed in custom 2-part red morocco slipcases with spines lettered in gilt by Riviere & Son sold for $8,125.
 
An original unpublished typescript by Charles Bukowski, "100 Dollar Stuff," submitted to Robert Singer, for his literary journal in-the-works which was to be called "Speed Fast Reading." The journal never came to be, and there is no record of the story appearing in any journals or included in any published collection. This is quite possibly the only existing copy of the work. The story recounting a visit by the narrator, a photographer for an adult magazine, to a woman at her home for a nude photo session was sold with a typed letter and mailing envelope went to a lucky bidder for $6,250.
 
Eight paperback editions by Cormac McCarthy brought a remarkable $4,062.50. All copies were inscribed and signed by McCarthy. Inscribed copies of McCarthy titles in any edition are very scarce.
 
Several literature classics were highly desirable. A First Edition in original dust jacket of Frank Herbert's sci-fi classic, Dune, brought $5,937.50. Uncle Tom's Cabin, a first printing of one of the most influential books written, sold for $4062.50. A second printing signed by Ernest Hemingway of his Spanish Civil War novel, For Whom The Bell Tolls, fetched $3,437.50. The scarce second edition of the Herman Melville classic, Moby Dick, went for $3437.50.
 
PBA Galleries holds sales of fine, rare and collectible books every two weeks. We are currently accepting consignments for Fine Literature including Beats, Bukowski and Counterculture. For more information regarding upcoming sales, consignments, or auction results, please contact PBA Galleries at (415) 989-2665 or pba@pbagalleries.com.