Bright Young Librarians: April Sheridan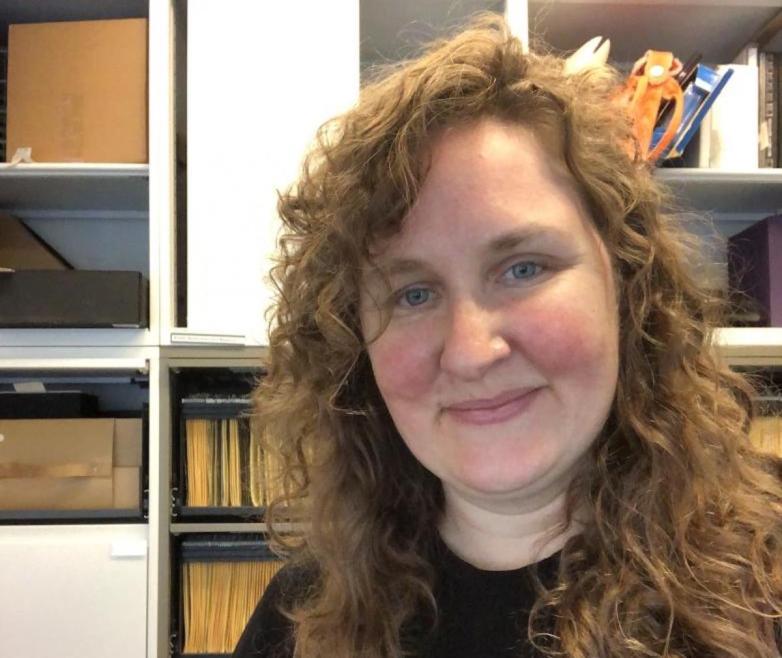 Courtesy of April Sheridan
Our Bright Young Librarians series continues today with April Sheridan, Special Collections Manager at the Joan Flasch Artists' Book Collection at the School of the Art Institute of Chicago.
What is your role at your institution?  Please introduce us as well to the Joan Flasch Artists' Book Collection:
For the past three years I have been the Special Collections Manager at the Joan Flasch Artists' Book Collection in the John M. Flaxman Library Special Collections at the School of the Art Institute of Chicago. The collection began after the death of the beloved bookbinding instructor, Joan Flasch, and really started to grow under the curatorial vision of Doro Boehme. Doro, who was the custodian of the collection for about 20 years and who sadly passed away in 2020, began to gather artists' publications from the main collection, including a lot of conceptual and fluxus work. From there she expanded her collecting vision to international artists and intelligent works. It's not the typical artists' book collection of works with a craft orientation, rather, we emphasize the cooperation of form and concept. The pieces range from zines to high-end contemporary art and our mission is to amplify  the voices of the otherwise unheard as well as to expand our understanding of objects known as books.
There's a central core of the collection from the 1960s, but for the past several years the majority of our purchases have come from the New York Art Book Fair (where we can meet lots of internationally based artists in one very long and very sweaty weekend). We also have been purchasing more from independent dealers, as their scope of artists' publications grows. Additionally, we purchase a lot of student, staff, and faculty work so we have a great snapshot of publishing in our community. Almost every department at the school teaches a course on artists' books, so we happily support and benefit from that activity. 
In "normal" years we see about 6,000 patrons, the bulk of that through the school, but we also work with researchers from all over the world. My job is to make sure that we connect patrons with our collection and to connect publications to our community. I also oversee our small exhibitions program and supervise ten wonderful special collections assistants.
How did you get started in special collections?
As an instructor of the book arts for many years, it was always important to help students make editioned work and I was constantly thinking about distribution and potential homes for it. Looking at both contemporary and historic work was also an important part of my pedagogy. I started spending more time examining 
Prior to my life in artists' books, I volunteered in my local history museum and eventually worked at the Chicago Historical Society (now Chicago History Museum). I've always had an interest in the objects that tell stories of humanity. It just so happens that books are the best tools for that.   
Where did you earn your MLS/advanced degree?
I have an MFA in Book and Paper Arts from (the now defunct program at) Columbia College Chicago. It was a three-year program focused on the history and materiality of books. We focused on making our own books in the letterpress, papermaking, and bookbinding studios there and we learned from some amazing and accomplished instructors like Audrey Niffenegger and Shawn Sheehy. I managed those studios for ten years after graduating and worked with Clifton Meador and Brad Freeman. As primarily offset printers, they brought a great perspective to my post-graduate experience. I went from worshiping the "handmade" to being able to see the reason and place for each printing and binding technology. I am currently taking classes towards my MLIS, but this year has slowed me down.
Favorite rare book / ephemera that you've handled?
I also manage the library's archival collections which have a few Chicago gallery archives (e.g., Randolph Street and Threewalls) and performance group archives (i.e., Goat Island). However, a few years ago we acquired some collages and ephemera by the experimental filmmaker Edward Owens and there is so much magic to the story of how we acquired it, to Edward's life and after life, that it is the stuff that makes me tear up. 
I also love being near the Newberry and visiting the William H. Page Chromatic Wood Type Catalog. 
Some of my favorites in the artists' book collection are Splitting by Gordon Matta-Clark and an untitled glass bowl by Do Ho Suh from the Peter Norton Family Christmas Card Collection. I think of the Do Ho Suh piece as our mascot, it's an offering of creativity while you have to hold this spherical object like a book. There's so much conversation in that piece.   
Fun fact; I have burst into tears in front of the Rosetta Stone more than once, but I've never handled it however.
What do you personally collect?
Two of my beloved collections are poetry chapbooks and broadsides. On a trip to Serendipity Books in San Francisco, by chance I touched the handle of a drawer that contained a Robert Creeley broadside I had been looking for for ages. I also cried then. 
What do you like to do outside of work?
I am a fish with legs, so I like to hike and swim near water. I also have a five-year old so luckily we like to do a lot of the same things: draw, walk, read, and watch documentaries.
What excites you about special collections librarianship?
Three main things: 
—Being at an institution which values research as an essential part of art making, I love to offer both visual inspiration as well as the ability to make connections with the past (and present). The amazing burst of self-published works which has happened in the past ten years has so many connections to historical pieces both conceptually and formally. I love to share as much as I can with students so they can see that the lineage of their work didn't all sprout from the internet and a fast home printer.  
—Making connections! Books are tools to make human connections. 
—And, if I could adequately answer the number one question we get, why is that a book? I would be bored to tears. I love that conversational challenge and having and hearing new answers everyday.
Thoughts on the future of special collections librarianship?
I love the counterbalance that has happened with handmade, this is definitely not turning into a wholly digital arena, but enhanced by the digital. This has led to even more emphasis on the materiality of the book. As we move forward in time and I see the brackets of vintage and antique shifting, seeing collections with more ephemera, zines, punk culture is really exciting for me. Being able to think about the ways people have really tried to connect with each other over time is a gorgeous meditation.
Any unusual or interesting collection at your library you'd like to draw our attention to?
While we're known for an exceptional collection of Fluxus, Mail Art, and conceptual art pieces, full of great surprises by artists all over the world, however, the riot grrrl and queer zines are also a great touchstone. The Art Institute of Chicago is in the process of mounting an exhibition of artist-made periodicals and we're excited to be a part of that. 
Any upcoming exhibitions at your library?
Almost every department at SAIC has a class on making artists' publications, so we have a regular rotation of class exhibitions, but a few times a year we have exhibitions curated by myself or my student workers. We've also just had a number of great exhibitions with stellar folks, including Yoko Ono and Johanna Drucker. I am currently developing an exhibition on the history of Chicago artists' bookstores and galleries. I love having the opportunity to develop my interests into these book parties, but I also love seeing what my student workers, as well as our faculty curate. One of our Printmedia professors, Conor Stechtschulte, has been teaching a class called Deep Riso (a combination research and printing class) and this summer we are hosting back-to-back exhibitions of the students' research projects. It's great to see this important, yet overlooked medium being taken seriously.