Breakout Sale of Old Master Drawings at Swann November 5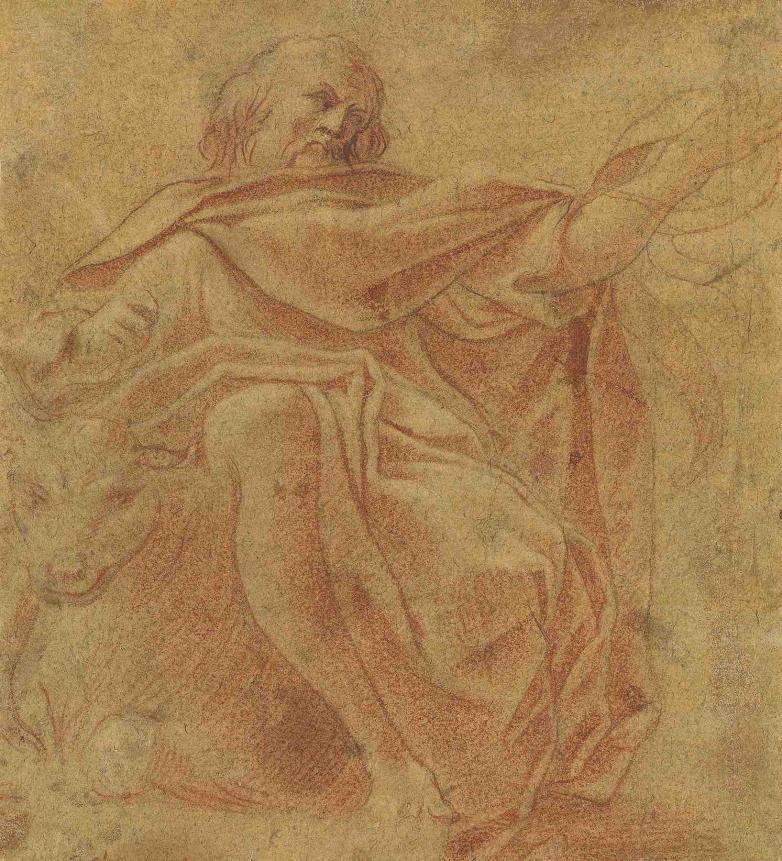 Courtesy of Swann Auction Galleries
New York — In addition to Swann Galleries' biannual sale of Old Master Through Modern Prints, the house will offer a curated sale of Old Master Drawings on November 5. The auction traces the development of draftsmanship over several centuries from late-Gothic, early-Renaissance works of the fifteenth century, to Baroque and Rococo drawings of the seventeenth and eighteenth centuries.
The Italian Renaissance is represented by early-sixteenth-century studies of eagles ($4,000-6,000); Christ's Charge to Peter from the circle of Raffaello Sanzio da Urbino, based on one of Raphael's cartoons painted as designs for tapesties ($5,000-8,000); and Ludovico Carracci's St. Luke, red chalk, circa 1585-88 ($8,000-12,000).
Baroque works of note include The Holy Spirit Appearing to St. Gregory, red chalk, late 1640s, by Il Guercino, offered at $8,000 to $12,000; and Scenes from the Battle of Vienna: A Pair, pen and wash, circa 1685, by Francesco Monti, Il Brescianino—expected to bring $10,000 to $15,000. Pietro Antonio Novelli's A Young Woman Washing Linen, pen and ink, is estimated at $15,000 to $20,000.
A collection of nineteenth-century French works on paper from the estate of the esteemed New York art dealer Eric Carlson, who specialized in French academic and realist drawings, complements the offerings of earlier works. Highlights from the selection are Théodore Géricault's preparatory drawing for the same-titled lithograph La Giaour, pen, ink and pencil, 1820 ($7,000-10,000); Notre Dame and the Île de la Cité, Paris, watercolor, 1864, by Louis-Adolphe Hervier ($2,000-3,000); and an 1859 color pastel work A Landscape at Dusk with Rolling Hills by Joseph Alfred Belelt du Poisat ($1,000-1,500). Of particular note is an 1833 ink, wash and pencil study by Eugène Delacroix ($3,000-5,000). The preparatory work was created for the allegorical decorations of the Salon du Roi in the Palais Bourbon in Paris—his first large-scale government commission.
Additional French works include two circa-1820 pencil drawings by Delacroix, apparently loosely based on figures in Michelangelo's Sistine Chapel frescoes, offered at $7,000 to $10,000. Laurent de la Hyre's black chalk and pencil preparatory drawing St. Peter Healing the Sick, for his 1635 painting May de Notre Dame, is available at $15,000 to $20,000. Henri-Edmond Cross's pointalist watercolor The Sower, circa 1890, is expected to bring $15,000 to $20,000. Dutch, Flemish, German and English draughtsmen round out the stellar offering.
Exhibition opening in New York City October 25. The complete catalogue and bidding information is available at swanngalleries.com and on the Swann Galleries App.