The Book Guide, Online Compendium of UK's Secondhand Bookshops, Folds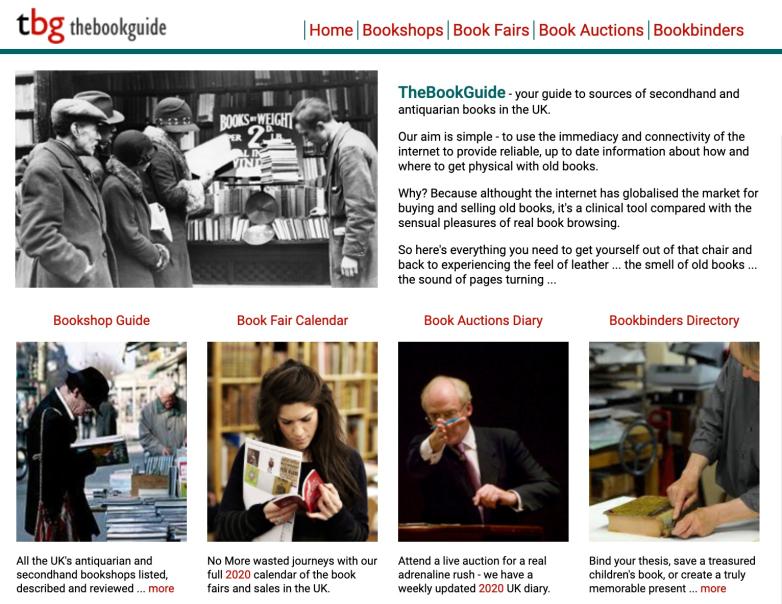 Credit: The Book Guide
The Book Guide (TBG), the UK's best guide to secondhand bookshops, book fairs, auctions, and bookbinders, will close its virtual doors at the end of the month after operating for 19 years.
TBG is run by Mike Goodenough who also ran the popular Inprint secondhand bookshop in Stroud, Gloucestershire, England, with his wife Joy for nearly 40 years until they retired in 2018, although they continue to sell online and at pop-ups. Its goal was to provide details about "how and where to get physical with old books" in the age of internet selling and contains listings and user-generated reviews for all secondhand booksellers in the UK. It filled a hole left when Drif's Guide to the Second-hand Bookshops of the British Isles ceased publication.
In a statement, Goodenough said that he had tried unsuccessfully to find some way of keeping the site live in the face of a fall in advertising revenue despite increasing numbers of visitors. "As a result of the dedication of its readership it is a more accurate and reliable resource than I ever dared hope for," he said. "My sincere thanks to all of you for your encouragement and support over the years, it's been fun and you've been great. But I must say I looking forward to doing more of the things one's supposed to do in retirement."
No more listings and reviews will be added this month, although Goodenough added that he was happy to pass on the data to anybody interested in continuing his work.