Autographs & Artifacts Featuring Hollywood in April 14 Auction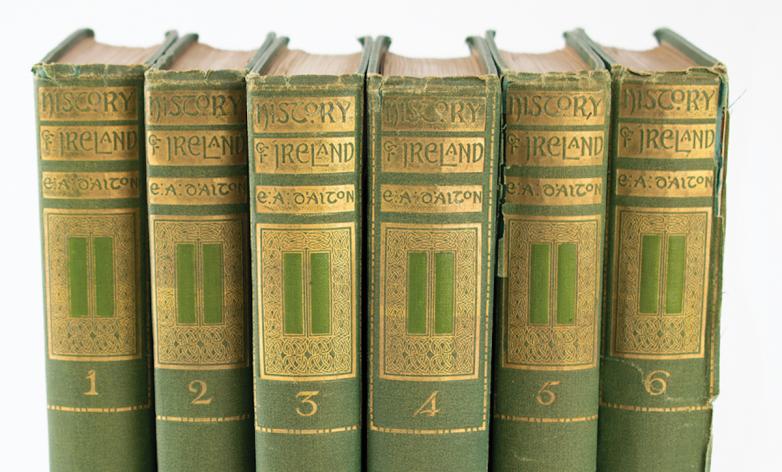 Courtesy of RR Auction
Boston — With over 800 rare and remarkable items up for auction, R.R. Auction's April Fine Autographs and Artifacts sale features something for every collector with online bidding March 26 - April 14.  
Highlights include books signed by John F. Kennedy; among them is a John F. Kennedy Multi-Signed 'History of Ireland' Book Set. The complete six-volume set of History of Ireland by Rev. E. A. Dalton. First edition. London: The Gresham Publishing Company, 1912. Hardcovers bound in green cloth with elaborate gilt titling and decoration to spines and front covers, 1674 total pages. The first free end page of each volume is signed in black ink, "John F. Kennedy," with the lone exception occurring in the sixth volume, which is signed upside-down on the final free end page; this distinction suggests that the volume was likely stacked upside-down at the bottom and that Kennedy accidentally signed the book believing it was right-side up. The consignor affirms that this book set was purchased in Palm Beach, Florida, shortly after Kennedy's famed 'Winter White House' was privately sold in June 2020. Given this information, and the consistent 'ownership' placement of Kennedy's early full signatures, we strongly believe that this six-volume set derives from the personal collection of John F. Kennedy, the first Irish-Catholic to become President of the U.S.
A remarkable post-Revolution recommendation from George Washington. The highly unusual one-page document, signed "Go: Washington, late Com'dr in Chief of the Armies of ye U.S.," February 28, 1785. Penned entirely in Washington's hand, the document reads, in-part: "I certify that Seaver was a Lieutenant of the Massachusetts Line in the Service of the United States of America, and from the testimony of the General Officers under whose orders he acted that he is brave & intelligent, and in all respects has supported the character of a Gentleman and man of honor. Given under my hand this 28th day of Febru'y 1785, Go: Washington, late Com'dr in Chief of the Armies of ye U.S." It's a significant Revolutionary War document, aiding in the career of an officer who would go on to command one of the first six frigates in the budding U.S. Navy, and enhanced with Washington's attractive and seldom-seen heraldic red wax seal.
A rare Stephen Hawking signed book, The Archaeology of the Industrial Revolution. First edition, first printing. London: Heinemann Educational Publishers, 1973. This period also marked Hawking's physical deterioration from ALS, and he would soon lose his ability to walk and write; by 1975, he was confined to a wheelchair. Hawking autographs are of the utmost rarity, with this rare example exhibiting ironclad provenance.
And an original oil painting by LeRoy Neiman. The outstanding original painting of legendary New York Rangers centre Jean Ratelle by acclaimed sports artist LeRoy Neiman, colorfully accomplished in oil board, signed and dated along the bottom in paint by the artist, "LeRoy Neiman 72." Ratelle is strikingly rendered by Neiman in his trademark impressionistic style, showing him dressed in his iconic #19 Rangers jersey, skating towards the goal in one of his finest campaigns. In 1972, Ratelle was awarded his first of two Lady Byng Trophies in recognition of his great sportsmanship and elite play. In 2017, Ratelle was named one of the '100 Greatest NHL Players' in history.
A special Hollywood section boasts a wealth of spectacular photography and significant autographs of Marilyn Monroe, James Dean, and Bruce Lee.
The Fine Autographs and Artifacts auction from R.R. Auction began on March 26 and will conclude on April 14. For more information, go to www.rrauction.com.