Rare Engels Letter Revealing His Economic Insights Under the Hammer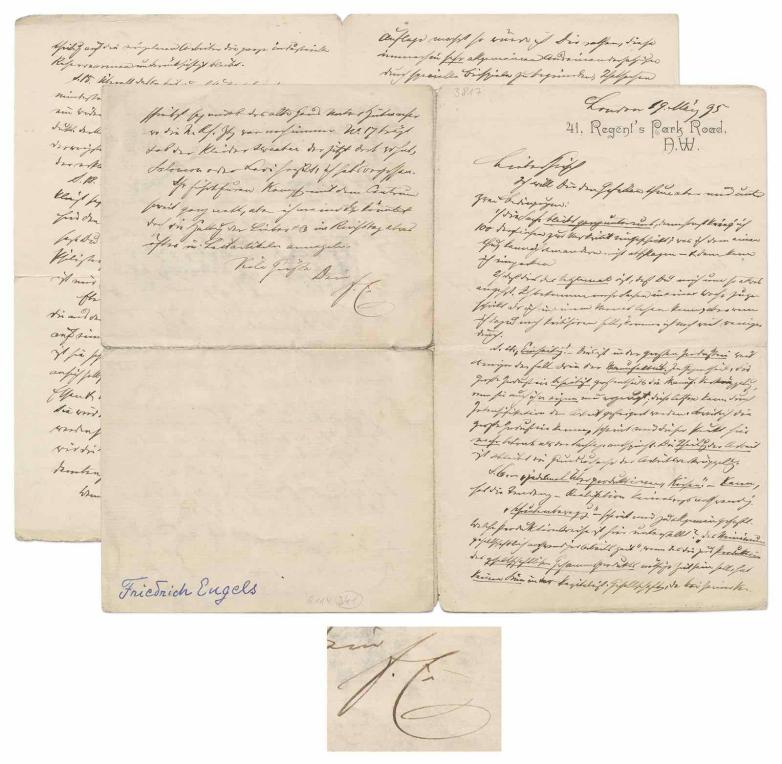 Nate D Sanders Auctions
A scarce letter signed by the philosopher Friedrich Engels which offers a glimpse into his economic theories and personal correspondence is set to go under the hammer at Nate D Sanders Auctions today. Bidding begins at $160,000.
Engels' letters are exceptionally scarce in private hands. This historic letter was composed on March 19, 1895, less than five months before Engels' death, and is addressed to the journalist Carl Hirsch, the former editor of the influential social-democratic publication The Lantern.
In this four-page letter, Engels engaged in a critical dialogue with Hirsch regarding a series of articles published in the Sozialpolitisches Centralblatt in 1894-95. Hirsch had sought Engels' insights for a planned second edition of his work, and the resulting letter provides unique and detailed commentary on economic theory.
One of the central themes explored in Engels' letter is the nuanced relationship between working conditions, industry size, and maturity within the business life cycle. Engels asserted that major industry, despite its challenges, largely mitigates the incapacitation experienced in manufacturing. He emphasized the significance of the division of labor as a root cause of labor's challenges, shedding light on how different industries are impacted differently.
Engels also dissects various aspects of Hirsch's work, offering pointed critiques and suggestions for clarification. His meticulous examination extends to topics such as overproduction, economic crises, and the role of machinery in concentration of work. Engels' insightful comments underscore his profound understanding of economic dynamics.
The letter, originally written in German, has been published in the Marx/Engels Collected Works. However, it's important to note that the transcription in the collected works corrected Engels' 19th century spelling and may contain some errors stemming from misinterpretation of his handwriting.
This extraordinary letter is written on Engels' personal stationery, featuring his home address at 41 Regent's Park Road in London., Engels' name is penned in ink on the bottom of the fourth page, likely by a later hand.