Harrington's Poetry Catalogue Features Rare Edition of Shakespeare's Sonnets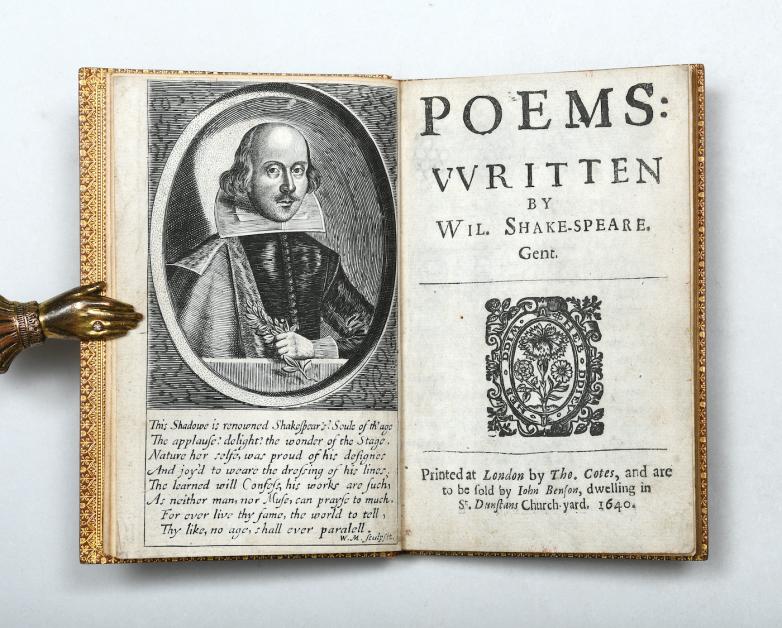 Courtesy of Peter Harrington
London — A first collected edition of Shakespeare's poems (1640) with an illustrious provenance – containing all but eight of the sonnets and other shorter, non-dramatic poetry – has returned to the UK after decades in the USA.
 
The repatriated copy being offered for sale by London-based rare book dealer Peter Harrington for £275,000 was part of the collection of American bibliophile Robert S. Pirie – considered the greatest collector of 16th and 17th English literature since the Second World War. Pirie's collection was auctioned by Sotheby's in 2015 and this copy of the first collected edition of Shakepeare's Poems had remained in the USA since its sale at the 2015 auction, having been obtained by Pirie in 1982.
"This copy has been back and forth between the UK and the USA a few times. The earliest recorded owner of this copy was the English bibliophile Alfred Henry Huth, who obtained the copy sometime before 1910," says Adam Douglas, senior rare book specialist at Peter Harrington.
"I was privileged to have seen the Pirie collection that this belonged to when I visited his home in the US and lunched with him the year before his famous Sotheby's sale. Pirie was a very accessible collector for such a connoisseur, always proud to show off his collection. We are very pleased to have been able to acquire this extremely rare edition of Shakespeare's poems, practicably the first obtainable edition containing his sonnets. The original 1609 publication of the sonnets is now essentially unobtainable, with only 13 copies extant. This copy will no doubt find pride of place on another honoured collector's shelf."
Bibliophiles keen to view this rare gem can see it on display at Peter Harrington's bookshop at 43 Dover Street, Mayfair London from August 23rd to September 4th, 2021.
The book is part of Peter Harrington's new poetry catalogue, due to be released later this month, which features several rare canonical works such as a first edition of Homer's Iliad and Odyssey in Greek (£250,000) and a first complete collected edition of Chaucer (£150,000), the exceedingly rare English issue of the first edition of Leaves of Grass by Walt Whitman – one of the first copies of the poem to enter the British Isles (£295,000), several Modernist masterpieces on a variety of themes from feminism to homosexuality, unique inclusions that spotlight poetry in spoken word form, and an illuminated manuscript of Spenser's great marriage poem Epithalamion in a stunning jewelled binding, by Sangorski & Sutcliffe (£50,000).