Whitmaniana, French Bindings, Early Photographs of China: Auction Preview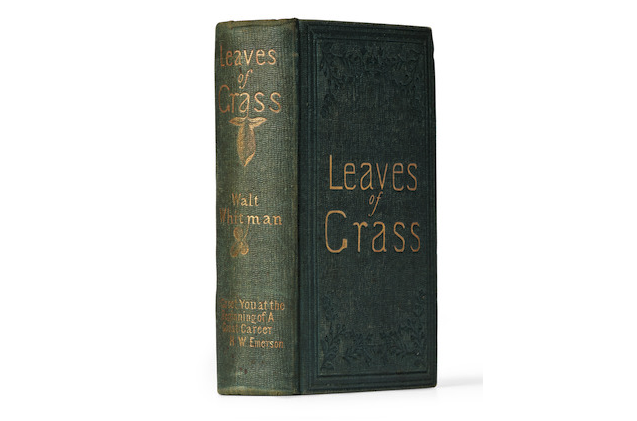 Image: Bonhams
Here are the sales I'll be keeping an eye on this week:
At Bonhams New York on Tuesday, November 21, 223 lots of Fine Books and Manuscripts, which includes the Pauline and Ozzy Fletcher Collection of Whitmaniana as lots 125–152. A November 23, 1783 letter from from Thomas Mifflin as president of the United States Congress to Jonathan Trumbull as governor Connecticut is estimated at $100,000–200,000. Two T.E. Lawrence autograph maps traced from originals given to him by H. Pirie-Gordon are expected to sell for $100,000–150,000. At the same estimate range is a first edition of McKenney and Hall's History of the Indian Tribes of North America from the library of Louis Antoine Godey, the publisher of Godey's Lady Book. A first edition of Leaves of Grass is expected to lead the Whitman material, at $70,000–100,000; a second edition is estimated at $10,000–15,000.
New England Book Auctions sells 226 lots of Fine Books & Ephemera on Tuesday.
ALDE sells 327 lots of Reliures Originales & Livres Illustrés Modernes on Wednesday, November 22. A copy of the four-volume 1930–1933 L'Odyssée published by La Compagnie des Bibliophiles de l'Automobile-Club de France, in design bindings by Grégoire Lévitzky is expected to sell for €8,000–10,000.
At Christie's Paris on Wednesday, 181 lots of Livres Rares et Manuscrits, including a selection from the Rothschild family library. The manuscript of Raymond Radiguet's Le Diable au Corps rates the top estimate at €300,000–500,000, while a first edition of Cervantes' Segunda parte del ingenioso cavallero don Quixote de la Mancha (1615) is estimated at €200,000–300,000. The Tériade edition of Daphnis & Chloé (1961) with illustrations by Marc Chagall could sell for €120,000–180,000.
Dominic Winter Auctioneers sells 421 lots of Photographs, Autographs & Documents, Royalty, Film & Sports Memorabilia on Wednesday. Fourteen Edward Jenner letters rate the top estimate at £10,000–15,000, and an album of eighteen photographs by Sing Kwa of landscapes in China's Jiangxi province is estimated at £7,000–10,000.
Forum Auctions holds a online sale of Books and Works on Paper on Thursday, November 23, in 271 lots. Henry Eeles Dresser's Monograph of the Meropidae, or Family of Bee-eaters (1884), rates the top estimate at £4,000–6,000.