UK Places Export Ban on Unique Gould Volumes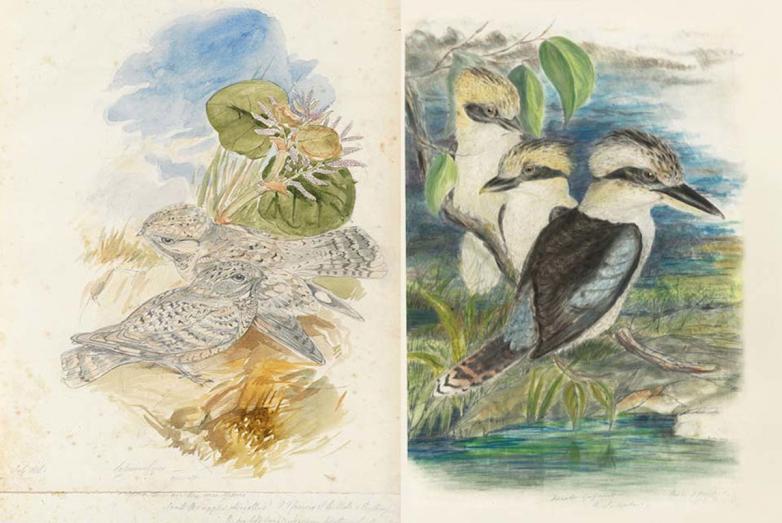 Courtesy of the Department for Digital, Culture, Media & Sport
The UK's culture minister Caroline Dinenage has placed a temporary export ban on two unique John Gould albums. Gould (1804-1881) was a renowned English naturalist known for his books about birds and animals, including Birds of Australia, Mammals of Australia, and Birds of Great Britain. He also played a role in Charles Darwin's theory of evolution and is referenced in Darwin's book, On the Origin of Species.
The two morocco-bound folios subject to the current bar contain 129 drawings and watercolors and four unpublished lithographic proofs by Gould, his wife Elizabeth Gould, and the pre-eminent artist Henry Constantine Richter. They have been valued at £1,287,500 ($1.8 million) and are considered by the UK government to be vital for understanding not only more about how Gould worked but also how Victorians attempted to catalogue and define flora and fauna across the world.
"There is much still to be discovered, bibliographically but particularly from the standpoint of the history of science, about these often beautiful but above all honest drawings, by one of this country's greatest ever ornithologists and his talented wife. The drawings sometimes differ in important details from the artistic lithographs derived from them, but they are perhaps most significant as being amongst the earliest accurate western depictions of non-European birds, some now extinct. They should be retained in this country so that they can be researched not only from an artistic and bibliographical perspective but above all in the context of Gould's correspondence and the specimens, also gathered by John Gould, held by British institutions," commented Peter Barber, a member of the Reviewing Committee on the Export of Works of Art and Objects of Cultural Interest.
Gould is, of course, highly collectible. At the Wassenaar Zoo sale at Bonhams in 2018, Gould's Birds of Australia was the top lot at £187,500 (then $248,997). His final work, The Birds of New Guinea and the Adjacent Papuan Islands, completed after his death by Richard Bowdler Sharpe, set an auction record at £102,500 ($136,118). His Mammals of Australia realized £72,500 ($96,279) and Birds of Asia made £68,750 ($91,299).
The decision to provide an export license for the volumes has been deferred until at least September 24. The ban may be extended until January 2022 if "a serious intention to raise funds to purchase it is made at the recommended price," according to a statement released by the Department for Digital, Culture, Media & Sport.