Tudor Manuscript on Swan-Keeping to be Offered at Sworders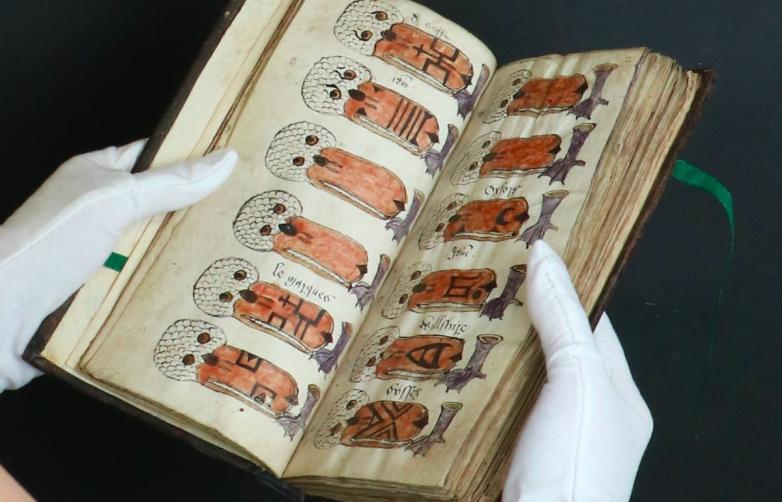 Courtesy of Sworders Fine Art Auctioneers
Stansted Mountfitchet, England — A rare Tudor manuscript designed to help with swan-keeping in the era when mute swans were owned by the English crown comes to auction in the summer. The two-volume manuscript included in Sworders' August 23 sale of Books and Maps in Stansted Mountfitchet was used from the 16th to the 19th century by landowners in Norfolk and Suffolk.
A favourite delicacy for the banqueting table, the swan was deemed a royal bird from the Middle Ages. All swans on open and common waters were deemed the property of the crown and only the monarch could grant the privilege of owning a 'game' of swans to individuals or institutions. All such birds had to be marked and pinioned to assist in any dispute over ownership, a task overseen by the Swan Master and his regional deputies. The annual marking of new cygnets was known as swan upping.
The manuscript included in Sworders' sale references the 'Hundred of Wisbech' in Norfolk and Suffolk. The first volume dated 1566 contains over 600 marks, followed by 19 pages of manuscript notes concerning the 'Laws and Ordinances regarding swan'. The names start with the Dukes of Norfolk and Suffolk, the Bishop of Ely and the Dean of York and finish with wealthy landowners.
The second volume is dated 1834 and includes notes on swan marks followed by 84 pages of swan marks and an index of owners. Several similar manuscripts are known including one sold by Christie's in 1999. This one, from the estate of Cambridgeshire antiques dealer Peter Crofts (1924-2001), is guided at £8000-16,000.
Crofts' own story was extraordinary. When, aged 20, he was training as a pilot in Texas in 1945, the engine of his Corsair F4U had burst into flames leaving him seriously injured. After both his legs were amputated, he spent three and a half years in hospital.
It was under the guidance of the Stamford dealer Major Bernard Edinburgh, that he became an antiques dealer and by 1958 had been elected a member of the British Antique Dealers Association. More than 250 lots from the Crofts collection will be offered in the sale.
Many lots are of East Anglian interest. They include a rare linen folding map of the region c.1828 that, retaining its original red marbled slipcase, is estimated at £500-1,000. Made by Jonas Moore and sold by Christopher Browne, its full title is A Mapp of Ye Great Levell of ye Fens extending into ye Countyes of Northampton, Norfolk, Suffolke, Lyncolne, Cambridge & Huntington & the Isle of Ely as it is now drained.
Jonathan Greenwood's The Sailing and Fighting Instructions or Signals as they are observed in the Royal Navy of Great Britain is considered the first naval signal book printed in the English language. All surviving copies are undated but are thought to have been printed in London in 1715. The example here retaining all of its 72 engraved leaves, most with hand-coloured illustrations, is estimated at £1,500-3,000
Much more is known about Marsh Leaves, a guide to Scotch loch fishing written by Peter Henry Emerson and published with 16 photo-etchings in 1895. This copy was part of a limited edition in leather-backed pictorial boards. It has a hand-written dedication from the author dated 1904 and below that the note: 'this deluxe edition limited to 100 copies, sold out many years ago and not reprinted'. It is expected to bring £5,000-10,000.
A curiosity of American interest is a copy of Thomas Campbell' Poetical Works of 1843 that has been skilfully painted to the paper edge with two topographical scenes – one of shipping in Philadelphia harbour, the other of Boston. Painting books in this way with watercolour was commonly practiced from the late 17th into the 19th century. However, the 'double fore-edge' technique seen here is one of the rarer styles of the genre. As the name suggests, if you fan the text block of a book to the right you can view one scene; fan it to the left and you see another. The choice of Philadelphia and Boston has little to do with the content of the book. It seems these US East coast scenes were chosen purely to sell books to American tourists. It has an estimate of £300-600.