Space Memorabilia, Including Neil Armstrong Collection, Brings $4.57 Million at Heritage Auctions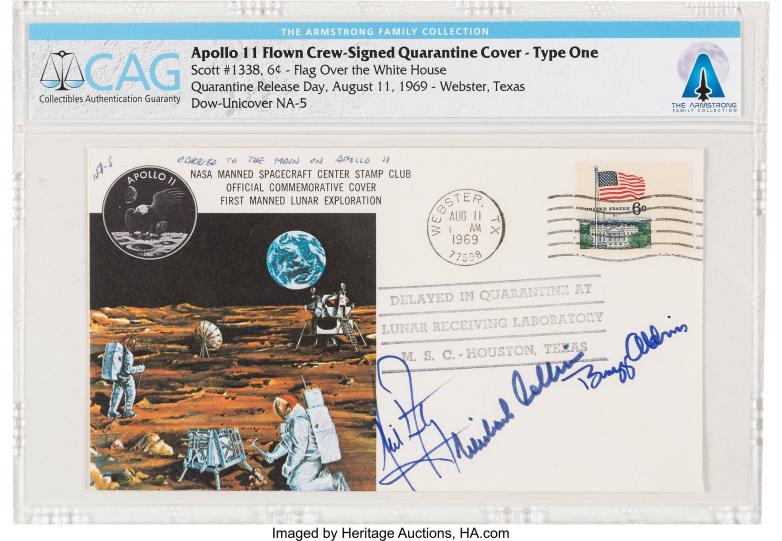 Courtesy of Heritage Auctions, HA.com
Dallas, TX – Objects flown to the moon and kept for 50 years in the private collection of "First Man" Mission Commander Neil Armstrong sold for more than $4.57 million during Heritage Auctions' Space Exploration auction May 9-11.
The sale featured the second presentation of 620 lots of mementos and NASA-related items saved by the first man who walked on the moon, July 20, 1969.
Special keepsakes owned by Armstrong brought top dollar, particularly the moonwalker's collection of pieces of the Wright Flyer, which was flown on Apollo 11 to commemorate mankind's first successful airplane flight made by Orville and Wilbur Wright in 1903. A group of nine pieces sold for a combined $888,750, the most expensive piece being a rare swatch from the wing fabric from flyer, which sold for $175,000, as did a section of the propeller.
Additional highlights include:
·         A single Apollo 11 flown crew-signed and stamped "Type One" Quarantine Cover also sold for $93,750. Signed by Armstrong and crew astronauts Michael Collins and Buzz Aldrin, Armstrong did not receive the piece until three weeks later when the crew completed mandatory quarantine following Apollo 11's splashdown.
 
·         One of six Apollo 11 Flown Mission Insignias, 6-inch-by-6-inch swatches made from fire-safe fiberglass Beta cloth used in the space suits worn by the Apollo astronauts, sold for $25,000.
 
·         Among pieces of Apollo flown artifacts, a module flown spacesuit comfort glove originally from the personal collection of Mission Lunar Module Pilot Buzz Aldrin, sold for $68,750.
 
·         An extraordinary complete set of 135 commemorative sterling silver medals, referred to as a Robbins Medallions, one for Each Mission and assembled by former NASA astronaut Colonel Jerry Ross, sold for $55,000.
 
·         A one-of-a-kind NASA color lunar planning chart signed by one moonwalker from each landing mission ended at $55,000.
 
"Heritage Auctions' next presentation of Armstrong's collection is July 16, the 50th anniversary of the Apollo 11 space launch and just four days before Armstrong's historic moonwalk."