For Sale: Autograph Collection Spanning 50+ Years & 600 Volumes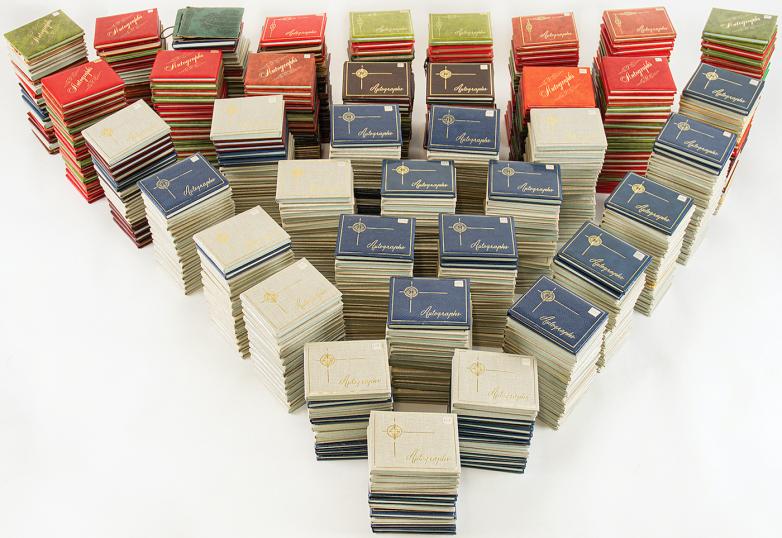 Courtesy of RR Auction
A mind-blowing collection of autographs—and autograph albums—is currently listed for sale with a Boston-based auction house.
Containing 24,000 signatures collected between 1942 and the late 1990s, the collection features Hollywood stars from Alfred Hitchcock, Audrey Hepburn, and Tom Hanks, as well as music legends like Aretha Franklin, Cat Stevens, and Lou Reed. A handful of writers, such as Margaret Atwood, Truman Capote, and Stephen King also make an appearance.  
All were secured in bound volumes by one man, Charles Freireich (1930-2009), who started collecting autographs at the age of twelve at the Palace Theatre in Cleveland, Ohio, when famous acts came through town. In later years, in the navy and on several trips, Freireich pursued his hobby in New York, Los Angeles, Paris, and London, eventually filling more than six hundred numbered autograph albums. He also kept a spreadsheet that included each name, volume number, and page number so that he could locate each scrawl at will.
The collection, says RR Auction, is "one of the most comprehensive collections of its kind that we have ever offered, an impressive half-century gathering of names both famous and forgotten, staggering in its breadth, condition, and organization."
As of this posting, the collection has been bid to $50,000, but the auction runs through February 9.