Reading the Writing Desk: The Instruments the Brontës Used to Craft Their Novels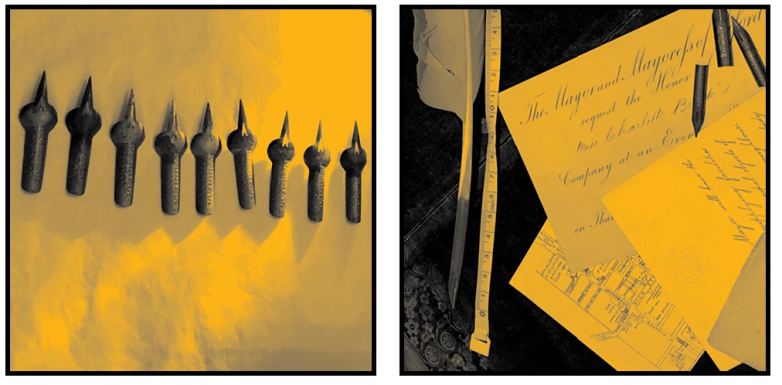 Courtesy of the Katherine Small Gallery
Before next weekend's Boston Antiquarian Book Fair, why not head to Massachusetts a few days early to attend a lecture on the tools the Brontë sisters used to compose their novels. Associate Director and Curator of Collections at Rare Book School Barbara Heritage will discuss her findings from "reading" the writing desks of Emily and Charlotte Brontë in a lecture dubbed "Reading the Writing Desk: The Instruments the Brontës Used to Craft Their Novels." The talk will be held on November 13 at 7pm at the Katherine Small Gallery (108 Beacon Street, Somerville, MA) and is co-sponsored by Triolet Rare Books.
Prior to working at Rare Book School, Heritage was a doctoral candidate at UVA's English Department where she focused on 19th-century literature and book history. She said her forthcoming lecture aims to dispel the notion that the Brontës--and Charlotte in particular--were merely guided by the fruits of their imaginations. Rather, they were writers who actively planned their novels. Heritage's talk is based on her decade-long research for a forthcoming book on the topic entitled Charlotte Brontë and the Labor of Writing.
"Some influential scholars and critics have referred to Charlotte as being essentially a 'trance writer' who did not spend time crafting her novels," Heritage said. "I was interested in finding out more about Charlotte's writing process and, more generally, in learning about what the physical evidence in her extant manuscripts could tell us about how her novels came to be." Studying Charlotte's manuscripts in-person, Heritage explored the intricate features of the physical objects so often taken for granted--the marks of excisions and revisions with pen and ink; residue from copying and pasting material with paper and glue--and determined that the sisters' editing processes were precise.
"In Charlotte's case, these manuscripts were meticulously prepared and conscientiously edited as part of an ongoing dialogue with her publishers. My research suggests that she revised even more of her second novel, Shirley, than previously thought." Heritage also unearthed ruling devices in their desks that allowed Charlotte and Emily to regulate the word count in their documents, which was essential to help the sisters meet their publishers' strict requirements. "By examining the writing desks, I also learned more about the pens, pencils, and blades she [Charlotte] would have used to create and edit her manuscripts, and about the kinds of evidence those instruments would have left in the manuscripts."
Does this fresh evidence change the way readers will approach the novels? In a word, yes, and Heritage hopes that her research will encourage contemporary readers and scholars to reexamine their notions of the sisters and how they worked. "It's misleading to characterize Charlotte as a trance writer, or to think of her, as some have, as a writer who wrote out her great novels with few corrections or changes. The mechanical craft of writing--including the physical materials and instruments that made that possible--inflected the very shape of her novels and their stories."
Tickets for Reading the Writing Desk: The Instruments the Brontës Used to Craft Their Novels are $10. Registration is here.