Rare Movie Poster for Cleopatra Spoof Heads to Auction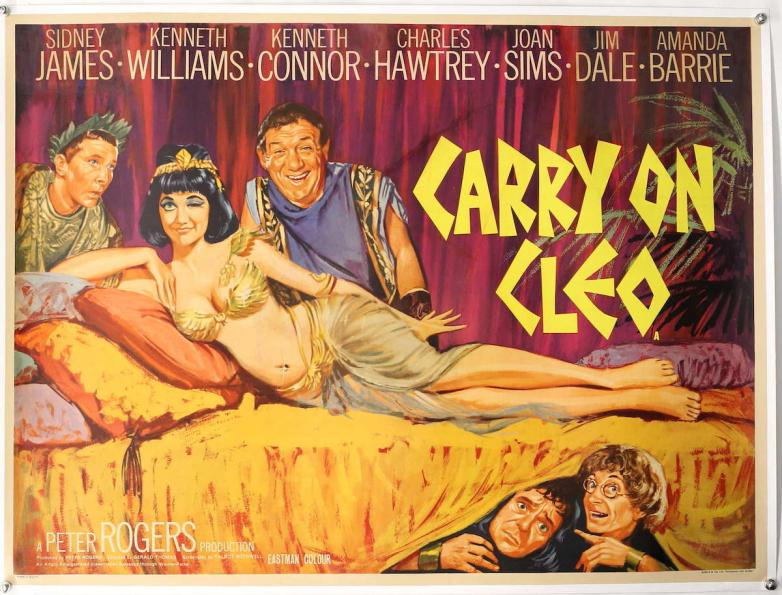 Courtesy of Ewbank's
Surrey, England — A rare surviving Carry On film poster that sparked a court case with Hollywood studio giant Twentieth Century Fox is coming to auction at Ewbank's in Surrey on August 21.
One of two examples displayed as evidence in the court case itself, the Tom Chantrell design for Carry On Cleo (1964), starring Sid James, Kenneth Williams and Amanda Barrie, set out to parody the Hollywood epic Cleopatra of the year before, starring Elizabeth Taylor and Richard Burton, just as Carry On Cleo itself was a spoof of the Hollywood film.
Fox took exception to the design and brought a copyright infringement case against Anglo Amalgamated, arguing that it was based on their own promotional poster for Cleopatra. Chantrell countered that as a parody, his design was permissible under the law, but his side lost the case and the poster was ordered to be withdrawn and destroyed. Ironically, one of the two posters actually used as evidence in the case survived and was acquired by the current owner in a direct line from those involved in the case. As a rare and historic document, as well as being much sought after by collectors, is offered here with an estimate of £3,000-5,000.
As a further irony, costumes and sets intended for the original filming of Cleopatra, which were discarded when filming moved to Rome, ended up being used for Carry On Cleo instead.
With other highlights in the sale including an original 1942 poster for the Humphrey Bogart classic Casablanca – expected to sell for up to £9,500 – and another from the original James Bond film Dr No from 1962 (£6,000), this is just the latest selection from Ewbank's, who have racked up hundreds of thousands of pounds over the past couple of years selling landmark movie poster collections.
Among the August 21 sale's other highlights are:
–        Casablanca (1942). A US one-sheet linen-backed poster. Estimate £8,500 - £9,500.
–        James Bond Dr No (1962). A British Quad film. Estimate: £4,000 - £6,000.
–        James Bond Thunderball (1965). A British Quad film poster. Estimate: £2,000 - £4,000.
–        Revenge of the Creature (1955). A US one-sheet linen-backed poster for the 3-D sequel to the Creature from the Black Lagoon. Estimate: £1,000 - £1,500.
–        Star Wars (1977). A British Quad film poster, rare pre-Academy Awards version. Estimate £1,000 - £1,500.
–        Dr Strangelove or: How I Learned to Stop Worrying and Love the Bomb (1964). A US one-sheet. Estimate: £300 - £500.
–        The Beatles, A Hard Day's Night (1964. A US one-sheet poster, with the fab four in their first movie. Estimate: £300 - £500.
–        Bitter Springs (1950). A British Quad film poster for Ealing Studios. Estimate: £300 - £500.
–        The Seventh Seal (1957). A British Quad film poster for the Ingmar Bergman classic. Estimate: £250 - £350
–        The Seven Year Itch (R-1966), a German film poster starring Marilyn Monroe. Estimate: £150 - £250.
–        Breakfast At Tiffany's (2001). A BFI Anniversary Release British Quad film poster. Estimate: £100 - £150.
"This is one of our largest standalone movie poster auctions of the year with over 350 lots. There is a poster in the auction for every budget and collection," said specialist Alastair McCrea.