Rare Grand Tour Lady Diary to Auction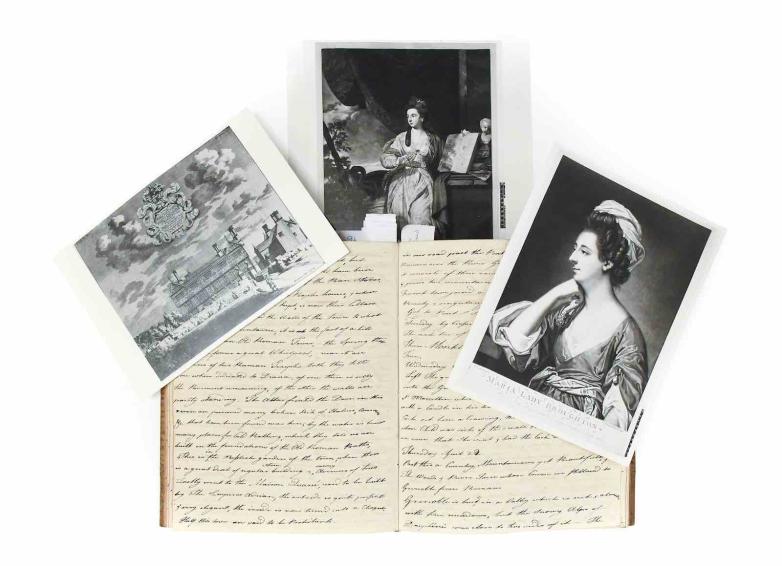 Tennants Auctioneers
A rare late 18th century diary written by Lady Mary Broughton detailing a Grand Tour two year journey around Europe will be sold in the Books, Maps and Manuscripts Sale at Tennants Auctioneers on April 28 with an estimate of £500-800 ($620-$990) plus buyer's premium.
Not only is it a remarkable and detailed travel diary from a rare female perspective, but it is an important document recording the everyday social history of Europe and a treasure trove of information on picture collections and museums of the era.
Lady Broughton, of Broughton Hall near Eccleshall, Staffordshire, set out on her adventures in May 1772, accompanied by her husband Sir Thomas, her mother Charlotte Wickers, a family friend, her children and a host of servants. While a Grand Tour of Europe visiting historic, religious, and artistic sites was an established tradition for the well-to-do by this date, it was usually undertaken by single young men as a final flourish to their education before getting married. It is very rare to have a documented account of a Grand Tour written by a woman.
The diary offers a fascinating view of the family's journey through France, the Low Countries, Germany and Italy. Whilst there are snippets of information about the usual tourist sights and destinations, with the family having a particular fondness for museums of curiosities, Lady Broughton was far more concerned with recording her observations of everyday life, from how society women applied make up in different countries, to the fruits and meats available, farming practises, and local customs. She notes that in Ghent there were "two large pillars on top of which they place little artificial birds to shoot at for prizes with bows and arrows", and that in France they "Met a French woman a horseback who made us laugh not a little, she was a straddle drest [sic] in 3 double Ruffles, Lappets flying, and her petticoats above her knees."
"The Beef which comes from Piedmont is very good, the mutton here is but very indifferent. The veal horrid, Lamb sweet, but killed too young. Pork excellent, Poultry ready fatted very bad but wat bought lean and fatted very good. No Game, ducks, I saw but one Goose, some few wild Ducks and many Teal, great plenty of red leg'd partridges very large, likewise of hares, we had one quite white which was the best I ever tasted. And woodcocks, rabbits, thrushes larks, once we had a Black Cock which was remarkably large. And once a wild Boar, excellent".
It was very rare indeed for tourists to travel with children on what was an uncomfortable and dangerous journey. The Broughtons appear to have been unusually close to theirs for the time, and indeed Lady Broughton records taking them to puppet shows and theatres. Only her eldest three children are mentioned in the diary (the eldest being 5), and it is likely her youngest two, aged 19 months and 2 months, were left at home. Sadly, during the tour, Lady Broughton suffered a miscarriage, but she went on to give birth to a daughter, Elizabeth, in Switzerland.
The family's Staffordshire home, Broughton Hall, is an Elizabethan manor, which had been in the Broughton family since the 13th century. However, shortly after returning from their tour, work was begun on the building of Doddington Hall just over the border in Cheshire, a grand Neo-Classical country house, no doubt inspired by their travels in Italy.
The diary is sold with a handwritten modern transcript of the diary and a wealth of research into the Broughton and Wicker families carried out by the vendor of the diary, along with printed photographs of portraits of Lady Broughton by Sir Joshua Reynolds and Francis Cotes.