Rare Books &c. at Auction This Week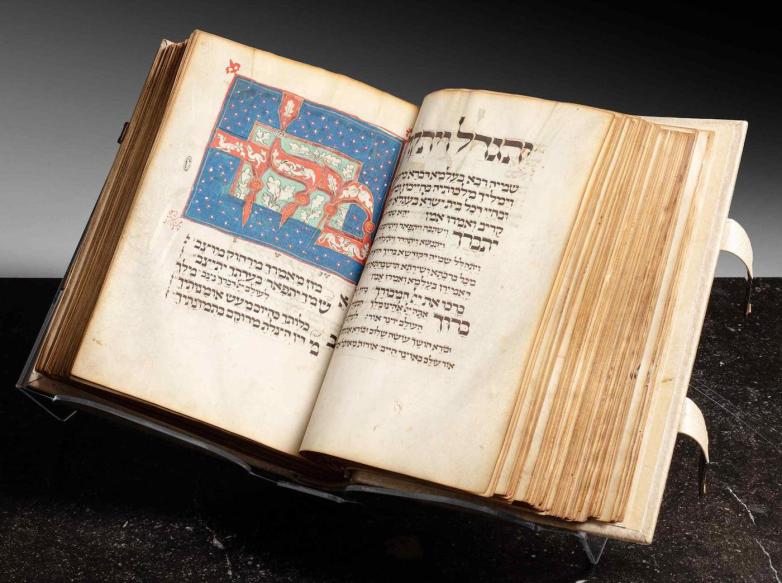 Courtesy of Sotheby's
Here are the auctions I'll be watching this week:
The Luzzatto High Holidays Mahzor: A Magnificent Ashkenazic Prayer Book will be sold at Sotheby's New York on Tuesday, October 19. This manuscript prayer book was written in southern Germany in the late thirteenth or early fourteenth century, and is expected to sell for as much as $4–6 million. The manuscript takes its name from one of its nineteenth-century owners, the famed bibliophile Samuel David Luzzatto of Padua; it was later purchased by the Alliance Israélite Universelle, which has consigned it for sale.
Bloomsbury Auctions' Travel sale ends on Wednesday, October 20. This 125-lot auction includes a single-owner collection on mountaineering. An authorial presentation copy of Vincenzo Maria Coronelli's Memorie Istoriografiche delli Regni della Morea, e Negroponte (1686) later in the collection of the Athenaeum Club is estimated at £8,000–12,000. A third edition of Redouté's Roses (1835) is estimated at £3,000–4,000.
At Forum Auctions on Thursday, October 21 A third selection of 16th and 17th English Books from the Fox Pointe Manor Library, in 408 lots. A second edition of George Turberville's Booke of Falconrie or Hawking bound with a second edition of The Noble Art of Venerie or Hunting (1611) is estimated at £6,000–8,000. George Steevens' copy of Thomas Coryate's Crudities (1611) could sell for £4,000–6,000. A wide range of nice English material here to choose from.
PBA Galleries sells Fine Literature – Bukowski, Beats & the Counterculture on Thursday, in 502 lots. Expected to lead the way is Charles Bukowski's Flower, Fist and Bestial Wail (1960), inscribed to Jon and Louise Webb of Loujon Press and estimated at $10,000–15,000. A presentation copy of Gertrude Stein's Portrait of Mabel Dodge at the Villa Curonia (1912) is estimated at $5,000–8,000. A signed presentation copy of the first edition of Ray Bradbury's Fahrenheit 451 (1953) could sell for $4,000–6,000.
Second Story Books holds an auction of Literature, Social Activism, Counterculture on Saturday, October 23, in 126 lots. A typed carbon typescript of an early version of Cat on a Hot Tin Roof is estimated at $10,000–15,000. A 15-item lot of Henry Miller material could sell for £5,000–7,000.