PBA Galleries Returns to Live Auctions with Steinmetz California Collection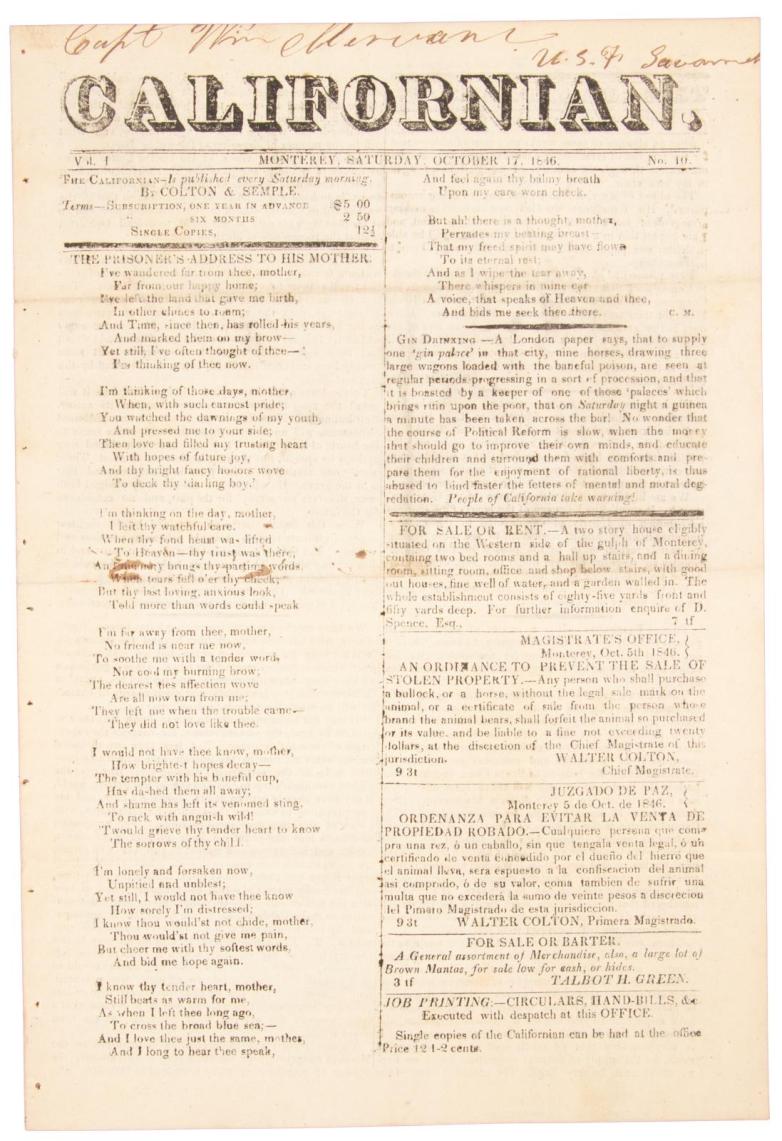 Courtesy of PBA Galleries
Berkeley, California – PBA Galleries announces the collection of California collector George E. Steinmetz to be auctioned on May 7th, 2020. The sale will be PBA's first return to the live auction format after the hiatus required to safely observe Berkeley's shelter-in-place restrictions. The late Steinmetz of Benicia, California collected scarce and rare works relating to California history, including many first editions, one-of-a-kind ephemera, and more.
While observing safe social distancing protocols as recommended by the State of California, PBA will hold their first live auction featuring Americana – Travel & Cartography. Over 50 Steinmetz lots will represent significant documents from Californian history. Highlights include the tenth issue of The Californian, California's first newspaper ($4,000-$6,000). Printed just two months after the first issue came out on August 15th, 1846, the third issue contains a number of articles of interest during a seminal period of California history.
Other lots of interest in early Californiana include a copy of History of the Donner Party: A Tragedy of the Sierras with four items signed by surviving members of the family of Patrick Breen, on whose diary much of the book is based ($5,000-$8,000). From the gold rush era, PBA will present a rare directory of the California Gold Rush town of Marysville, in Yuba County. No copies of the directory have appeared at auction since 1975, likely a consequence of the numerous fires and floods which alternately destroyed the settlement during this period ($5,000-$8,000).
The collection also includes many writings about farming and Contra Costa county as a result of Steinmetz's family history: He was born to Daisy Rutherford Steinmetz and Henry H. Steinmetz of Danville, California in 1922. His grandfather, Frank Rutherford, was the steward of Bishop Ranch from 1904-1944, and the ranch was named the largest pear orchard in the world by the Guinness Book of World Records under his management. His collection also features books, memorabilia, and pictures commemorating the 1906 San Francisco earthquake, which his father lived through before relocating to Danville. Steinmetz served in the Navy in World War II; his mother continued to build his collection for him during his time in the service. Throughout the rest of his career as a schoolteacher at Vallejo school district, Steinmetz continued to amass materials relating to the history of the West to enrich his teaching. He passed away on August 7th, 2018 at the age of 96, but his legacy is his love for California history and his large personal collection, which he wanted to pass into the libraries of other private collectors.
PBA welcomes bidders to join them for this auction which marks a significant moment in not only company history, but California history, a fitting testament to Steinmetz's legacy: As companies navigate and return to business during the ongoing COVID-19 crisis, the upcoming months will become part of an enduring record of 21st century economic history. PBA continues to safeguard the health of employees and clients by remaining closed to the public. PBA will conduct previews via Zoom and limit live auction participation to online or phone bidding. For more information about the sale or to schedule a Zoom preview or phone bidding please contact the galleries at 415.989.2665 or pba@pbagalleries.com.