Norman Rockwell's Most Important Literary Digest Cover at Heritage Auctions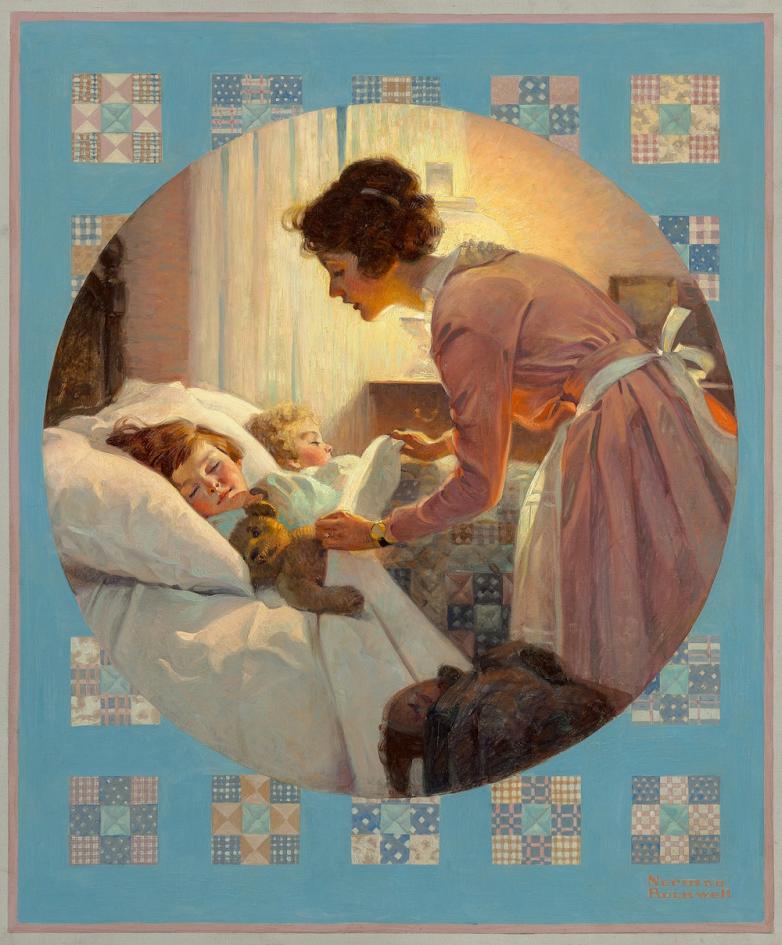 Courtesy of Heritage Auctions
Dallas – A classic masterwork by the most beloved American illustrator of all time could bring $1.8 million or more in Heritage Auctions' American Art Auction July 1 in Dallas, Texas.
Norman Rockwell's Mother Tucking Children into Bed (Mother's Little Angels) Literary Digest cover, January 29, 1921 (estimate: $1,800,000-2,400,000) is a deeply personal work, arguably the artist's most iconic Literary Digest cover of his 47 covers published between 1918 and 1923. The painting was given by Rockwell to Literary Digest editor Rudolph E. Leppert in 1921, and has remained in Leppert's family ever since. Few images hold the same sense of nostalgia in the American consciousness than that of a mother tucking her little children into bed at night, and few artists ever have captivated the nation's imagination as adeptly as Rockwell.
"Heritage has long been considered a leader in the field of Illustration and Western Art, and in these categories, our auction will not disappoint," Heritage Auctions Vice President and Director of American Art Aviva Lehmann said. "We feel honored to be entrusted with the cornerstone of our July sale: Rockwell's masterful Mother Tucking Children into Bed.
"In terms of quality and value, this is one the finest American art auctions that Heritage has ever assembled. It is extremely well edited and curated, and as a result, collectors, advisors and curators alike are increasingly looking to Heritage to consign and acquire some of the finest examples of American Art on the market. Our July auction includes terrific, fresh to market works not only in our traditional categories, but of the Ash Can School, Modernism, Hudson River School and Regionalism as well."
Howard A. Terpning's Against the Cold Maker ($550,000-750,000) comes from an important Texas collection. Once exhibited at the National Academy of Western Art in Oklahoma City, Against the Cold Maker is Terpning's masterful depiction of three North Plains Indians persevering on their journey through cold, unrelenting terrain, a canvas in which he achieved his stated goal of giving viewers "a sense of being there" in the harsh, cold conditions. The painting validates the assertion that Terpning is a master at capturing the daily lives of Native American people. The details of the subjects' winter blankets, capotes and weapons, the realistic portrayal of the warriors' physiques as they lean into the wind and the manner in which the horses have been packed, all show not only his prowess as a great artist, but also a dedicated student of American Indian history and uses that knowledge to tell their story.
From the Dixon Ticonderoga Collection, Norman Rockwell's Grandfather and Grandson, 1929 (estimate: $500,000-700,000) was commissioned by the company in 1929. The focal point of the image is the yellow Ticonderoga pencil balanced in the grandfather's hand. At the time of founder Joseph Dixon's death, Dixon Ticonderoga was the largest manufacturer of graphite products in the world, producing as many as 86,000 pencils per day in 1872. The painting has hung prominently in the corporate offices of Dixon Ticonderoga from the moment it was received in 1929, until now. Grandfather and Grandson is another in the line of Rockwell paintings that captures the essence of families and generations. In this case, the grandson is captivated by his grandfather demonstrates how to sharpen a pencil, once again allowing Rockwell to capture the nostalgia of a simpler time.
Robert Henri Blond Bridget Lavelle, 1928 (estimate: $300,000-500,000) is considered a love letter to Ireland, his home away from America and the inspiration for a vast and vital body of work from 1913 until he died in 1929. Henri's attraction to Ireland began in the early 1900s, when he was the leader of the progressive Ash Can School in New York. He and fellow artists John Sloan, George Bellows, William Glackens and Everett Shinn sought out Irish immigrant subjects for their urban realist paintings and illustrations. After moving to Ireland in 1923, Henri spent his last summer in 1928 on Achill Island, where he produced a series of portraits of Bridge Lavelle, which were considered some of his strongest child portraits. Blond Bridget Lavelle has resided in the same Dallas family for nearly 50 years.
John Clymer's Visitors at Fort Clatsap, 1978 (estimate: $250,000-350,000) reflects the artist's process, in which he and his wife would research the subject of the painting and then travel to the site for the painting to get a feel for the area. That attention to historic detail and first-hand observation of the actual environment is what gives paintings like Visitors at Fort Clatsop such power and believability. Clymer is admired not only for his technical skill, but also his storytelling. Fort Clatsop was the winter encampment for the Corps of Discovery from December 1805 to March 1806, and now serves as a Unit of Lewis & Clark National and State Historical Parks. Visitors at Fort Clatsop contains all the elements that collectors seek in Clymer's work: a masterfully rendered scene of the Indians timidly interacting with men stationed on their land in Oregon. The painting is a classic example of Clymer's work which combines his talent as a figural and landscape artist, his knowledge of western history, and his prowess as a visual storyteller.
Martin Grelle's Where Waters Run Cold, 2012 (estimate: $200,000-300,000) comes to Heritage Auctions from an important Texas collection. A member of the Cowboy Artists of America since 1995, Grelle is one of the most accomplished and highly collected artists of the American West, one of just five artists to be honored twice with the Prix de West honor from the National Cowboy and Western Heritage Museum in Oklahoma City. Where Waters Run Cold is a strong example of the vibrant color and historically accurate studies of Northern Plains Indian life and culture for which Grelle is known.
Other top lots include, but are not limited to:
Joseph Christian Leyendecker's Yule, The Saturday Evening Post cover (estimate: $150,000-250,000)
Maxfield Parrish's A Dark Futurist, Life magazine cover (estimate: $150,000-250,000)
Winslow Homer Upland Cotton, 1879-1895 (estimate: $100,000-150,000)
G. Harvey Cimarron Cowhands, 1993 (estimate: $100,000-150,000)
Tom Lovell The Noble Train of Artillery, 1946 (estimate: $100,000-150,000)
John Ford Clymer The Lewis Crossing (estimate: $80,000-120,000)
John Philip Falter Bill's Bird House, The Saturday Evening Post cover, May 8, 1948 (estimate: 80,000-120,000)
George Bellows' Jackie (estimate: $80,000-120,000)
Harvey T. Dunn's Dawn, Dawn, Dawn, Ticonderoga pencil advertisement, 1932 (estimate: 80,000-120,000)
Mary Cassatt Portrait of Madame Sisley, 1873 (estimate: $60,000-80,000)